Stand up for the facts!
Our only agenda is to publish the truth so you can be an informed participant in democracy.
We need your help.
I would like to contribute
U.S. Rep. Phil Gingrey gave the government the power to electronically spy on Americans without a warrant.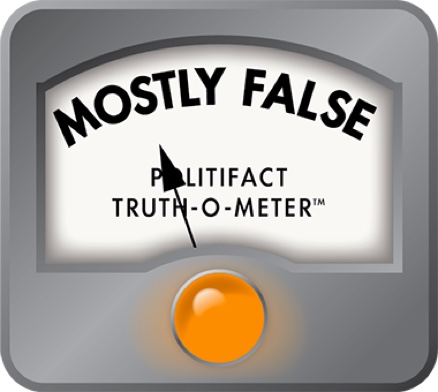 Is Big Brother spying on us? Candidate says yes and blames congressman
A Republican primary candidate for Congress calls himself a friend of the tea party.

The incumbent? A friend of Big Brother.  

Michael Opitz, a Cobb County Air Force veteran and activist, is one of two Republicans challenging U.S. Rep. Phil Gingrey for his seat in Congress. One of his YouTube videos says the Republican congressman from Marietta is voting away your privacy rights.

The nearly two-minute video is a slide show of surveillance imagery, including an illustration of the Statute of Liberty using binoculars and a still photo of the creepy antagonist from "The Matrix."

The accusation is set to the Hall and Oates' tune "Private Eyes." It appears in text:

Gingrey "Gave Government the Power to Electronically Spy on YOU, YOUR FAMILY, the Average US Citizen. All YOUR Private Information Collected. Analyzed. Graphed. Categorized. STORED. Without a Warrant," it said.

Are private eyes watching you? Do they see your every move?

PolitiFact Georgia asked Opitz for more information on how Gingrey has given the government the power to "electronically spy on you, your family, the average U.S. citizen."

The video touched on other issues, but since privacy was the ad's main issue, we'll focus our inquiry on this subject.

Opitz pointed PolitiFact Georgia to the Cyber Intelligence Sharing and Protection Act, otherwise known as CISPA.

CISPA, or H.R. 3523, gives private companies such as Internet service providers, telecommunication companies, commerce sites and social media networks permission to share certain information with the federal government without a warrant.

In light of other changes in privacy laws and the development of new technologies that can catalog and track personal information, Opitz considers CISPA a big step down the road to tyranny.

"This is George Orwell's '1984' on steroids," Opitz said.

CISPA allows corporations to give intelligence agencies information on cyber and national security threats. The information can also be used to stop child exploitation and protect people from bodily harm.  

Gingrey co-sponsored CISPA, which passed the House on April 26. It has yet to clear the U.S. Senate. President Barack Obama has threatened to veto the bill.

Gingrey campaign manager Jonathan Klein said the bill contains privacy protections.

"Because of the dramatic rise in cyber attacks, this bill is designed to protect critical U.S. infrastructure, not 'spy' on unsuspecting families," Klein told PolitiFact Georgia in an email.  

We found Opitz's claim had shortcomings.

It's premature to say that Gingrey "gave" the government more opportunities to look at consumers' private information. CISPA is stalled in the Senate.

In addition, the bill's language specifies that it does not give the federal government the power to collect "all" of your private information, as Opitz said.  

But Opitz raises a valid point. Whether those restrictions will do enough to protect John Q. Public's Google searches from being collected and cataloged is a hotly debated matter.

CISPA lists types of information the federal government may not use, including firearm sales, book sales, tax returns and medical records. It also says that the feds may not save or use information for purposes other than what the bill describes.

Paul Rosenzweig of the conservative think tank the Heritage Foundation thinks Opitz's claim is wrong. Allowing more information sharing is not the same as giving more power to the federal government, he said.

Rosenzweig also pointed to language in the bill that says that information will be subject to "anonymization." Personal information would be stripped from the information that corporations hand over.

"If you believe the government will completely go crazy, that's a 'Minority Report' scenario that will never happen," Rosenzweig said.

Still, opponents and supporters of CISPA agree that there is legitimate dispute over whether the privacy protections are tough enough.  

CISPA is written to protect corporations who opt to share information with the feds from lawsuits by consumers. This feature may make companies less scrupulous about withholding personal information such as your membership in an anti-abortion group or that you marched at an Occupy Wall Street rally.

Opitz's video makes a valid point, said Rainey Reitman, who directs advocacy against the bill for the Electronic Frontier Foundation.

"He does it dramatically, but it is a correct criticism," Reitman said.

Under CISPA, corporations, not the consumer, decide what the government gets to see, said Michelle Richardson, an attorney who has been fighting the bill for the American Civil Liberties Union.  

"It does completely shift the presumption of privacy of the American citizen," Richardson said.

Where does this leave Opitz?

Opitz said that Gingrey "Gave Government the Power to Electronically Spy on YOU, YOUR FAMILY, the Average US Citizen."

Opitz's rhetoric is overheated, and a few of his facts need tweaking. CISPA hasn't passed the Senate, so if the bill is designed to give the government additional powers, then it hasn't done it yet. In addition, the bill contains language that supporters say will prevent government spying.

But he does raise a legitimate criticism of CISPA. The bill's protections may not be enough to keep average Americans safe from Hall and Oates' private eyes.

Opitz's statement raises real issues. But he overstates some key points, and it could use a lot more context.  

Our rating: Mostly False.
YouTube.com video, "Phil Gingrey Votes yes: Gov't Spying on US Citizens; Big Brother watching you-CISPA-NSA- Opitz," published May 29, 2012

Photo courtesy of the Political Guide
The Washington Post, "Obama threatens to veto CISPA cybersecurity bill, citing privacy concerns," April 25, 2012
Wired, "House Passes Controversial Cybersecurity Measure CISPA," April 26, 2012
U.S. House of Representatives, Permanent Select Committee on Intelligence, Cyber Intelligence Sharing and Protection Act of 2011 page, accessed June 4, 2012
Thomas.gov, H.R.3523, Cyber Intelligence Sharing and Protection Act, accessed June 4, 2012
Telephone interview, Michael Opitz, candidate for U. S. representative, District 11, June 4, 2012

Email interview, Jonathan Klein, campaign manager, Gingrey for Congress, June 7, 2012

Telephone interview, Rainey Reitman, activism director, Electronic Frontier Foundation, June 19, 2012

Telephone interview, Michelle Richardson, legislative counsel, American Civil Liberties Union, June 20, 2012

Telephone interview, Paul Rosenzweig, visiting fellow, Heritage Foundation, June 20, 2012
Browse the Truth-O-Meter
More by Willoughby Mariano
Support independent fact-checking.
Become a member!
In a world of wild talk and fake news, help us stand up for the facts.