Stand up for the facts!
Our only agenda is to publish the truth so you can be an informed participant in democracy.
We need your help.
I would like to contribute
The federal tax code has "loopholes that are giving incentives for companies that are shipping jobs overseas."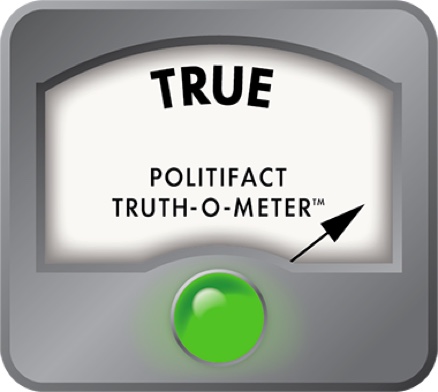 Obama says tax code rewards firms for shifting jobs overseas
President Barack Obama and Mitt Romney have sparred over tax policy for many months. They have argued over the treatment of the middle class, small businesses and whether the Bush-era tax cuts should be extended for the wealthiest 2 percent. The first presidential debate sparked debate on a different point -- the taxes paid by companies doing business overseas.

So far, this topic has not played a prominent role in the campaign, although American-based multinational firms have a huge stake in the outcome. By one conservative estimate, this part of the tax code is worth $30 billion a year.

During the debate, Obama tried to score points on Romney by highlighting the tax breaks companies get when they move jobs overseas.

"When it comes to our tax code, Gov. Romney and I both agree that our corporate tax rate is too high, so I want to lower it, particularly for manufacturing, taking it down to 25 percent. But I also want to close those loopholes that are giving incentives for companies that are shipping jobs overseas. I want to provide tax breaks for companies that are investing here in the United States."

Romney responded, "The idea that you get a break for shipping jobs overseas is simply not the case."

In this fact-check, we'll examine the president's statement and ask if there are tax incentives for companies that set up foreign operations.

In the narrowest sense possible, Romney's rebuttal is accurate. There is no clause in the tax code that rewards a company when it relocates production beyond U.S. borders. But if a plant moves at all, whether it's from Ohio to Tennessee or Ohio to Malaysia, it is eligible for deductions.

"There is certainly a tax break for U.S. companies that move operations or people abroad," said Gary McGill, director of the Fisher School of Accounting at the University of Florida. "It is simply a business expense like any other legitimate expense."

Richard Harvey, a former partner at the accounting firm Pricewaterhouse Coopers and now at Villanova School of Law, went even further.

"A company would be arguably negligent if they did not claim the deductions," Harvey said. "In addition, the current tax law would allow a tax deduction for the costs of shutting down a U.S. operation."

But both tax experts said the moving expenses were trivial compared to the hefty tax savings that companies can realize after they move their operations. There are two provisions in the code that allow them to shelter income from the IRS.

Tax break #1: Keeping profits overseas

When an American firm opens a foreign division, it typically sets up a separate company that does not pay U.S. taxes.

"That foreign subsidiary is a new entity, organized and created in a foreign country, "said McGill. "And responsible for its own taxes." Profits earned by the subsidiary need not show up on the parent company's tax return.

The subsidiary pays taxes in the country where it's located. Those rates are often lower than in the U.S., where the corporate rate is 35 percent. So long as profits remain overseas, U.S. taxes are deferred.

The company can declare that none of that money will return to the U.S.

McGill, along with colleagues Edmund Outslay and Michael Donohoe, picked apart the public financial statements of Apple and other high-tech companies such as Google and IBM. With Apple, they found the company had built up $23.4 billion in earnings the company said would stay overseas permanently. And for good reason: Apple was paying an effective tax rate overseas of 1.2 percent on those profits.

Tax break #2: Selling to yourself

An American firm with a global network of subsidiaries has another way to trim its tax bill. All of those companies can buy and sell among themselves. It's perfectly legal and very lucrative. Take the example of Google.

In just one quarter, the owner of the world's most popular search engine had nearly $2.8 billion in net income and over half of that came from outside the U.S. That would put Google in good shape regardless, but the foreign earnings would be especially valuable. In 2009, the company's foreign tax rate was 2.4 percent, reported Bloomberg News.

Google helped keep its taxes low by licensing its algorithms and other digital wizardry to an Irish subsidiary which then sold advertising around the world. The Irish tax rate on that income was 4 percent. But Google was able to drive its tax bill even lower by creating Google Ireland Holdings based in Bermuda where the tax rate is 0.6 percent. The Irish subsidiary sheltered its income by paying royalties to the subsidiary based in Bermuda.

These transactions are supposed to cost the same as if they were conducted at arm's length. Harvey, the former Pricewaterhouse Coopers partner, said they are anything but.

"It is relatively clear most U.S. multinational corporations are aggressively shifting taxable income to low-tax jurisdictions," Harvey said. "I believe that anyone who believes the IRS can effectively enforce the arm's-length standard is an eternal optimist — or delusional."

Tallying the cost

Harvey said the tax tools that multinationals can use give them a competitive advantage over domestic firms. He points to the work of Martin Sullivan, chief economist at Tax Analysts, a nonprofit news service. Sullivan told the House Ways and Means Committee that the tax revenues lost through deferral and transfer pricing were worth between $30 billion to $60 billion a year.

Sullivan also noted that American firms with international operations had shed American jobs while increasing their overseas employment.

"Between 1999 and 2008, U.S. multinational corporations cut their domestic employment by 1.9 million. Over the same period U.S. multinationals increased their employment overseas by 2.4 million," Sullivan said.

But the picture is more complicated than that might seem. There is strong debate over the role that tax rates play in those job shifts. Some analysts, including Harvey, believe the real drivers could be lower wage rates and being closer to important markets around the globe.

However, regardless of the initial motivation, once companies make the move, in Sullivan's words, "a toehold of real investment allows a truckload of profit to follow."

Our ruling

President Obama said there are "loopholes that are giving incentives for companies that are shipping jobs overseas."

Independent analysts agree that firms with international operations can take advantage of tax loopholes that domestic firms can not. The value of these is in the billions. Such tax laws might not be the deciding factor for companies to locate in foreign countries, but they make that choice more lucrative.

We rate the statement True.
CNN, First presidential debate transcript, October 3, 2012

PolitiFact-Rhode Island, Whitehouse says companies get a tax break for moving jobs overseas, November 21, 2010

Interview with Curtis Dubay, senior policy analyst, Heritage Foundation, October 5, 2012

Interview with Will McBride, chief economist, Tax Foundation, October 5, 2012

Interview with Rebecca Wilkins, senior counsel for tax policy, Citizens for Tax Justice, October 5, 2012

Interview with Gary McGill, director, Fisher School of Accounting, University of Florida, October 5, 2012

Email interview with Richard Harvey, professor of practice, Villanova University School of Law and Graduate Tax Program, October 5, 2012

National Tax Journal, Through a glass darkly: What can we learn about a U.S. multinational corporation's International operations from its financial statement disclosures?, (forthcoming) December, 2012

Tax Notes, U.S. MNC's offshore operations: an unbiased view, January 2, 2012

Tax Notes, The revenue effects of multinational firm income shifting, March 30, 2011

Tax Notes, Economic analysis: Transfer pricing costs U.S. at least $28 billion, March 22, 2010

Email interview with Daniel Shaviro, professor of taxation, New York University School of Law, October 5, 2012

Department of the Treasury, General explanations of the administration's fiscal year 2013 revenue proposals, February 2012

Heritage Foundation, Obama's "Insourcing" Agenda: Punishing Job Creators for Competing Overseas, January 18, 2012
Browse the Truth-O-Meter
More by Jon Greenberg
Support independent fact-checking.
Become a member!
In a world of wild talk and fake news, help us stand up for the facts.