Get PolitiFact in your inbox.
Says House Republicans "tried to change the definition of rape."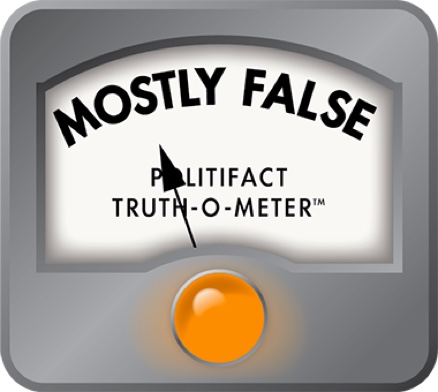 GOP House members tried to redefine rape, Democratic Rep. Gwen Moore says
U.S. Rep. Gwen Moore of Wisconsin was among women members of the House who made brief speeches Sept. 4, 2012, at the Democratic National Convention. Moore said she is working to end violence against women, then blasted her Republican colleagues, declaring:

"No victim of domestic violence or bullying -- man or woman -- should feel unprotected in America. Yet when Democrats acted to strengthen the Violence Against Women Act, Republicans in the House moved to weaken it. In other legislation, they have even tried to change the definition of rape."

Let's hit the pause button.

Did House Republicans try to redefine what constitutes rape and, as the claim suggests, thus affect what would put a perpetrator in prison?

Definition evolves

We'll begin by noting that the definition of rape has not been constant.

The "legal definition of rape has evolved over centuries, and clearly, we're not done fighting over it," Stanford University historian Estelle Freedman wrote in The Washington Post a couple of weeks before Moore's speech. She noted that in the 1980s, for example, states began to outlaw marital rape.

In October 2011, PolitiFact National rated as Half True a claim by Vice President Joe Biden that murder and rape in Flint, Mich., increased after the police force in that city was reduced. Our colleagues noted that the FBI's definition of rape -- "the carnal knowledge of a female, forcibly and against her will" -- was particularly limited when compared to the definition of other law enforcement agencies, in that it excluded male victims and other types of sexual assaults.

Three months later, U.S. Attorney General Eric Holder announced the FBI's Uniform Crime Reporting definition of rape was being revised to be more inclusive and to better reflect state codes.

Noting that the previous definition of rape had been in place since 1927, he said the new definition is: "The penetration, no matter how slight, of the vagina or anus with any body part or object, or oral penetration by a sex organ of another person, without the consent of the victim."

Moore's claim

To back Moore's claim, Moore spokeswoman Nicole Williams cited two pieces of legislation relating to federal funding for abortions.

So, although Moore's statement was broad -- House Republicans "tried to change the definition of rape" -- what she cites as evidence is much narrower, having to do with how rape is defined when federal money is used to pay for abortions.

1. No Taxpayer Funding for Abortion Act

Williams cited an August 2012 article in Mother Jones, a liberal magazine, on legislation regarding federal funding of abortions in cases of rape. The article said the bill was co-sponsored by U.S. Rep. Paul Ryan of Wisconsin, Republican Mitt Romney's vice-presidential running mate, and GOP U.S. Rep. Todd Akin of Missouri.

(Akin, a U.S. Senate candidate, was denounced for saying in August 2012 that pregnancies are rare in cases of "legitimate rape." He apologized but resisted calls to drop out of the race.)

Ryan and Akin were among the co-sponsors of the legislation, which would have limited federal funding of abortions to victims of "forcible" rape and certain other circumstances, PolitiFact New Jersey found in rating a claim by New Jersey Democratic Party chairman John Wisniewski as True.

PolitiFact New Jersey found that the legislation, sponsored by Rep. Chris Smith, R-New Jersey, was first introduced in July 2010. With Democrats controlling the House, the bill didn't move forward.

In January 2011, after Republicans won a majority in the House, Smith reintroduced the legislation. Ryan and Akin -- along with 225 other mostly Republican House members -- again co-sponsored it. The Boston Globe reported that the bill narrowed an exemption to the Hyde Amendment, which allows federal dollars to be used for abortions in cases of rape and incest. Smith's bill would have limited the incest exemption to minors and covered only victims of "forcible rape."

House Republicans never defined what constituted "forcible rape" and what did not, the Globe said, but the term "forcible rape" ignited an outcry among various critics, who said the phrase would exclude victims rapes involving drugs and victims of statutory rape. Statutory rape occurs when an individual, regardless of age, has consensual sexual relations with an individual not old enough to legally consent.

Smith dropped the forcible rape term from the bill. The revised bill passed the House, but the Democrat-controlled Senate never voted on it.

When Ryan was asked by Fox News in August 2012 about why he sought the forcible rape language, he said the bills were aimed at stopping taxpayer funding of abortion and that "forcible rape" was "stock language" used in various bills. He said he agreed with it being removed from the legislation he supported, but didn't elaborate on what he meant by stock language.

Among those coming to Ryan's defense was The Weekly Standard, a conservative magazine. It noted, as other media have, that the intent of the word forcible was to prevent taxpayer-funding of abortions in the case of statutory rape, such as when a 16-year-old and a 19-year-old have consensual sex.

PolitiFact Texas reached a similar conclusion in September 2012 when it rated as Half True a claim by a pro-Democratic political action committee that Ryan, Akin and Texas House Republicans backed a bill to distinguish between rape and forcible rape. According to the text of the 2010 and 2011 bills and numerous news stories, our colleagues said, "the main purpose of the legislation was not redefining rape but limiting the use of federal funds to pay for abortion."

2. Protect Life Act

Moore's spokeswoman also cited the Protect Life Act, saying it also would have restricted to forcible rape the exceptions for when federal funding can be used for abortions.

The January 2011 bill, which passed the House but didn't become law, would have amended President Barack Obama's health care reform law to prevent federal payment to health plans that include abortion coverage, according to PolitiFact National.

Our rating

Moore said House Republicans "tried to change the definition of rape."

Her statement contains an element of truth, in that GOP members sought to change when federal money for abortions could be used in cases of rape, by using the term "forcible rape."

But the claim ignores critical facts that would give a different impression -- the House Republicans' effort was not to change the definition of rape, per se, but rather to restrict the use of federal funds in abortions.

We rate Moore's statement Mostly False.
PolitiFact National, "Joe Biden says murders and rapes increased in Flint, Mich., after the police force was reduced," Oct. 25, 2011

PolitiFact New Jersey, "Paul Ryan and Todd Akin co-sponsored bill limiting federal funding for abortions to victims of 'forcible rape,' New Jersey Democratic leader says," Aug. 22, 2012

Boston Globe, "Mitt Romney, Paul Ryan seek distance from 'legitimate rape' remark, but records show narrow support for abortion," Aug. 20, 2012

RawStory.com, Paul Ryan interview on Fox News, Aug. 27, 2012

Washington Post, "Paul Ryan: The term 'forcible rape' was 'stock language,'" Aug. 27, 2012

Washington Post, "Women's long battle to define rape," Aug. 24, 2012

Email interview, U.S. Rep. Gwen Moore spokeswoman Nicole Williams, Sept. 4 and 5, 2012

Interview and email interview, Romney-Ryan spokesman Brendan Buck, Sept. 5, 2012

Library of Congress, Protect Life Act text

PolitiFact National, "Lawmakers abiding by new constitutional-justification rule," March 18, 2011

FBI, news release on changing definition of rape, Jan. 26, 2012

Politico, text of U.S. Rep. Gwen Moore speech, Sept. 4, 2012

Wall Street Journal, "Remarks put spotlight on definition of rape," Aug. 24, 2012

U.S. Office of Justice Programs, "Statutory rape known to law enforcement," August 2005
Browse the Truth-O-Meter
More by Tom Kertscher
Support independent fact-checking.
Become a member!
In a world of wild talk and fake news, help us stand up for the facts.