Stand up for the facts!
Our only agenda is to publish the truth so you can be an informed participant in democracy.
We need your help.
I would like to contribute
"Half of all adults have a pre-existing condition" that could affect their health care coverage.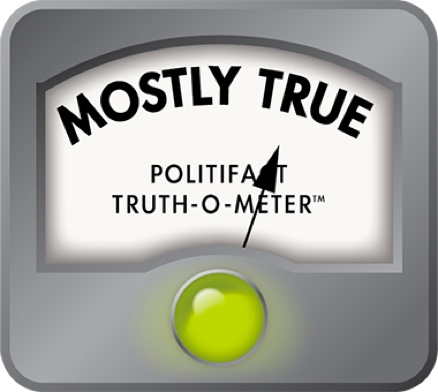 Schakowsky says half of all adults have pre-existing medical condition
One of the more popular provisions in the Affordable Care Act is the one that prevents insurance companies from denying coverage to people who already have health problems. Pre-existing conditions such as hypertension, depression and diabetes are among the most common ailments that can get in the way of being accepted by a new insurance company.
The health care law tackled this problem in two steps. Starting with children, as of September 2010, insurers could not deny coverage, charge significantly higher premiums, require an extended waiting period or curtail benefits due to a pre-existing condition. The second step takes place Jan. 1, 2014, when the same protections kick in for adults.
Rep. Jan Schakowsky, D-Ill., appearing Aug. 5, 2013, on PoliticsNation on MSNBC, chastised Republicans for wanting to repeal Obamacare, saying many benefits would be lost.
"Half of all adults have a pre-existing condition that will go away in terms of insurance coverage on January 1st," Schakowsky said. "I mean, what a blessing that is for sick Americans, for people who are walking around uninsured or underinsured."
We know that Americans face a lot of health challenges, but do half of adults have a pre-existing condition?
In the eye of the insurer
There are a range of estimates for the number of people with health issues that would put them at risk of running afoul of an insurance company. One reason is that insurers have different lists of conditions that raise a red flag. Similarly, researchers can take a conservative approach and use a short list, or be more expansive with a longer one.
The Government Accountability Office, the investigative arm of Congress, examined five studies on the prevalence of pre-existing conditions. The lowest estimate counted just eight diseases, such as cancer, diabetes, heart disease and stroke. That study came up with about 36 million people between 19 and 64 who have one of those health issues. Another study used a list of 60 conditions and arrived at a number of 60 million who might be vulnerable to denial of coverage, and the GAO itself used medical survey data and reached a high-end estimate of 122 million.
As percentages, this translates into a low-end estimate of 20 percent of American adults potentially at risk, 66 percent on the high end, with a midpoint of 32 percent.
An analysis from the U.S. Department of Health and Human Services came up with a roughly similar range of 19 percent to 50 percent.
The Heritage Foundation, a conservative think tank, notes that projections of the scope of the problem can miss the mark. The administration expected about 375,000 people would enroll in a special insurance program for those who had been denied coverage but as of January 2013, only about 107,000 had. That said, many factors apart from health could have affected enrollments.
The main caveat with these studies is they estimate the number of people who have a health issue that might lead to denial of coverage by an insurance company. That describes a group of people who are at risk. What's missing is an estimate of the number of people who actually run into the problem of being denied coverage.
A limited analysis emerged from the House Energy and Commerce Committee in 2009. Using data from four of the country's largest private insurers, committee investigators found that the companies had denied coverage to one out of seven people based on pre-existing conditions during a three-year period. The denial rate rose each year, increasing by nearly 50 percent over the three years while at the same time, the number of new applications for coverage only rose by about 16 percent.
Survey says
Another line of data comes from the Kaiser Family Foundation and its monthly tracking polls. In June 2013, Kaiser reported that 49 percent of adults said that they or a family member has heart disease, diabetes, cancer or another condition that generally triggers an issue with insurance companies. Within that group, about a fourth of them reported that coverage had been denied or higher premiums had been charged due to a pre-existing condition.
This is far from a perfect fit with the other studies. To say someone in your family has a health condition is essentially reporting at the household level, while the GAO and other studies were estimating the number of individuals. And if we do the math, it seems like about an eighth, or 12 percent of the households had actually run into a problem with a health insurance company.
The Kaiser survey does affirm that the problem is substantive and relatively widespread, although not necessarily as broad as the higher estimates in the studies.
Our ruling
Schakowsky said that half of all adults suffer from a pre-existing condition. Studies reflect a range of estimates and Schakowsky's figure falls at the high end. A government analysis points to a mid-range estimate of 32 percent, a significant fraction of the adult population.
We rate the statement Mostly True.
Browse the Truth-O-Meter
More by Jon Greenberg
Support independent fact-checking.
Become a member!
In a world of wild talk and fake news, help us stand up for the facts.