Stand up for the facts!
Our only agenda is to publish the truth so you can be an informed participant in democracy.
We need your help.
I would like to contribute
"Of the four statewide races this century within a 300-vote margin, three have been overturned in a recount."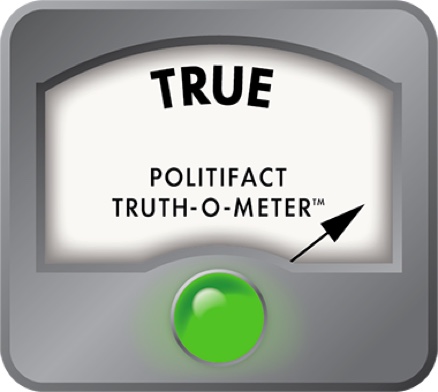 Obenshain says vote recounts have reversed 3 of the 4 closest statewide elections
With the statewide vote recount for attorney general kicking into gear this week, Republican Mark Obenshain is citing history to back his hope that his razor-thin loss to Democrat Mark Herring last month will be reversed.
"Of the four statewide races this century within a 300-vote margin, three have been overturned in a recount," Obenshain said in a Nov. 27 news release announcing his decision to seek the recount.
We looked into Obenshain's claim. Let's start with some background.
The official election count, certified Nov. 25, named Herring the winner by 165 votes, or 0.007 percent of the more than 2.2 million ballots cast. Obenshain filed a recount petition on Nov. 27.
The recount will simply retabulate results from Nov. 5 election. Vote tallies can change if:
* the results were incorrectly counted;
* some ballots were included that should have been ruled invalid;
* if apparent undervotes or overvotes were not tallied but should have been. Undervotes occur when voters fail to clearly select a candidate. Overvotes occur when voters appear to mark more than one candidate in a race.
Now, let's return to Obenshain's statement on recounts in other states.
Paul Logan, a spokesman for Obenshain's campaign, said the statistic came from a report by The Center for Voting and Democracy from 2011. Of the 2,884 statewide general elections in the U.S. from 2000 to 2009, only 18 had recounts and 11 had a margin of victory of 0.15 percent or less. The average margin swing was 296 votes in those 18 recounts and the median swing was 229 votes.
The report cited four recounts in the past decade in which the winner and leading loser were divided by 300 votes. Other than Virginia's attorney general election, there have been no races between candidates to add to the list since 2009.
Here's what happened in the other states:
Montana, 2000
About 63,000 people cast ballots in the Democratic primary for superintendent of public school instruction and only 64 votes separated the top two candidates. Linda McCulloch maintained her lead through the recount, eventually beating Gail Gray by 61 votes.
Washington, 2004
Democrat Christine Gregoire won the governor's race after a second recount -- by hand -- gave her a 130-vote edge over Republican Dino Rossi out of 2.7 million ballots cast. Rossi had won the original count by 261 votes and an automatic machine recount by 42 votes. During the hand recount, 700 additional absentee ballots from King County were included that had originally been wrongly disqualified. Republican unsuccessfully challenged the results in court and legal wranglings continued well into the following year.
Vermont, 2006
On election night, counters incorrectly transferred results on tally sheets in the state auditors race, crediting some votes for a third-party candidate instead of the Democratic challenger, Thomas Salmon. The mistakes happened in a few communities that used paper ballots. During a recount, 239 votes changed. Salmon, originally runner-up,  won by 102 votes over Republican incumbent Randy Brock.
Minnesota, 2008
Incumbent U.S. Sen. Norm Coleman, a Republican, won the original count over Democrat Al Franken by 215 votes out of 2.4 million cast ballots. During a hand recount, Coleman maintained a 192-vote lead. But challenges which were eventually settled by the Minnesota Supreme Court led, among other things  to the counting of nearly 1,000 absentee ballots that were initially excluded. In the end, Franken won by 312 votes.
Two experts told us there are important differences between what happened in the other states and Virginia. The experts were Charles Stewart III, a political scientist at the Massachusetts Institute of Technology, and Edward Foley, a professor at Ohio State University's Moritz College of Law, who is writing a book on the history of disputed elections in the United States.
Because Virginia largely votes by electronic process, they say a smaller percentage of ballots from the attorney general race will be subjected to hand recounting than were in Washington and Minnesota. Experts also note that Washington and Minnesota had more liberal voting laws than Virginia that led to the addition of some ballots for counting during the recounts in both of those states.
"Experts are assuming the change is going to be tiny," Stewart said.  "But even a tiny change could affect the outcome, although that's highly unlikely, at this point."
In Virginia, ballots ruled invalid in the original count cannot be reintroduced. To include additional ballots -- which may have been improperly excluded -- a candidate must contest the race to the General Assembly,  which is a step beyond a recount.  
Virginia also requires that all optical scan ballots, in which voters mark their preferences by filling in circles or squares similar to those found on standardized tests, be included in recounts. They will be re-run through tabulation machines; overvotes and undervotes will be weeded out and counted manually. The Virginia Public Access Project estimated that more than 700,000 optical scan ballots were cast in the November election.
In addition, the process will include a hand count of absentee and provisional ballots, a tally of tapes printed by direct-recording electronic voting machines, and reprint and recount of any illegible tapes printed on election night.
Our ruling
Obenshain said that three of the four statewide races this century within a 300-vote margin have been overturned in a recount.
He's right, although sets of circumstances in these three upturned elections in other states do not translate to the Virginia recount that Obenshain hopes will improve his second-place finish in last month's attorney general race. We rate his statement True.
Mark Obenshain, "Recount," Nov. 27, 2013.
State Board of Elections, "Official Results - General Election - November 5, 2013," accessed Dec. 3, 2013.
Richmond Times-Dispatch, "Obenshain files recount petition in AG race," Nov. 28, 2013.
The Virginia Public Access Project, "Update: Scope of Potential Recount," Nov. 25, 2013.
Recount Procedural Order, Dec. 10, 2013.
Not Larry Sabato, "25,000 - 50,000 AG Ballots Still Left To Be Counted," Nov. 25, 2013.
Emails from Nikki Sheridan, spokeswoman for Virginia's State Board of Elections, Dec. 3, 10 and 12, 2013.
SBE, "Recount Step By Step Instructions," August 2012.
The Center for Voting and Democracy, "A Survey and Analysis of Statewide Election Recounts, 2000-2009," April 2011.
The Center for Voting and Democracy, Update data from 2012, accessed Dec. 16, 2013.
Pew Center on the States, "The Cost of Statewide Recounts," November 2010.
Bozeman Daily Chronicle, "Simon concedes to Schmidt," July 4, 2000.
The Billings (Mont.) Gazette, "Ballot system 'reliable,'" Nov. 20, 2000.
The Associated Press in Rutland (Vt.) Herald, "Recount upsets auditor election," Dec. 19, 2006.
Rutland (Vt.) Herald, "Salmon's win in auditor race certified," Dec. 22, 2006.
Brattleboro (Vt.) Reformer, "Victory goes to Salmon," Dec. 22, 2006.
Seattle Post-Intelligencer, "GOP to fight Gregoire victory: Democrat wins second recount by 130 votes," Dec. 24, 2004.
Star Tribune (Minneapolis), "Minnesota Supreme Court -- At last, a senator -- Court's unanimous decision for Al Franken ends a wait that began eight months ago," July 1, 2009.
Star Tribune (Minneapolis), "At last, a senator -- Senate election timeline," July 1, 2009.
Arizona Capitol Times, "Recount confirms defeat of Arizona's Proposition 112," Dec. 20, 2010.
Interview with Edward B. Foley, director of Election Law @ Moritz and Chief Justice Thomas J. Moyer Professor for the Administration of Justice & Rule of Law at Moritz College of Law at Ohio State University, Dec. 12, 2013.
Interview with Charles Stewart III, Kenan Sahin Distinguished Professor of Political Science at Massachusetts Institute of Technology, Dec. 12, 2013.
Browse the Truth-O-Meter
More by Nancy Madsen
Support independent fact-checking.
Become a member!
In a world of wild talk and fake news, help us stand up for the facts.