Stand up for the facts!
Our only agenda is to publish the truth so you can be an informed participant in democracy.
We need your help.
I would like to contribute
"Upwards of 90 percent" of women seeking an abortion decide not to have an abortion after seeing an ultrasound.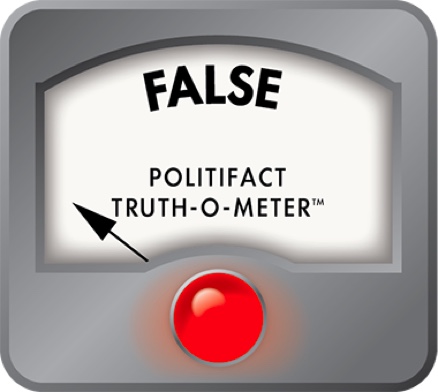 More than 90% of women change their minds about having an abortion after seeing an ultrasound, Rachel Campos-Duffy says
The same day the state Senate approved a bill requiring women to get an ultrasound before getting an abortion, Rachel Campos-Duffy appeared at a Wisconsin Right to Life gathering in Appleton.
The controversial bill drew striking comments from some senators. One Republican said abortions "became the thing to do" in the 1960s and a Democrat said the bill was government trying to "find its way into a woman's vagina."
Meanwhile, Campos-Duffy -- a conservative pundit, occasional host of "The View" TV show and wife of U.S. Rep. Sean Duffy, R-Hayward -- made her own eye-catching statement about ultrasounds and abortion.
In connection with the June 12, 2013, Right to Life event, she did a video interview with the Appleton Post-Crescent newspaper, saying:
"So, it really doesn't make sense to me when people who purport to be advocates for women suddenly say, 'Oh, we don't need those pesky ultrasounds, you don't need all of that information,'" Campos-Duffy said. "It seems very dubious, their motivation, because we always want the patient to have as much information as possible.
"Now, it's true that once a father or a mother who are seeking an abortion see an ultrasound, it's true that upwards of 90 percent of them decide not to have an abortion. Our opposition may not like those results, but those are what people decide after they have all the facts in front of them."
Do more than 90 percent of women seeking an abortion decide not to get one after seeing their ultrasound?
The law
Gov. Scott Walker signed the bill July 5, 2013. Besides ultrasounds, the law requires doctors who perform abortions to have hospital admitting privileges. A judge has temporarily blocked the requirement on doctors, but the ultrasound provision remains in effect.
Before a woman can get an abortion, an ultrasound must be performed. There are exceptions for a medical emergency or in cases in which the pregnancy is the result of incest or sexual assault, if those crimes have been reported to police.
The person performing the ultrasound must describe what is being shown and provide the woman an opportunity to see the ultrasound images. But the woman can't be required to view the images.
Eleven other, mostly southern states have adopted laws that require an ultrasound before abortion although the laws are in effect in only nine of the states, according to the Guttmacher Institute, a research group focusing on reproductive health issues.
The states are Alabama, Arizona, Florida, Indiana, Kansas, Louisiana, Mississippi, North Carolina, Oklahoma, Texas and Virginia. However, North Carolina's law is temporarily unenforceable pending a court decision and Oklahoma is permanently blocked by court order.
Campos-Duffy's evidence
As for Campos-Duffy's claim that "upwards of 90 percent" of women seeking an abortion decide not to have one after seeing an ultrasound, she told us her source was the Knights of Columbus. She cited a page on the Catholic group's website that describes how the group helps bring ultrasound machines to "pro-life pregnancy help centers."
"Reports indicate that up to 90 percent of women considering an abortion choose to have their baby after seeing an ultrasound image," the website said. "They hear their baby's heartbeat, they see their baby's head and fingers. They know it is a child, not a 'choice.'"
But that's merely a statement similar to Campos-Duffy's, not evidence that her statement is correct.
Joe Cullen, of the Knights of Columbus' national office in New Haven, Conn., told us his group based its 90 percent statement on statements by two other organizations -- Focus on the Family and ICU Mobile. Like the Knights of Columbus, both groups help supply ultrasound machines for anti-abortion pregnancy centers.
Interestingly, the Knights removed the 90 percent statement from its website after we heard from Cullen.
Let's see what the other two organizations have to say.
Focus on the Family
Focus on the Family is a multi-faceted organization in Colorado Springs, Colo., founded by evangelical Christian Dr. James Dobson. It provides grants to pregnancy centers for ultrasound machines.
Focus on the Family claims that since its ultrasound program began in 2004, "the estimated number of babies saved" is more than 201,000.
But the group told us it doesn't claim that any particular percentage of women seeking an abortion change their minds after seeing their ultrasound.
ICU Mobile
ICU Mobile, based in Akron, Ohio, makes a claim similar to Campos-Duffy's, saying on its website that "86.9 percent of women considering an abortion who see their baby aboard an ICU Mobile choose life."
The website says the statistic is for 2010 and breaks down this way: The mobile units provided ultrasound images to 1,389 women; 613 were "abortion minded or abortion vulnerable"; and 533 of them, or 86.9 percent, "made a decision for life."
That statistic, though unverified, helps Campos-Duffy's claim a little, but it applies to a relatively small number of women and there are some other caveats. The women are categorized by ICU Mobile as being undecided but leaning toward having an abortion. And the group does not indicate how it determines whether a woman, after receiving an ultrasound, ultimately gave birth or had an abortion.
Indeed, ICU Mobile's claim is much lower for women who had decided to have an abortion before they saw an ultrasound. Just over half of those women change their mind after the ultrasound, the group claims.
Other sources
Other sources do not support Campos-Duffy's contention -- at least not for the 90 percent claim she made.
University of California, San Francisco: Researchers interviewed 20 women who received an ultrasound "as part of their abortion care" and published a study in November 2012. The women's responses "offer support for anti-abortion claims that ultrasound viewing can dissuade women from abortion, as well as support for abortion rights claims that viewing an ultrasound can cause emotional difficulty for a woman planning to abort."
But in a separate article, one of the researchers, Tracy Weitz, director of the Advancing New Standards in Reproductive Health at the university, said "no peer-reviewed empirical data has supported this proposition that viewing an ultrasound image discourages women from abortion."
University of British Columbia: In a study published in 2009, researchers gave questionnaires to 350 women who came to two abortion clinics, asking if they wanted to view an ultrasound. Nearly 73 percent got the ultrasound and 86 percent of them described it as a positive experience. But none changed their minds about having an abortion.
University of Texas at Austin: Researchers there and from the University of Alabama at Birmingham gave surveys to 318 women who sought abortions at clinics in six Texas cities in 2012; 72 percent looked at their ultrasound. Before their consultation and ultrasound, 92 percent of those women said they were sure of their decision, or that abortion was a better choice for them. Afterward, the percentage was unchanged.
We'll also note that the conservative Family Research Council in Washington, D.C. cites on its website various statements indicating that women are more likely to opt not to have an abortion after seeing an ultrasound; one pregnancy center director in Baton Rouge, La., is quoted as saying that "98 percent of women who have ultrasounds choose to carry to term."
But the council makes no claim and provides no evidence indicating that on a national level upwards of 90 percent of women seeking an abortion change their minds after seeing an ultrasound.
Our rating
Campos-Duffy said "upwards of 90 percent" of women seeking an abortion decide not to have an abortion after seeing an ultrasound.
Research indicates that some women seeking an abortion change their mind after having an ultrasound. But, while one anti-abortion organization claims a figure of nearly 90 percent for its ultrasound program among a certain group of women, there is no solid evidence to back Campos-Duffy's sweeping claim.
We rate her statement False.
Appleton Post-Crescent, "'Real World' star praises abortion crackdown," June 13, 2013
Email interview, Rachel Campos-Duffy, June 18, 2013
Email interview, Knights of Columbus spokesman Joe Cullen, June 19, 2013
Wisconsin State Journal, "Legislation requiring ultrasounds," June 14, 2013
Texas Policy Evaluation Project, "Impact of abortion restrictions in Texas," April 2013
ICU Mobile, "Why we go -- the ICU Mobile mission"
Wisconsin Legislature, Senate Bill 206
Milwaukee Journal Sentinel, "Senate Republicans back abortion measure as Democrats hold up final vote," June 12, 2013
PolitiFact Virginia, "McDonnell says Virginia will join 23 states with ultrasound requirements before abortions," March 21, 2012
Focus on the Family, "Option Ultrasound: Revealing life to save life"
Focus on the Family, "Focus on the Family clarifies Option Ultrasound numbers," Oct. 18, 2011
Women's Health Issues journal, "Women's perspectives on ultrasound viewing in the abortion care context," November 2012
Email interview, Americans United for Life spokeswoman Kristi Hamrick, July 8, 2013
RH Reality Check, "What we are missing in the trans-vaginal ultrasound debate," March 1, 2013
Family Research Council, "Ultrasound policy"
Email interview, Guttmacher Institute senior communications associate Rebecca Wind, July 9, 2013
U.S. National Library of Medicine, abstract of "Women's perceptions about seeing the ultrasound picture before an abortion," April 2009
Interview, ICU Mobile ministry relationship manager Adam Barton, July 9, 2013
Email interview, Family Research Council media coordinator Darin Miller, July 9, 2013
Email interview, Focus on the Family vice president of communications Paul Batura, July 10, 2013
Browse the Truth-O-Meter
More by Tom Kertscher
Support independent fact-checking.
Become a member!
In a world of wild talk and fake news, help us stand up for the facts.