Stand up for the facts!
Our only agenda is to publish the truth so you can be an informed participant in democracy.
We need your help.
I would like to contribute
"In the United States, 50 percent of social services are provided by the Catholic church."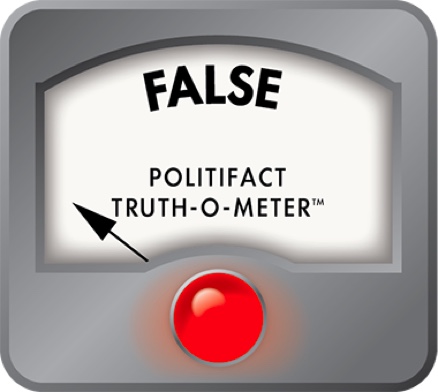 Does the Catholic church provide half of social services in the U.S.?
Former Oklahoma Gov. Frank Keating, a Republican, appeared on NBC's Meet the Press just days after the selection of Cardinal Jorge Mario Bergoglio of Argentina to be the new pope.
In praising Pope Francis' "life of humility," Keating said that judging by his selection, the church was poised to focus on caring for the poor and vulnerable. In his remarks, Keating offered a statistic to demonstrate the depth of the church's commitment to charity.
"In the United States, 50 percent of social services are provided by the Catholic church," said Keating, who now serves as president and CEO of the American Bankers Association.
Keating did not return an inquiry for this story, nor did Catholic Charities USA, the largest charitable organization run by the Catholic church. We asked a variety of experts on philanthropy whether they had heard this statistic or knew where it came from, but none did.
We should start by noting that Catholic charity work is extensive and widely considered a crucial part of the nation's social safety net. By itself, Catholic Charities USA, has more than 2,500 local agencies that serve 10 million people annually, said Mary L. Gautier, a senior research associate at the Center for Applied Research in the Apostolate, an institute at Georgetown University that studies the church.
And Catholic Charities is supplemented by a panoply of other Catholic-affiliated groups, Gautier said, including "St. Vincent De Paul societies, social justice committees, soup kitchens, food pantries, and other similar programs organized independently by thousands of Catholic parishes each year."
For a variety of reasons, it's difficult to quantify exactly how big Catholic-backed charity is, but we tried our best to sift the data with the help of the National Center for Charitable Statistics, a project of the Urban Institute, a nonpartisan think tank in Washington.
The first question we asked is whether the sum of all Catholic-sponsored charity amounts to half of all charitable activity by private groups in the United States. We started with the biggest, Catholic Charities USA, then worked outward.
In 2010, Catholic Charities USA reported expenditures of between $4.2 billion and $4.4 billion, according to the Chronicle of Philanthropy, which publishes an annual list of the 400 biggest charities in the United States, ranked by the amount of donations they receive. This enabled it to rank near the top of the 400 list, behind two major social-services charities -- the United Way and the Salvation Army, neither of which is affiliated with the Catholic church.
Meanwhile, Catholic News Service has noted a few other Catholic organizations that made the Chronicle's annual 400 list, including Father Flanagan Boys Home and Covenant House. This excludes Catholic universities, which mainly provide higher education; hospitals, which are categorized separately from social services; and groups that focus on overseas work.
Let's assume that other Catholic groups that didn't crack the top 400 list spent six times what Catholic Charities USA spent, a multiplier that experts we contacted thought was reasonable. That would make the figure about $26 billion.
Then if you suppose that the 18,000 Catholic parishes spent an average of $200,000 on the needy every year beyond what they contribute to any of these charitable organizations, a number also considered plausible by our experts, that would add another $3.6 billion to the total.
All told, this would equal about $30 billion. So how does that slice compare to the entire pie?
National Center for Charitable Statistics researchers tallied up expenditures by nonprofits in the broad category of "human services," which includes nutrition, employment assistance, legal aid, housing, disaster relief and youth development. In 2010, the most recent year available, they came up with total expenditures of $168 billion in that category.
So by our estimate, Catholic-affiliated charity amounts to 17 percent of the funds spent by nonprofits on social services -- well short of the 50 percent Keating cited. Even doubling this share to create a generous margin of error brings it to 34 percent -- still well short of half.
But even this may overestimate the footprint of Catholic-supported charities, since it doesn't include social-service expenditures by the government. In his comment, Keating didn't specify that he was only talking about social services funded by private groups.
According to the Congressional Budget Office, federal spending on means-tested programs and tax credits totaled $588 billion in 2012, more than triple what the private sector spent. If you factor in federal spending on these programs, the Catholic share shrinks further, to somewhere in the mid-single digits, depending on how generous your estimate is.
Indeed, the government even foots a notable share of the bill for Catholic charitable work through social service contracts. According to NETWORK, a Catholic social-justice lobbying group, the federal government sent more than $1.5 billion to Catholic organizations over a recent two-year period. In 2012, the Economist reported that 62 percent of Catholic Charities' support came from local, state and federal government agencies.
And indirectly, the government maintains a tax exemption for churches and charities, which enables all religious groups to devote more of their funds to charitable work. Taxpayers who itemize can also deduct their donations to charities, including Catholic ones.
Our ruling
Keating said, "In the United States, 50 percent of social services are provided by the Catholic church." He's right that Catholic groups are among the biggest providers of social-service charity in the nation, but it doesn't appear that they account for half of all such charity.
We're admittedly using a bit of guesswork, but Catholic charity seems to account for 17 percent to 34 percent of all nonprofit social-service charity, depending on how generous an estimate you make. And that share drops to single digits once you factor in the money the federal government spends on means-tested programs. We rate the statement False.
Frank Keating, comments on NBC's Meet the Press, March 17, 2013
Chronicle of Philanthropy, "How the Top 100 Have Changed in 2 Decades," Oct. 14, 2012
Catholic News Service, "Catholic Charities USA makes top 10 in Philanthropy 400," Oct. 31, 2011
NETWORK, "Setting the Record Straight on Federal Funding for Catholic Organizations," Jan. 31, 2012
Congressional Budget Office, "Growth in Means-Tested Programs and Tax Credits for Low-Income Households," Feb. 11, 2013
The Economist, "Earthly concerns," Aug. 18, 2012
Email interview with Olivier Zunz, professor of history at the University of Virginia, March 18, 2013
Email interview with Mary L. Gautier, a senior research associate at the Center for Applied Research in the Apostolate, March 18, 2013
Email interview with Thomas Pollak, senior research associate and program director at the National Center for Charitable Statistics, March 19, 2013
Email interview with Leslie Lenkowsky, clinical professor of public affairs and philanthropic studies, March 19, 2013
Interview with Stephanie Niedringhaus, spokeswoman for NETWORK, March 19. 2013
Interview with Sheila Zedlewski, researcher at the Urban Institute, March 19, 2013
Browse the Truth-O-Meter
More by Louis Jacobson
Support independent fact-checking.
Become a member!
In a world of wild talk and fake news, help us stand up for the facts.