Stand up for the facts!
Our only agenda is to publish the truth so you can be an informed participant in democracy.
We need your help.
I would like to contribute
Wisconsin is "one of the bluest" states, but under Scott Walker its unemployment rate "is around 3.5%."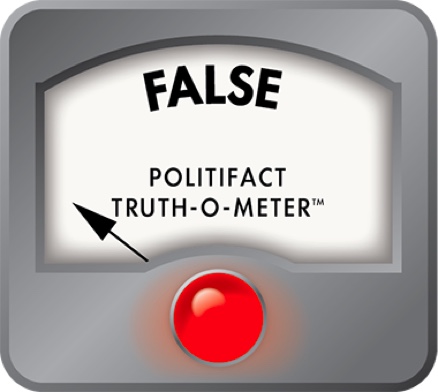 Wisconsin is a heavily Democratic state and under GOP Gov. Scott Walker, unemployment is just 3.5%, Rush Limbaugh says
Rush Limbaugh was noting with amazement that the New York Times had carried an item about the Wisconsin Legislature approving a $504 million tax cut proposed by Gov. Scott Walker.
"I think this is one of the biggest and most under-commented on -- including in conservative media -- stories this year," Limbaugh said on his show on March 19, 2014, according to a transcript on his website.
"This is simply huge, what Governor Walker has done, no matter how you look at this."
The nation's highest-rated radio talk show host continued by making a claim about how Democratic-leaning Wisconsin is and how low unemployment is under the Republican governor.
Wisconsin, Limbaugh said, is "one of the bluest of blue states. One of the bluest of the blue universities. One of the headquarter states for malcontent state unions. One of the headquarter states for malcontent Democrat Party union activism. They did everything they could not just to destroy Walker's political career; they tried to destroy his reputation and his political life.  They attempted to recall him a couple of times. The Democrats in the Senate walked out.
"He persevered.  He overcame.  He dominated, and he won.  And in the bluest of blue states, unemployment is around 3.5 percent."
Leaving aside Limbaugh's reference to a couple of recalls (Walker prevailed in the one recall attempt, in 2012, made against him), many Wisconsinites likely regard their state as being roughly as much red (Republican) as it is blue (Democratic).
And they, along with Limbaugh's millions of other listeners, might be surprised that unemployment has gotten so low.
Blue, red and purple
The Washington Post traces the widespread use of red and blue to the late "Meet the Press" host Tim Russert and an appearance he made on "The Today Show" about a week before George W. Bush's victory over Al Gore in the 2000 presidential election. Russert and host Matt Lauer discussed a map that had a red-and-blue color scheme. Up to then, there had been no consensus and some media identified Democratic states as red and Republican states as blue.
How states vote for president, in the most recent election or the last several presidential contests, has become a common way to identify states as blue or red.
Viewed narrowly, Wisconsin is blue, having voted for the Democratic nominee in each of the last seven presidential contests. Over the past five decades, only two Republicans, Richard Nixon and Ronald Reagan, have won Wisconsin. (Nixon won in 1960, 1968 and 1972, and Reagan won in 1980 and 1984).
Limbaugh spokeswoman Rachel Nelson said Limbaugh based the blue-state part of his claim on the fact that Wisconsin hadn't voted for the GOP presidential nominee since '84.
But calling Wisconsin "one of the bluest" states suggests it's an automatic in the Democratic column, when in fact it has often been a presidential battleground. Four months before the 2012 election, for example, Politico listed Wisconsin as one of nine swing states; days before the vote, the New York Times listed Wisconsin as one of just six swing states.  
And on other measures, Wisconsin isn't clearly blue at all.
In terms of control of state government, Wisconsin's hue is red, with Walker as governor and the GOP in control of both houses of the Legislature. Accordingly, The Post in December 2013 colored Wisconsin red in observing how states are aligning completely with one party -- three-quarters of them are now controlled by either Republicans or Democrats.
It's worth nothing, however, that things can change quickly in Wisconsin. Just prior to the 2010 elections, which put Walker and his fellow Republicans in power, Wisconsin state government was blue, with a Democrat as governor (Jim Doyle didn't seek re-election) and Democrats controlling the Legislature.
Meanwhile, Wisconsin looks purple -- as in a mix of blue and red --  when it comes to federal representatives and party preferences.
In the U.S. Senate, conservative Republican Ron Johnson and liberal Democrat Tammy Baldwin are about as far apart politically as any state's senators. Wisconsin's House delegation is closely split, with five Republicans and three Democrats.
As for party preferences, a yearlong annual Gallup poll released in January 2014 identified 17 states as blue, meaning their residents were solidly or leaning Democratic; and 14 as red, as in solidly or leaning Republican. That left 19 states, including Wisconsin, rated as competitive.
In sum, Wisconsin doesn't measure up as one the bluest states.
Unemployment down, but not that low
On the 3.5 percent unemployment part of his claim, Limbaugh misspoke, his spokeswoman said. She noted Limbaugh had also referenced the Dakotas during that part of his show.
(In January 2014, the latest rates available when Limbaugh made his statement, the unemployment rate was 3.6 percent in South Dakota and 2.6 percent in North Dakota.)   
Two weeks before Limbaugh made his statement, we evaluated a claim by Democrat Mary Burke, Walker's challenger in the November 2014 gubernatorial election. We gave her a Pants on Fire for claiming that unemployment under Walker is up.
Although Walker is not on pace to meet his campaign promise of creating 250,000 jobs by January 2015, unemployment has dropped from 7.7 percent when he took office in January 2011 to near 6 percent. It was 6.1 percent in January 2014.
Wisconsin's unemployment rate last hit 3.5 percent in November 2000, according to the U.S. Bureau of Labor Statistics.
Our rating
Limbaugh said Wisconsin is "one of the bluest" states, but under Walker its unemployment rate "is around 3.5%."
Although Wisconsin has voted for the Democratic nominee in the last seven presidential contests, as a frequent battleground state, it is far from being an automatic in the Democratic column. At the state level, meanwhile, Wisconsin is currently Republican red but was recently Democratic blue, and by other measures it is somewhere between the two.
As for unemployment under Walker, it has dropped to near 6 percent, but nowhere near 3.5 percent.
We rate Limbaugh's statement False.
RushLimbaugh.com, transcript of Limbaugh radio show, March 19, 2014
U.S. Bureau of Labor Statistics, news release, January 2014 employment figures
Gallup Politics, news release, Jan. 29, 2014
PolitiFact Wisconsin, "Democratic challenger Mary Burke says Wisconsin unemployment has increased under Gov. Scott Walker," March 7, 2014
PolitiFact Rhode Island, "Pro-Democrat group says 9 of the 10 poorest states are Republican," March 28, 2014
PolitiFact National, "'Red State Socialism' graphi says GOP-leaning states get lion's share of federal dollars," Jan. 26, 2012
Email interview, Gov. Scott Walker campaign spokeswoman Alleigh Marre, March 28, 2014
Washington Post, "Red, blue states move in opposite directions in a new era of single-party control," Dec. 28, 2013
Milwaukee Journal Sentinel, "Wisconsin unemployment rate fell to 6.1% in January," March 13, 2014
Interview and email interview, Premiere Networks/Rush Limbaugh spokeswoman Rachel Nelson, April 1, 2014
U.S. Bureau of Labor Statistics, news release on January 2014 state unemployment rates, March 17, 2014
Politico, "2012 swing states," July 2, 2013
New York Times, "Swing state polls"
Browse the Truth-O-Meter
More by Tom Kertscher
Support independent fact-checking.
Become a member!
In a world of wild talk and fake news, help us stand up for the facts.