Stand up for the facts!
Our only agenda is to publish the truth so you can be an informed participant in democracy.
We need your help.
I would like to contribute
On offshore drilling for energy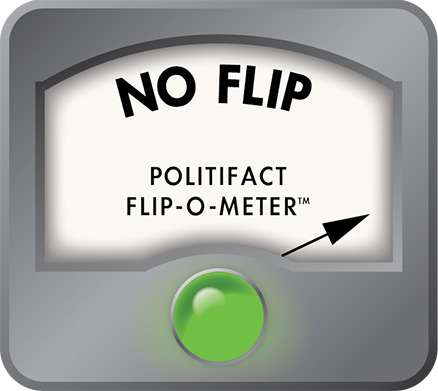 Warner has remained steady in support for offshore drilling
Republican challenger Ed Gillespie says there's a gap between U.S. Sen. Mark Warner's professed support of offshore drilling for energy resources and his voting record.
Here are Gillespie's words from a July 26 debate with Warner, a Democrat:
"When it comes to offshore drilling, Sen. Warner just said that he supports it, and I know that he has said that, but in fact in 2012, there was a vote for drilling for more oil and gas throughout the Outer Continental Shelf. Five Democrats voted for it, including Jim Webb (of Virginia). Sen. Warner voted against it."
Warner replied that his stance has been steady. "On offshore oil, I've had legislation for that for years," he said. "But I do believe that Virginia should get a share of the royalties. The bill that Ed mentioned didn't include that."
So we wheeled out the Flip-O-Meter to measure Warner's consistency on the issue.
Gillespie, according to his campaign spokesman, was referring to a March 2012 vote on an amendment to a transportation funding bill. The amendment -- offered by Sen. David Vitter, R-La. -- would have re-opened the Outer Continental Shelf around the U.S. for drilling according to a five-year period originally designed to start in 2010. Virginia was included in that plan, but President Barack Obama put it on hold after the catastrophic Deepwater Horizon oil spill in the Gulf of Mexico in 2010.
Gillespie got Warner's vote right -- he opposed the amendment, which did not pass. Three Democrats, including Webb, supported it.
But the vote does not show waffling on Warner's part. We read Vitter's two-paragraph amendment; it did not seek revenue-sharing for coastal states. Warner, at the time of the vote, cited the omission as his reason for opposing the amendment. It's been estimated that Virginia could receive as much as $250 million a year if the federal government gave it the same royalty rights it has granted to Gulf Coast states for oil and natural gas extracted off their coasts.
Warner's campaign sent us a list of the senator's actions in supporting offshore drilling with the proviso that royalties are shared with affected coastal states:
*Warner introduced legislation that would expand offshore drilling in 2013 and co-sponsored bills to that effect in 2012 and 2011.
*He joined other senators in signing letters to the Secretary of Interior in signed 2012 and 2014 supporting drilling and urging that Virginia be included in the nation's offshore plan.
We spoke to Glen Besa, director of the Sierra Club's Virginia chapter, which strongly opposes offshore drilling.
"I've been disappointed in Mark Warner's support for offshore drilling," Besa said. "He's been painfully consistent as far as we're concerned, and on the wrong side of the issue."
It should be noted that Gillespie, prior to becoming a Senate candidate, characterized Warner as an offshore drilling advocate. This occurred on Sept. 17, 2012, when Gillespie held a telephone conference with national reporters to outline positions being taken by Mitt Romney, the GOP's presidential nominee. It was six months after Warner had voted against Vitter's amendment.
"We'll allow for drilling off the coast off the coast of Virginia, which both Democratic senators and the Republican governor are asking for," Gillespie said, according to a transcript of the event.
At the time, Virginia's Democratic senators were Warner and Webb. The Republican governor was Bob McDonnell.
Our ruling
Warner's record is consistent: He supports offshore drilling but insists that states, including Virginia, receive royalties for oil and natural gas extracted off their coasts.
We rate this No Flip.
YouTube, "Watch Mark Warner, Ed Gillespie meet for first Virginia Senate debate," statement at about 7:00, July 26, 2014.
PolitiFact Virginia, "Virginia GOP says Mark Warner voted with Obama 97 percent of the time," May 15, 2014.
PolitiFact Virginia, "Gillespie says Warner supports Majority Leader Reid 'down the line,'" July 6, 2014.
PolitiFact Virginia, "Ed Gillespie says Mark Warner's record is against the Keystone XL pipeline," June 23, 2014.
Oil & Gas Journal, "Next 5-year plan to include South, Mid-Atlantic G&G data," June 13, 2014.
Facebook, Warner's comments, March 8, 2012.
Email from Paul Logan, Gillespie spokesman, Aug. 5, 2014.
Emails from David Turner, Warner spokesman, May 7, June 25 and Aug. 13, 2014.
Governor's Wind Coalition, "Senators vote down expanded drilling measures as transportation debate begins," March 9, 2012.
POLITICO, "Lisa Murkowski pens revenue-sharing expansion bill," Jan. 7, 2013.
Congress.gov, S.1331 112th Congress, accessed Aug. 14, 2014.
Congress.gov, S.3438 112th Congress, accessed Aug. 6, 2014.
Congress.gov, S.1024 113th Congress, accessed Aug. 14, 2014.
Warner, "Statement on Interior Dept.'s Offshore Leasing Proposal," Nov. 8, 2011.
The News & Advance, "Warner lays out fuel, energy plan," June 19, 2008.
The News & Advance, "Mark Warner: Start with energy," Nov. 6, 2008.
LoudounTimes.com, "Sen. Warner: Both parties have 'unclean' hands," March 6, 2012.
Warner, "Sen. Warner Floor Speech on Keystone XL Pipeline," March 8, 2012.
Warner via Scribd, "Virginia Offshore Energy Plan," Jan. 27, 2012.
Warner via Scribd, "Senator Warner letter on Five-Year Outer Continental Shelf Leasing Program," July 31, 2014.
Mark Warner, Issues -- Energy, accessed Aug. 14, 2014.
Democratic National Committee, Transcript of conference call, Sept. 17, 2012.
Interview with Glen Besa, director of the Sierra Club's Virginia chapter, Aug. 14, 2014.
Browse the Truth-O-Meter
More by Nancy Madsen
Support independent fact-checking.
Become a member!
In a world of wild talk and fake news, help us stand up for the facts.