Get PolitiFact in your inbox.
"In 2012, 123 African-Americans were shot dead by police. ... Same year, 326 whites were killed by police."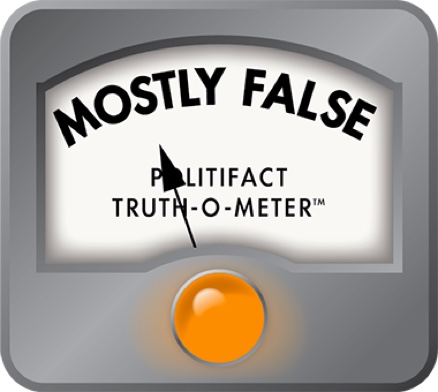 Bill O'Reilly cites faulty data for claim about shooting deaths of blacks, whites by police
Bill O'Reilly made headlines this week by offering his take on a silent Ferguson protest by a few members of the NFL's St. Louis Rams, saying the decision of the players "connotes the fact that they believe, I guess, that white police officers shoot black youths all the time."
That's out of bounds of a fact-check.
But O'Reilly did present some statistics in the same argument that several readers asked us to examine.
"Let's take a good look at this plague of white cops acting violently against blacks, as (professor and liberal columnist Michael Eric) Dyson puts it," O'Reilly said on his Dec. 1, 2014, Fox News program. "In the past 50 years, the rate of black Americans killed by police has dropped 70 percent. In 2012, 123 African-Americans were shot dead by police. There are currently more than 43 million blacks living in the U.S.A. Same year, 326 whites were killed by police bullets. Those are the latest stats available."
Later in the show, O'Reilly said of these numbers, "That's not an epidemic. It's not crazy. It's not a hunting-down of black youth."
This is not the first time we have evaluated pundits' half-truths comparing black and white deaths from police killings. Like the other cases, O'Reilly is citing available government statistics, but these numbers are shaky and don't paint a complete picture.
Lack of national data
O'Reilly's team used the Centers for Disease Control and Prevention's fatal injury reports database. A search in the system for fatal "legal interventions" -- deaths caused in the course of law enforcement trying to make an arrest or quell a situation -- confirms, on the surface, the numbers O'Reilly mentioned for whites and African-Americans.
How does the CDC get the number? Primarily from causes of death listed in death certificates from coroners, medical examiners and physicians and demographic information provided by funeral directors. Figures are further supplemented by a violent death reporting system that includes data from 17 states. (Legal interventions include state executions.)
But experts told us the data is likely incomplete because coroners and physicians are under no obligation to detail police involvement in the deaths that they encounter.
"It is not known or certain that every death certificate indicates that the death was caused by law enforcement officer in every jurisdiction," said Samuel Walker, retired professor of criminal justice at the University of Nebraska-Omaha.
Another database, this one maintained by the FBI, attempts to get at the same figure. But it's no more solid. The FBI reports rely on self-reported data from a small chunk of the nation's more than 17,000 law enforcement agencies.
The lack of a national clearinghouse for fatal police killings "is a national embarrassment," said Geoffrey Alpert, a University of South Carolina criminology professor who specializes in high-risk police activities.
"I'm sure one of (O'Reilly's) researchers pulled a number from that database, but it's just a convenient fact, as someone used to say," he said.
More problems with O'Reilly's numbers
Beyond the lack of clear national data for these deaths, experts found more problems with O'Reilly's citation of CDC numbers.
O'Reilly's reference of the number of whites killed in legal interventions does not strictly account for non-Hispanic whites. People who identify as Hispanic are also counted in the total of 326 deaths.
Running the search again for whites but excluding Hispanics leaves 227 deaths from legal interventions -- substantially fewer deaths due to the absence of 97 white Hispanics previously in the mix (in the black category, two were identified as black Hispanic).
"So if you are interested in people of color, what they list in the white data is too high," Walker said of O'Reilly's figures.
Additionally, the per capita rate of black deaths per 100,000 residents is .28, which is twice as high as the rate for white deaths of .13, Walker points out.
Our ruling
O'Reilly said, 123 African-Americans and 326 white people were shot dead by police in 2012.
He referenced recent federal numbers but failed to mention their well-documented flaws. We have not found any experts who will vouch for numbers that purport to represent annual fatal shootings by police, as there are gaping holes within each dataset.
Additionally, the number of white people fatally shot by police in 2012 is substantially off if you account for white Hispanics -- a group O'Reilly did not seem to have in mind during his rant about race relations between blacks and whites.
O'Reilly's statement contains an element of truth, but it's not the full picture he makes it out to be. We rate the claim Mostly False.
Email with Dana Klinghoffer, Fox News spokeswoman, Dec. 2, 2014
Interview with Geoffrey Alpert, University of South Carolina criminology professor, Dec. 3, 2014
Interview with Samuel Walker, University of Nebraska professor, Dec. 3, 2014
Interview with Courtney Lenard, CDC spokeswoman, Dec. 3, 2014
Interview with Stephen Fischer, FBI spokesman, Dec. 3, 2014
PunditFact, "Are deaths from police shootings the highest in 20 years?" Dec. 3, 2014
PunditFact, "Talk show host: http://www.politifact.com/punditfact/statements/2014/aug/21/michael-medved/talk-show-host-police-kill-more-whites-blacks/, Aug. 21, 2014
FBI, Crime in the United States 2013, accessed Dec. 2, 2014
CNN, "Factcheck: Kristof, O'Reilly police shooting numbers," Dec. 2, 2014
Washington Post, "How many police shootings a year? No one knows," Sept. 8, 2014
Browse the Truth-O-Meter
More by Katie Sanders
Support independent fact-checking.
Become a member!
In a world of wild talk and fake news, help us stand up for the facts.