Stand up for the facts!
Our only agenda is to publish the truth so you can be an informed participant in democracy.
We need your help.
I would like to contribute
A friend's sister "died from Obamacare" because Blue Shield "completely just pulled out of California."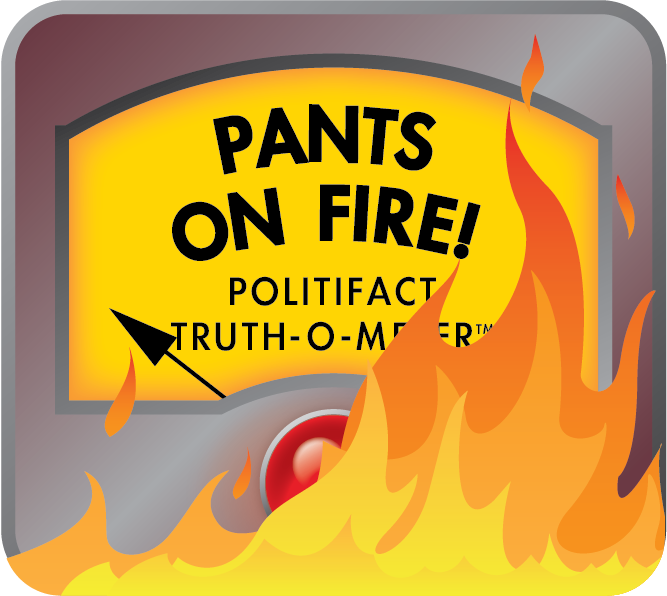 Ann Coulter says a friend's sister "died from Obamacare" because Blue Shield of California left
Of all the reasons Republicans oppose Obamacare, none is more stark than death.
Conservative pundit Ann Coulter on Feb. 2, 2014, offered what she called a "shocking and horrible" personal story on Fox & Friends Weekend illustrating lethal consequences of the health care law. Coulter told host Tucker Carlson that she woke up Saturday morning to an email from a friend who said her sister "almost died because of Obamacare."
Coulter zipped through the backstory:
The woman "had been thrown off her insurance plan, you know Blue Shield completely just pulled out of California."
The woman tried to "get on Obamacare, (but) couldn't get through the website." Then she got a fever, but she didn't want to go to the emergency room without insurance. On Thursday, the woman went into septic shock, Coulter said, and went to the hospital.
Coulter recounted the story in a Saturday speech. "I got up to my hotel room after the speech and my friend sent me an email saying, 'My sister died from Obamacare,' " she said.
Carlson responded, "That is completely shocking."
Coulter added that she asked her friend if she could tweet the sister's story, and "She said, 'Julie would be very happy for you to tweet this.' "
We don't know the name of the woman (beyond Julie), the type of coverage she had or anything about her medical history, and Coulter did not respond to our request for more information. But the claim that someone "died from Obamacare" because Blue Shield "completely just pulled out of California" is something we can fact-check.
It's obviously misleading to say someone died from Obamacare in the same way someones dies from cancer or a car accident. Hospitals in the United States are required to treat patients whether they have health insurance or not.
But more germane to this particular fact-check is Coulter's assertion that the woman found herself without insurance because Blue Shield pulled out of the state of California.
That did not happen.
Blue Shield of California: Still in business
Some insurance companies stopped writing health insurance policies in the individual market in California, but not Blue Shield of California.
The not-for-profit insurer competes with for-profit insurer Anthem Blue Cross and Kaiser Permanente. It continues to be a big player in the individual marketplace, which is what we assume Coulter is talking about, as well as the state's health exchange, Covered California.
Like other insurers across California and the country, Blue Shield of California could no longer offer some health insurance plans because they did not include "essential health benefits" required by the Affordable Care Act.
These plans could not be grandfathered in under the new law. Blue Shield of California sent letters to 119,000 customers in September notifying them their current plans would end "but we can still have you covered in 2014." PunditFact obtained a sample cancellation letter from the company.
The letter explained Blue Shield would offer new plans that include the minimum health benefits required by the health care law, such as emergency services, prescription drugs and preventive care.
If a customer took no action after reading the letter, he or she would be automatically enrolled into a new plan recommended by Blue Shield. This was meant "to ensure that no one experienced a lapse in coverage," said spokeswoman Mia Campitelli.
The letters went to 57 percent of the insurer's individual market customers, she said. For two-thirds of the people who lost their plan, the recommended option was more expensive, the Los Angeles Times reported.
This scenario was similar for 300,000 Florida Blue customers last fall. U.S. Sen. Marco Rubio, R-Fla., said affected customers were "going to lose their individual coverage because of Obamacare. Now those people next year, they don't have health insurance." But PolitiFact Florida rated that claim Mostly False because they were not losing coverage unless they opted out.
Most of these Blue Shield of California customers were given the chance to temporarily extend their old plan until the end of March 2014 because the state's insurance regulator determined they did not give customers 180 days of notice. About 15,000 people decided to take the extension, Campitelli said.
For a customer to be without Blue Shield coverage after getting the letter, he or she would have had to contact Blue Shield to cancel the recommended plan. Campitelli said the company would not have a number for how many people chose to drop Blue Shield until open enrollment ends after March.
Trouble with the website?
Coulter said her friend's sister tried to get Obamacare but couldn't get through the website. (That's assuming she canceled her Blue Shield coverage.)
But if the woman was looking for new coverage in California, she would not have needed to access the troubled federal marketplace, healthcare.gov. California is one of the states running its own insurance marketplace. Consumers are free to buy coverage directly from insurers, but if they want access to tax credits to offset the cost, they have to go through the exchange.
Covered California was not as hampered by technical difficulties as healthcare.gov, though it has not been without its snags, particularly during the hectic leadup to the end of open enrollment for 2014 coverage. The marketplace extended deadlines to accommodate some shoppers, said California deputy insurance commissioner Janice Rocco, and about 500,000 people chose an insurance plan during the Oct. 1-Dec. 31, 2013, enrollment period.
Our ruling
Coulter said a friend's sister "died from Obamacare" because she was "thrown off her insurance plan, you know Blue Shield completely just pulled out of California."
We're not fact-checking whether someone died. We're looking at the circumstances Coulter presented.
Blue Shield did not pull out of California, and the company did not leave people without insurance. In fact, customers were allowed to keep their existing insurance plans through March. If the basic facts of Coulter's story are accurate, the woman in question elected to drop insurance coverage.
Whatever the story of Blue Shield, saying someone died "from Obamacare" is incendiary and grossly misleading.
Coulter's claim rates Pants on Fire.
Ann Coulter tweet, Feb. 1, 2014
Interview with Mia Campitelli, Blue Shield of California spokeswoman, Feb. 2, 2014
Interview with Nicole Kasabian Evans, California Association of Health Plans spokeswoman, Feb. 2, 2014
Interview with Janice Rocco, deputy commissioner of California Department of Insurance, Feb. 2, 2014
U-T San Diego, "Blue Shield of California won't cancel policies," Nov. 8, 2013
Mediaite, "Ann Coulter: My Friend's Sister Died Because of Obamacare," Feb. 2, 2014
Los Angeles Times, "Blue Shield of California rate hike is excessive," Jan. 7, 2014
Los Angeles Times, "California won't extend health plans," Nov. 13, 2013
Kaiser Health News, "Thousands Of Consumers Get Insurance Cancellation Notices Due To Health Law Changes," Oct. 21, 2013
Los Angeles Times, "Anthem still tops California exchange enrollment; Kaiser drops back," Jan. 22, 2014
Los Angeles Times, "Insurance sticker shock; Many middle-class Californians with individual health plans learn the new law requires policies that cover more -- and cost more," Oct. 27, 2014 (accessed via Nexis)
Blue Shield of California website
Sample cancellation letter from Blue Shield of California
PolitiFact Florida, "Rubio says 300,000 will lose their individual health insurance coverage under Obamacare and won't be able to enroll in new plans," Oct. 25, 2013
PolitiFact, "Lie of the Year: 'If you like your health plan, you can keep it,' "Dec. 12, 2013
Kaiser Health News, "Individual insurance market explained," Oct. 6, 2009
California Healthline, "Aetna and United are out of California. Who's moving in?" July 20, 2013
Browse the Truth-O-Meter
More by Katie Sanders
Support independent fact-checking.
Become a member!
In a world of wild talk and fake news, help us stand up for the facts.