Stand up for the facts!
Our only agenda is to publish the truth so you can be an informed participant in democracy.
We need your help.
I would like to contribute
On adoption by gay couples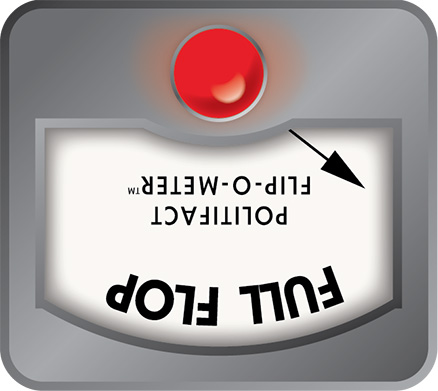 After he left the GOP, Charlie Crist said he no longer supported Florida's gay adoption ban
PolitiFact Florida has explored former Gov. Charlie Crist's change of positions on a number of issues, including gay rights. Here, we wanted to look at his record on gay adoption. At one time, Florida gained national attention as a state that banned gay adoption.
PolitiFact's Flip-O-Meter doesn't pass judgment on someone's stance change -- we simply measure if the person did indeed "flip" and to what extent. Many politicians of both major parties have "flipped" -- or gay rights supporters might say "evolved" -- in their stances on gay rights; we leave it up to readers to decide how they feel about those flips.
2006-08
In 2006, Crist was Florida's Republican attorney general running for governor.
At the time, Florida banned gay couples from adopting but allowed them to serve as foster parents. During the race, Crist often said he was against such adoptions.
"I think we need to encourage the traditional family for adoption and that's what I support," Crist told reporters in February 2006.
In an MSNBC debate Oct. 30, the moderator asked Crist his opinion on gay adoption.
"I am opposed to it. I think that we have in our state some rules that permit adoptions within our system, but I don't think gay adoption is appropriate," said Crist, who would go on to win the race. "I believe that the traditional family is the best means by which to raise children."
Some state lawmakers pushed to drop the ban in 2007 but Crist continued to express support for it.
In 2008, foster parent Frank Martin Gill of North Miami, filed a lawsuit seeking to overturn the ban.
When asked about the ban, Crist reiterated his support for it.
"No second thoughts," he said, in an October 2008 Miami Herald article.
In November 2008, a Miami-Dade judge struck down the ban and declared it unconstitutional. The state continued to fight for the ban in court, and Crist reiterated his stance to the Palm Beach Post editorial board in February 2010.
"My belief is the best way to raise a family is in the traditional family," Crist said. "That's how I feel. That's what the current law is in Florida. I respect the law."
But within months, his stance would change.
2010 Senate race
As Crist was lagging behind in the Republican Senate primary against Marco Rubio, he left the GOP to run as an independent in April 2010. Crist needed independent and liberal voters to stand a chance.
Crist told Time magazine in June 2010 that he would be open to changing Florida's law to allow a judge to determine what's best for the child.
"That might be a way to go, and it's certainly something we ought to look at," he said.
"A better way and approach would be to let judges make that decision on a case-by-case basis," he told the Florida press association in June 2010.
On Sept. 12, 2010, Crist released a position paper on gay rights including adoption:
"We need to take politics out of adoption decisions. That is why I oppose Florida's current law that requires Family Law judges to ignore what is right for a child in order to adhere to what Florida law blindly demands. There is only one question that matters: What is in the best interest of that child?"
On Sept. 22, an appeals court struck down the ban, and Crist announced that Florida would no longer enforce the policy that had been in place since 1977. He called the ruling "a very good day for Florida" and "a great day for children." (That ruling is still in effect today.)
"Children deserve a loving home to be in, and the opportunity for judges to make this call on a case-by-case basis for every adoption," Crist said.
In a Senate debate in October, Crist was asked to explain his reversal on gay adoption.
"As we get older, I call it the convergence of life experience and wisdom. When you learn through the time of life more tolerance and become less judgmental, I think that's a good place to be," Crist said.
We sent a summary of our finding to Crist and former Sen. Steve Geller, a Broward Democrat who is informally advising Crist. Geller noted that "many people's views on issues involving gays were evolving during this time. President Obama, Bill Clinton, most voters, and others evolved. Those who did so earlier versus those who have stayed opposed need some credit."
Our ruling
During his 2006 Republican race for governor, Crist repeatedly supported the state's ban on gay parents adopting and argued in favor of the "traditional family" adopting.
By June 2010, Crist had ditched the GOP and was running as an independent -- and made statements in support of Floridians adopting. He became vocal about his support in September in a position paper on gay rights.
There's no dispute here: Full Flop.
MSNBC Transcript, Debate in governor's race, Oct. 30, 2006
Equality Florida, Position paper by U.S. Senate candidate Charlie Crist on gay rights, Sept. 12, 2010
Miami Herald, "Florida's gay adoption ban faces court challenge," Oct. 1, 2008
Miami Herald, "Florida ban on gay adoptions ruled unconstitutional," Nov. 25, 2008
Tampa Bay Times, "Crist, Gallagher outline their goals," March 1, 2006
Tampa Bay Times, "Gay adoption push renewed," March 15, 2007
Palm Beach Post editorial board, Interview with Gov. Charlie Crist, Feb. 26, 2010
Tampa Bay Times The Buzz, "Highlights from the Florida press candidates forum," June 17, 2010
Tampa Bay Times, "Candidates make their pitch to the editors," June 18, 2010
Tampa Bay Times The Buzz, "Another policy shift: Charlie Crist now open to ending gay adoption ban," June 15, 2010
Miami Herald, "Crist affirms support for civil unions, gay rights," Sept. 14, 2010
Miami Herald, "Appeals court: Florida ban on gay adoption unconstitutional," Sept. 22, 2010
PolitiFact, "After voting for a ban, Charlie Crist now backs gay marriage," May 9, 2013
PolitiFact, "Charlie Crist flip-flops on promise to run as Republican," April 29, 2010
Interview, former state sen. Steve Geller, a Charlie Crist adviser, Feb. 4, 2014
Interview, Jennifer Meale, spokeswoman for Florida Attorney General Pam Bondi, Feb. 11, 2014
Browse the Truth-O-Meter
More by Amy Sherman
Support independent fact-checking.
Become a member!
In a world of wild talk and fake news, help us stand up for the facts.