Stand up for the facts!
Our only agenda is to publish the truth so you can be an informed participant in democracy.
We need your help.
I would like to contribute
"(The farm bill) has a provision that would in many ways reduce the deficit."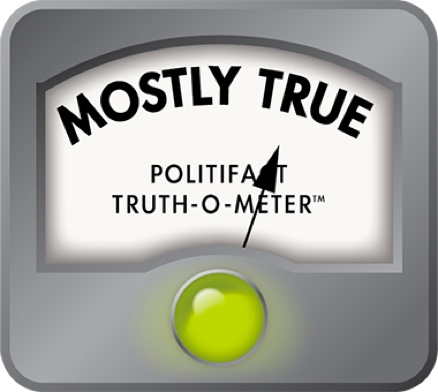 Donna Brazile says the farm bill would reduce the deficit
Political pundits had plenty of controversies to dish about during the final Sunday news shows of 2013. Over on CNN, talk turned to what State of the Union host Candy Crowley called the year's "unmoments," or initiatives left on the table because of congressional gridlock.
Democratic pundit and roundtable guest Donna Brazile lamented how energy, immigration and agriculture policy reforms languished.
"For all these reasons, I mean, we couldn't get a farm bill out," Brazile said. "Although it has a provision that would in many ways reduce the deficit. It would help farmers right away. Help the agriculture. Help people on food stamps. We didn't get the farm bill."
With omnipresent concern for the country's financial constraints, we wanted to know: Would the 2013 versions of the farm bill (there were several floating around) reduce the deficit?
Don't let the name of the bill fool you: The legislation touches many corners of American agricultural policy, providing billions of dollars to some farmers in crop subsidies, not to mention its giant role in the country's Supplemental Nutrition Assistance Program (better known as food stamps).
Changes to the farm bill are renewed every five years, and it last passed in 2008 though some parts have been extended or reauthorized in the years since. Advocates, such as the American Farm Bureau Federation, are hopeful it will pass in January. One consequence of inaction (which means reverting to rules set in 1949) is the price of milk could increase, farm advocates warn.
The package proposed in 2013 comes with a big price tag, no matter whose bill you examine. The Senate passed a version in June that would spend $955 billion from 2014-23. The House passed its farm bill in two different pieces of legislation totaling $921 billion over a decade.
There are vast differences among the bills, particularly with SNAP policy, but they do have one thing in common: Each would reduce the deficit, according to the nonpartisan Congressional Budget Office.
It's the job of CBO to estimate the cost of legislation so policymakers know the implications of their votes. For bills like the farm bill, CBO analysts use accepted economic forecasting methods to essentially make their best guess about how programs will affect the budget under existing law.
The office projected the costs of each chamber's farm bills since spring 2013, with new estimates coming later to account for amendments and other money-related changes tacked on during the lawmaking process. To give a big picture, the analysts make some assumptions about future policy. Their estimates for the farm bills, for example, assume that programs set to expire would be reauthorized without major changes in 2018 through 2023.
Let's start with CBO's "baseline." The office assumed that if the programs in the farm bill continued in their current form over the next decade, it would cost $973 billion.
In its May analysis, CBO found the Senate bill would reduce that total by $17.9 billion through 2023. In other words, it would have net-deficit reduction of almost $18 billion. The pair of House bills would go further, CBO found, reducing the deficit by a total of $51.9 billion. The House would cut about 10 times more in the food stamps program than the Senate ($4 billion versus $40 billion).
We're still waiting on final cost estimates from CBO because we're still waiting on a final conference bill agreed to by representatives of both parties.
Both bills rack up savings by cutting back on crop subsidy and conservation programs, including eliminating direct payments to farmers regardless of whether they are currently farming their land. That program costs about $5 billion a year and was conceived in 1996 as a temporary solution. The bill would spend some of the savings achieved from cutting those payments by investing into its crop insurance program and  allowing more farmers to get subsidies.
As evidence for her claim, Brazile sent us her email correspondence with a Senate aide, who said the details are not firm, but the final version of the bill negotiated by representatives of the House and Senate will include about $20 billion in spending cuts from 2014-23.
CBO projections for that bill are not yet available.
Critics of the farm bill, like Steve Ellis of Taxpayers for Common Sense, find it silly when people brag about "paltry" cost savings that comes with legislation authorizing mammoth spending. The bill would save even more if it had just eliminated direct payments without expanding farm entitlement programs, Ellis said, such as one that would guarantee farmers 90 percent of their revenue in the event of a disaster.
"Technically, they're right, there is the CBO score," Ellis said. "It's only in Washington where you can talk about spending $1 trillion and talk about how it's saving you money."
Ellis pointed out that most of the savings anticipated by CBO come in 2018-23, which is after the farm bill being worked on now would expire. So about 70 percent of the anticipated savings in the Senate version, for instance, are based on the assumption that policy changes would continue in a future farm bill.
His group has criticized CBO's estimates for the costs of recent farm bills as much too rosy, with the final 10-year cost of recent farm bills coming in billions more than CBO projected.
CBO addressed discrepancies like it in a Q&A.The office builds forecasts on current law, but lawmakers often change laws in ways that could significantly drive up the actual cost of legislation from what was projected, CBO says. Other times, legislation changes after CBO produced its projection.
"The differences between outcomes and projections can be misleading measures of the quality of the projections unless adjustments are made for changes in laws," the CBO said.
Ferd Hoefner, National Sustainable Agriculture Coalition policy director, said it's very hard to pin down the exact effect of the farm bill on the deficit because it depends in large part on the future prices of commodities.
"How can you guess what the price is going to be in 2020?" he said. "Will (the cuts) be as great as what the Congressional Budget Office predicts? Perhaps, but it's hard to tell."
Our ruling
Brazile said the farm bill "has a provision that would in many ways reduce the deficit." Her comment is based on estimates of the House and Senate bills by the Congressional Budget Office, which found both bills to be deficit-reducers in the long term.
Over 10 years, the proposal would shrink the deficit by around $20 billion or so -- a paltry sum in the universe of federal spending. But yes, technically a deficit reducer.
Brazile is right but her comments might lead someone to more sweeping conclusions. As such, we rate this claim Mostly True.
CNN Transcripts, State of the Union, Dec. 29, 2013
Interview with Regan Lachapelle, Center on Budget Policies and Priorities spokeswoman, Dec. 30, 2013
Interview with Yewande Addie, U.S. Department of Agriculture spokeswoman, Dec. 30, 2013
Interview with Bob Young, American Farm Bureau Federation chief economist, Dec. 31, 2013
Interview with Steve Ellis, Taxpayers for Common Sense vice president, Dec. 31, 2013
Interview with Donna Brazile, Dec. 31, 2013
Interview with Ferd Hoefner, National Sustainable Agriculture Coalition policy director, Dec. 31, 2013
Interview with Ben Becker, Senate Agriculture Committee spokesman, Dec. 31, 2013
Congressional Research Service, "Budget Issues Shaping a Farm Bill in 2013," Oct. 21, 2013
CRS, "What is the Farm Bill?", Oct. 11, 2013
Taxpayers for Common Sense, "Paths to Trillion Dollar Farm Bills," Nov. 1, 2013
PunditFact, "Brad Blakeman says 90 percent of farm bill goes to food stamps," Nov. 6, 2013
CNN, "Farm bill is set to reduce U.S. deficit, does it add up?" June 13, 2013
United Press International, "Agriculture secretary says passage of farm bill would aid economy," Nov. 15, 2013
New York Times, "New estimates question savings from farm bills," March 2013
New York Times, "No farm bill in sight as recess looms for Congress," Dec. 12, 2013
White House report, "The Economic Importance of Passing a Comprehensive Food, Farm and Jobs Bill," November 2013
Congressional Budget Office, S. 954 Agriculture Reform and Risk Management Act, May 17, 2013
Congressional Research Service, The 2013 Farm Bill: A Comparison of the Senate-Passed (S. 954) and House-Passed (H.R. 2642, H.R. 3102) Bills with Current Law, Oct. 18, 2013
Congressional Budget Office, "H.R. 3102, Nutrition Reform and Work Opportunity Act of 2013," Sept. 16, 2013
Congressional Budget Office, "H.R. 2642 -- The Federal Agriculture Reform and Risk Management Act of 2013, As Introduced July 10, 2013," July 11, 2013
Browse the Truth-O-Meter
More by Katie Sanders
Support independent fact-checking.
Become a member!
In a world of wild talk and fake news, help us stand up for the facts.