Stand up for the facts!
Our only agenda is to publish the truth so you can be an informed participant in democracy.
We need your help.
I would like to contribute
Says in 2000, Fox News broke the story of George W. Bush's drunk driving arrest. "Who broke it? Fox News."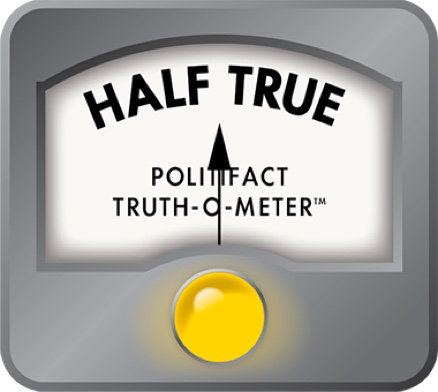 Coulter: Fox News broke Bush drunk driving story in 2000
In the world of cable television news, most people generally agree that Fox News caters to a more conservative audience and MSNBC a more liberal one.
But conservative pundit Ann Coulter cautioned against seeing the news each network produces the same way.
In a recent interview with Piers Morgan on CNN, Coulter used the coverage of New Jersey Gov. Chris Christie and an old story about President George W. Bush to draw a distinction between the two cable networks.
"I don't have a job so all I do is watch TV," Coulter said. "If you watch no station but MSNBC, you have no idea what they're talking about on Fox. On Fox, I promise you, they're reporting the Chris Christie scandal -- maybe not 24 hours a day like the 9/11 attack."
Coulter then pivoted to talking about the run-up to the 2000 presidential election and how reporters found out that Bush had a drunk driving arrest on his record.
"That story hurt George Bush in the 2000 presidential election," Coulter said. "Who broke it? Fox News."
Is Coulter rewriting history or does she have her facts right? We thought we'd check.
Bad news at a critical moment
Headed into the final week before Election Day, Nov. 7, 2000, polls showed a razor-close contest between Bush and Democratic nominee Vice President Al Gore. With the disputed results in Florida, we know now how accurate those polls were.
Just five days before the election, the country learned that in 1976 police in Maine had arrested Bush for drunk driving. His past troubles with drinking were already on the record but until Nov. 2, an arrest was not part of the narrative.
The first news organization that ran the story was Fox News. It carried an item at 6 p.m. that day. Once Fox News ran it, the Associated Press spread the story to all the broadcasters and newspapers that subscribe to its service. To Coulter's point, the broader public first learned about Bush's arrest through Fox News.
Uncovering a story vs. reporting it
In the news business, breaking a story has a particular meaning. A reporter breaks a story by being the one who found it first. In the competitive world of journalism, these morsels are precious and newsrooms generally hold their cards close to the chest until they are ready to spring their scoop on the world.
The release of the Bush arrest followed a different path. Fox News took this story from a local affiliate.
Erin Fehlau, a reporter with the Portland Fox affiliate WPXT, first got wind of the arrest on the afternoon of Nov. 2. While working on another assignment, a police officer mentioned overhearing a conversation about Bush and drunk driving. Fehlau quickly found the case number and began following the paper trail.
Back at the station, Fehlau's news director, who was relatively new, didn't know if this was old news. Later that afternoon, he called Fox News in New York City to find out. Fox News contacted the Bush campaign where a staffer confirmed that Bush had been arrested.
Assistant news director Matt Ledin remembers what happened next.
"I was sitting in my office and I saw Fox reporting our story." Ledin told PunditFact. "I think they credited us, but I was surprised."
That was at 6 p.m. At 7 p.m., WPXT had the story in its newscast. At 10 p.m., Fehlau broadcast her report with all the details.
Fox News had no hand in doing the digging that brought this story to light. WPXT was an independent news operation in 2000, owned by Pegasus Communications, a Pennsylvania corporation that paid for the rights to run Fox programs.
Fehlau was generally credited with breaking the story. Fehlau won the National Clarion Award for her work while the station won the regional Edward R. Murrow Award for investigative journalism.
"CBS, ABC and NBC, all had satellite trucks out in front of our station the next morning," Ledin said. "Fehlau was on all the network shows."
Our ruling
Coulter said Fox News broke the story of George W. Bush's 1976 drunk driving arrest. In terms of being the first to broadcast the story, that is correct.
On the other hand, breaking a story has the strong meaning of having made the effort to uncover something that was obscure. In that sense, a local news station that happened to be a Fox affiliate gets the credit. While Fehlau's station was contracted to run Fox programming, it is independetly owned and not part of Fox News, the cable news channel.
We rate Coulter's statement Half True.
CNN, Piers Morgan Live, Jan. 22, 2014
Pollingreport.com, 2000 Presidential polling, accessed Jan. 27, 2014
American Journalism Review, A late breaking campaign skeleton, December 2000
Salon, Rewriting history, July 23, 2004
Federal Communications Commission, Ownership exhibit - Pegasus Communications, accessed Jan. 27, 2014
Interview, Erin Fehlau, reporter WMUR, Jan. 24, 2014
Interview, Matt Ledin, assistant news director, WBZ Radio, Jan. 24, 2014
Browse the Truth-O-Meter
More by Jon Greenberg
Support independent fact-checking.
Become a member!
In a world of wild talk and fake news, help us stand up for the facts.