Get PolitiFact in your inbox.
Says Marshawn Lynch is "second all-time in terms of average yards per rush only to Terrell Davis."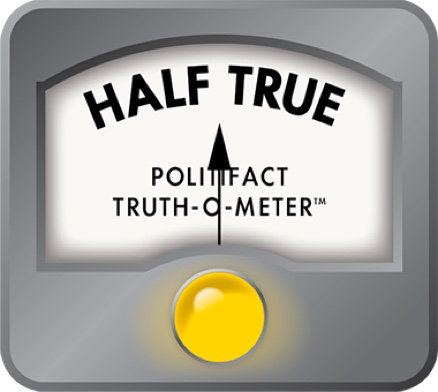 Marshawn Lynch is second to Terrell Davis for post-season yards per rush, Fox Sports host claims
Meet the press, he does not want.
Marshawn Lynch, the Seattle Seahawks' Skittles-loving running back, openly admitted to reporters covering the leadup to Super Bowl XLVIII that he was only talking to them "so I don't have to pay the fine," referring to $50,000 the NFL said he would have to pay for not talking to the media.
"I really don't have too much to say, boss. I really don't," he said during his second seven-minute interview that week, according to CBSSports.com. "I appreciate it, but I don't get it. I'm just here so I won't get fined, boss. That's the only reason I'm here."
The reluctance to talk from a player nicknamed Beast Mode gave sports pundits something new to discuss ahead of Sunday's big game. Was the media overreacting, or was Lynch kind of being a jerk?
Joel Klatt, a host and analyst on Fox Sports' Fox Football Daily, asked a panel of former NFL players Randy Moss, Brian Urlacher and Michael Strahan about Lynch's wave-making in a Jan. 29 segment. The ex-players agreed that Lynch looked uncomfortable dealing with the media.
Klatt said his reluctance won't matter much to Seahawks fans by Sunday.
"Really, all they care about is that his production continues in the direction that it's going," Klatt said. "When you talk about postseason, second all-time in terms of average yards per rush only to Terrell Davis. So this guy can definitely play."
We wanted to know if Klatt was right about Lynch's postseason rushing prowess. (A spokesman for Fox Sports did not get back to us.)
We turned to the Elias Sports Bureau, which serves up sports statistics for professional sports leagues, including the NFL, and media outlets like ESPN. Statistician Frank Labombarda kindly crunched the numbers for us.
For the non-sports junkies, rushing basically measures the progress a team moves down the field. And yards per rush is simply rushing yards divided by rushing attempts.
How has Lynch performed in the playoffs? He has rushed 109 times for 560 yards or an average of 5.1 yards per rush. (Nearly 12 percent of Lynch's playoff yards came on one 67-yard run in the 2011 playoffs. That one run raises Lynch's average rush by more than half a yard.)
That is indeed less than former Davis, the former Denver Broncos running back, who averaged a whopping 5.6 yards per rush over 204 carries.
But Lynch's numbers also fall below a host of other NFL players, we found. Here's a sampling:
Former San Diego Chargers running back Keith Lincoln (23 attempts, 12 yards per rush);

San Francisco QB Colin Kaepernick (51 attempts, 10 yards per rush);

New England Patriots running back LeGarrette Blount (29 attempts, 5.9 yards per rush);

Former Pittsburgh Steelers running back Merril Hoge (39 attempts, 6.3 yards per rush).
And so on.
Turns out, Klatt missed a key qualifier: players who have a minimum of 100 rushing attempts. "You have to say minimum 100 attempts," Labombarda said. "There are lots of guys who have higher averages."
Among players with a minimum of 100 attempts, Lynch is currently second, Labombarda said. The Seahawks running back is sandwiched between Davis -- at 5.6 yards -- and former Los Angeles Raiders and Kansas City Chiefs running back Marcus Allen, who played for 16 seasons and in 15 playoff games, averaging 5 yards per rush in the postseason.
Our ruling
Klatt said Marshawn Lynch is "second all-time in terms of average yards per rush only to Terrell Davis."
When counting all NFL players, Klatt is wrong. But he is on solid ground when calculating for players who have run the ball at least 100 times in the playoffs. Klatt's statement is partially accurate. So we rate it Half True.
Interview with Frank Labombarda, Elias Sports Bureau statistician, Jan. 30, 2014
Interview with Eddie Motl, Fox Sports communications manager, Jan. 30, 2014
CBS Sports, "Marshawn Lynch walks out on media for second day in a row," Jan. 29, 2014
ESPN, "Marshawn Lynch exits media session again," Jan. 29, 2014
NFL.com, NFL post-season performance records through 2013, accessed Jan. 30, 2014
Browse the Truth-O-Meter
More by Katie Sanders
Support independent fact-checking.
Become a member!
In a world of wild talk and fake news, help us stand up for the facts.