Stand up for the facts!
Our only agenda is to publish the truth so you can be an informed participant in democracy.
We need your help.
I would like to contribute
Says Ronald Reagan "got the Saudis to flood the market with cheap oil."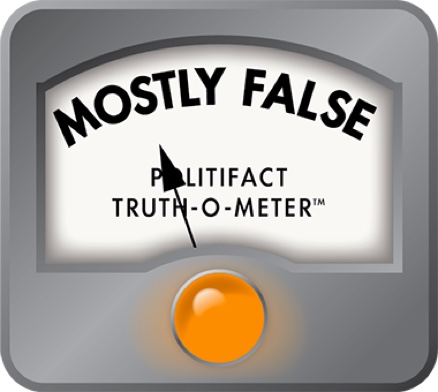 Ronald Reagan's son says his father got the Saudis to pump more oil to undercut USSR
The Cold War is back. Or at least, some version of it has returned, with Russian troops on the move across the Crimean Peninsula with the oddsmakers predicting it will once again be Russian territory.
For critics of President Barack Obama, this is a prime opportunity to demonstrate how poorly he stacks up compared with the man who did all he could to topple the Soviet Union, President Ronald Reagan.
Reagan's son, Michael Reagan, offered this advice for Obama on the Townhall.com website:
"I suggest that President Obama might want to study how Ronald Reagan defeated the Soviet Union.
"He did it without firing a shot, as we know, but he had a super weapon -- oil.
"Oil was the only thing the Soviets had in the 1980s that anyone in the rest of the world wanted to buy, besides ICBMs and H-bombs, and they weren't for sale.
"Since selling oil was the source of the Kremlin's wealth, my father got the Saudis to flood the market with cheap oil.
"Lower oil prices devalued the ruble, causing the USSR to go bankrupt, which led to perestroika and Mikhail Gorbachev and the collapse of the Soviet Empire."
It seems like a reasonable narrative, but as we'll see in this fact-check, the record isn't quite as robust as Reagan fils might like.
We made several efforts to reach Reagan for official records that would back up his claim, and we did not hear back.
The basic oil market numbers
We can see what happened with oil markets during Reagan's time in office by looking at volume -- how much was pumped out of the ground -- and price. The U.S. Energy Information Administration provides the production numbers, and what we see partly backs up Reagan's point and partly does not.
Total Oil Supply (Thousand Barrels Per Day)
For the first five years of Reagan's administration, Saudi production fell steeply. Then in 1986 it popped up, followed by a dip the next year, and ending with another rise.
The Energy Information Administration also provides pricing data and it too both supports and undercuts Reagan's statement. Prices fall in 1986, then recover in 1987 followed by a decline in 1988. Prices remained below what they had been in 1985.
By several estimates, the drop in prices cost the USSR $20 billion a year. If the plan was to hurt the Soviet Union, it succeeded.
What is unclear is whether the Saudis ramped up production at Reagan's request. We look at what the record shows on that front.
The evidence in support of Reagan intervention
Paul Kengor is a Reagan biographer who believes the Gipper has not received the credit he is due for waging economic warfare against the USSR. Kengor told PunditFact that Michael Reagan is correct when he says his father was behind the Saudi's decision.
"They did this strictly to help us hurt the Soviets and as payback for us helping them in the past," Kengor said. "It was a big risk for them."
Kengor pointed us to the book Victory: The Reagan administration's secret strategy that hastened the collapse of the Soviet Union, by Peter Schweizer. In that book, Schweizer describes a 1981 meeting between CIA director William Casey and his Saudi counterpart. At that meeting, Casey shared CIA reports on Soviet oil production.
"By raising the issues of oil prices and the U.S.-Saudi Arabia security relationship in the same conversation," Casey was in effect saying the two were related," Schweizer wrote.
Schweizer cites an unnamed U.S. official for this information. A former National Security Council official referred to Casey's contacts with Saudi Arabia during a recent panel discussion but in less detail than in Schweizer's book.
But move forward to 1985, when the Saudis actually made their production hike, and Schweizer wrote, "What factor lay most heavily on the mind of the Saudis when they made this decision is anybody's guess."
We asked Kengor for the best documentation they could find to support the claim of Reagan's direct intervention. We have yet to receive that.
However, there is an ample public record on the factors within OPEC, the Organization of the Petroleum Exporting Countries, that shaped the Saudi Arabian production strategy. Plus, the Reagan administration made efforts to push prices back up. We turn now to the information that tends to undermine Reagan's assertion.
The evidence against
James Williams is an Arkansas-based consulting economist in the oil and gas industry who worked with producers in West Texas in the 1980s. Williams told us that in the first half of the decade, OPEC had an agreement to keep prices high through a system of production quotas. Members promised to limit the number of barrels they would pump. With less supply, prices would be higher.
"The Saudi Arabians were dropping production faster than the rest of OPEC," Williams said. "They bore a disproportionate share of the effort to prop up prices."
The problem was, not every member followed the rules. There are many references in the public record of Saudi resentment. Economist Darwin Hall at the California State University at Long Beach described it in a 1992 article in Energy Policy.
"At the OPEC meetings in Geneva during the period from 1982 to 1985, Sheikh Yamani, the oil minister of Saudi Arabia at the time, repeatedly threatened to expand output unless Iraq and Iran stopped cheating on their agreed quotas," Hall wrote. (Iran and Iraq were at war and needed foreign currency to finance their militaries.)
While OPEC wielded considerable clout on world energy markets, internally, it had no way to enforce the terms among its signatories. Philip Verlager, an energy consultant, said Saudi Arabia had more oil capacity than anyone and so had more power.
"From 1981 to the end of 1985, Saudi Arabia took on the swing producer role in OPEC,"  Verleger told PunditFact. "Then in 1986, they threw in the towel and prices collapsed."
In six months, the spot price for oil was cut in half.
Verleger said Michael Reagan "is wrong." He and many other writers say the Saudis boosted production to send a message to other OPEC members.
Another bit of information from Saudi Arabia also undercuts the Reagan claim. Dick Combs, a foreign service officer and author of Inside the Soviet Alternate Universe, noted that Saudi King Fahd was not a strong supporter of the shift in 1986. He fired his oil minister and cut back "domestic oil production to enhance Saudi revenues."  
If the Reagan doctrine was to keep prices as low as possible, U.S. actions weren't always consistent with that goal. As prices fell, the U.S. oil industry collapsed.
"In April 1986, Reagan sent (Vice President George H.W.) Bush to Saudi Arabia to get the Saudis to cut production to bring prices up," Verlager said.
According to newspapers at the time, Bush told King Fahd that the United States saw the hit on the domestic oil market as "a threat to national security."
Our ruling
Michael Reagan said his father got Saudi Arabia to flood the market with oil in order to drive down prices and undermine the Soviet economy. The numbers on production and pricing show that Saudi production rose, then fell, and then rose again. In the middle of 1987, prices were close to what they had been at the beginning of 1986, although they fell again and never went as high as they had been in 1985.
The pattern of production and prices do not fit neatly with Reagan's statement. We have no public documents to confirm that Reagan asked the Saudis to use oil as an economic weapon against the USSR.
On the other hand, we have an extensive public record that Saudi Arabia was fighting with its OPEC partners and had warned them for years that it would raise production to make them pay a price for cheating on their quotas. We also see that Saudi Arabia charted its own course in setting oil prices and the consensus view among oil experts is OPEC, not Reagan, shaped their production decisions.
Finally, we have Bush calling on the Saudis to help send prices back up. This is exactly counter to the Reagan strategy in the statement.
There might be an element of truth in the claim, but the public record strongly points the other way. We rate the statement Mostly False.
Townhall.com, Putin, petroleum and pantyhose, March 6, 2014
Energy Information Administration, Oil supply: Middle East 1980-1988
Energy Information Administration, Oil supply: Eurasia 1980-1988
Energy Information Administration, Cushing OK WTI spot price 1986-present
Brookings Institution, Lessons from the 1986 oil price collapse, 1986
Energy Policy, Oil and national security, November 1992
Frumforum.com, How Reagan's Mideast policy won the Cold War, Feb. 5, 2011
Rachel Bronson, Thicker than oil: America's uneasy relationship with Saudi Arabia, May 2006
Dick Combs, Inside the Soviet alternate universe: The Cold War's end and the Soviet Union's fall reappraised, 2008
Peter Schweizer, Victory: The Reagan administration's secret strategy that hastened the collapse of the Soviet Union, 1994
National Petroleum Council, Factors affecting U.S. oil and gas outlook, February 1987
WTRG Economics, History and analysis - crude oil prices
American Enterprise Institute, The Soviet collapse, April 19, 2007
Chicago Tribune, Bush sees oil glut undermining U.S., April 7, 1986
New York Times, Economic scene - Reagan, Bush and oil prices, April 11, 1986
Grove City College, The eighth annual Ronald Reagan lecture, 2014
Email interview, Philip Verleger, energy consultant and president of PKVerleger, March 12, 2014
Email interview, Paul Kengor, professor of political science, Grove City College, March 13, 2014
Email interview, James Williams, energy consultant and owner, WTRG Economics, March 12, 2014
Browse the Truth-O-Meter
More by Jon Greenberg
Support independent fact-checking.
Become a member!
In a world of wild talk and fake news, help us stand up for the facts.