Get PolitiFact in your inbox.
President Barack Obama spent "$5 billion paying Ukrainians to riot and dismantle their democratically elected government."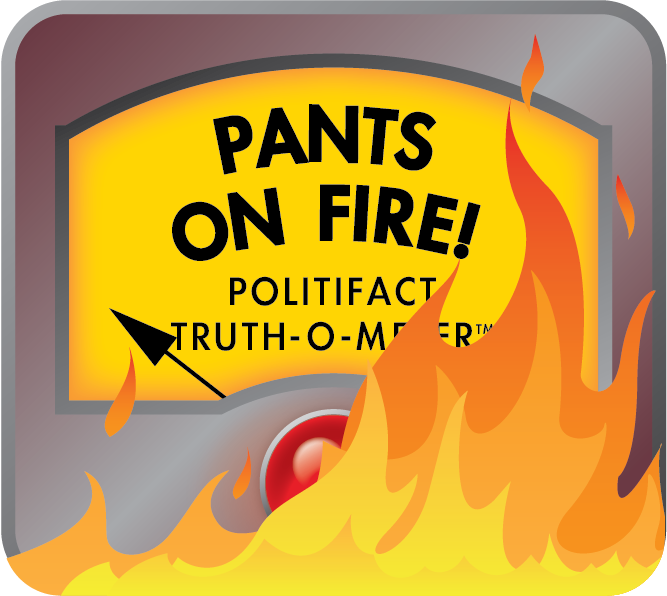 The United States spent $5 billion on Ukraine anti-government riots
It's a conspiracy with mainstream crossover: The United States bankrolled the bloody political uprising in Ukraine.
We saw the claim pop up recently in a story on RT (the Russian-funded English language cable network), and found lots of talk about it on reddit, Facebook and other websites.
The claims have the same basic structure. While President Barack Obama publicly said Ukrainians have the right to determine their own future, the U.S. government pumped $5 billion into the country to promote regime change.
In a Facebook meme, someone put it this way:
Obama "spends $5 billion paying Ukrainians to riot and dismantle their democratically elected government."
So is there any truth to this claim? PunditFact dove in.
The roots
The claim is rooted in a December 2013 speech by Assistant Secretary of State for European and Eurasian Affairs Victoria Nuland to the U.S.-Ukraine Foundation, a non-governmental agency that promotes democracy in the former Soviet republic.
Nuland had returned days earlier from her third trip to Ukraine in five weeks to assess the protests over President Viktor Yanukovych's policies to move away from the European Union, she said.
She made clear the United States supported the protesters' fight and spoke of how she met with Yanukovych, pressing him to end the pushback from Ukrainian security forces because it is "absolutely impermissible in a European state, in a democratic state."
She described how American taxpayer money has supported Ukraine's democratic development despite the country's challenges.
"Since Ukraine's independence in 1991, the United States has supported Ukrainians as they build democratic skills and institutions, as they promote civic participation and good governance, all of which are preconditions for Ukraine to achieve its European aspirations," she said. "We have invested over $5 billion to assist Ukraine in these and other goals that will ensure a secure and prosperous and democratic Ukraine."
Her eight-minute speech (video) attracted little to no media attention.
The truth
We had a feeling that folks repeating the claim missed important context from Nuland's speech. Wasn't Nuland talking about money given since Ukraine broke away from the Soviet Union?
The State Department said yes.
"The insinuation that the United States incited the people of Ukraine to riot or rebel is patently false," said Nicole Thompson, a State Department spokeswoman.
Since 1992, the government has spent about $5.1 billion to support democracy-building programs in Ukraine, Thompson said, with money flowing mostly from the Department of State via U.S. Agency for International Development, as well as the departments of Defense, Energy, Agriculture and others. The United States does this with hundreds of other countries.
About $2.4 billion went to programs promoting peace and security, which could include military assistance, border security, human trafficking issues, international narcotics abatement and law enforcement interdiction, Thompson said. More money went to categories with the objectives of "governing justly and democratically" ($800 million), "investing in people" ($400 million), economic growth ($1.1 billion), and humanitarian assistance ($300 million).
The descriptions are a bit vague, which could lead people to think the money was used for some clandestine purpose.
But even if it that were so, the money in question was spent over more than 20 years. Yanukovych was elected in 2010. So any connection between the protests and the $5 billion is inaccurate.
And Obama was elected in 2008, so any connection between $5 billion and Obama also is inaccurate.
The challenge
We attempted to drill down and verify the expenditures independently but found that a difficult task.
That's a byproduct of the United States' foreign aid investments, which rival no other country (though supporters note the spending equals only 1 percent of all federal spending). The massive check-writing across dozens of agencies to non-governmental organizations to scores of countries and regions around the world is almost impossible to untangle.
"As it stands, it is nearly impossible to find a figure," said Nicole Valentinuzzi, communications manager of Publish What You Fund, a group that pushes for aid transparency across the world. "These kinds of things would be easily verifiable if people were given timely information."
The State Department created ForeignAssistance.gov to help taxpayers, journalists and others find out where the money is going, but the data is limited in the number of years available and not reported by all agencies.
"The Foreign Assistance dashboard is not capturing this information in an up-to-date, current way," Valentinuzzi said, "so responding to a humanitarian crisis is a bit untraceable while it happens, which we argue makes it less effective, basically."
That said, the United States is working on being more transparent.
The site started under the Obama administration and is a "work in progress," Thompson said. Eight agencies, such as U.S. AID, Millennium Challenge Corporation and the Treasury Department, have begun posting planning and spending data to the site. Still, 14 agencies, including the departments of Agriculture, Energy, Transportation, and Health and Human Services, have not.
From that website, we calculated the United States spent $456.4 million in Ukraine since 2009. Again, that's an incomplete picture based on incomplete data reporting.
Some examples? The United States spent about $20 million on Peace Corps programs in Ukraine over the past four years. It spent about $40 million through U.S. AID on health programs in the countries since 2010 -- fighting HIV/AIDs, malaria and providing for maternal and child health. The United States spent an additional $80 million or so working on projects related to weapons of mass destruction, according to ForeignAssistance.gov.
Our ruling
Contrary to claims, the United States did not spend $5 billion to incite the rebellion in Ukraine.
That's a distorted understanding of remarks given by a State Department official. She was referring to money spent on democracy-building programs in Ukraine since it broke off from the Soviet Union in 1991.
We rate the claim Pants on Fire.
Facebook meme
Huffington Post, U.S. Obscures Foreign Aid To Ukraine, But Here's Where Some Goes, March 7, 2014
US AID, Ukraine information page, visited March 19, 2014
Interview with Nicole Valentinuzzi, communications manager of Publish What You Fund, March 18, 2014
Washington Post, "Germans displeased with Victoria Nuland gaffe," Feb. 7, 2014
Email interview with John Kun, U.S.-Ukraine Foundation vice president, March 18, 2014
Interview with Nicole Thompson, State Department spokeswoman, March 19, 2014
Russia Today, "US foreign aid agencies paid for Kiev street violence - ex-US agent Scott Rickard," March 17, 2014
Browse the Truth-O-Meter
More by Katie Sanders
Support independent fact-checking.
Become a member!
In a world of wild talk and fake news, help us stand up for the facts.