Get PolitiFact in your inbox.
Congress' decision to "spend less around the world" on embassy security contributed to "tragedies" like Benghazi.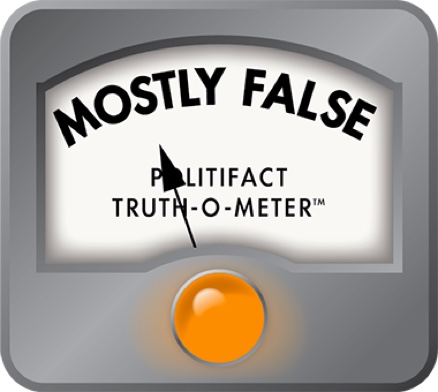 Ronan Farrow says inadequate security funding from Congress leads to tragedies like Benghazi
Partisan narratives that emerged after the deadly 2012 Benghazi attacks usually take a few forms. Republicans decry the initial characterization of events from U.N. ambassador Susan Rice as deliberately misleading. Democrats argue the attack against the vulnerable Benghazi complex should not be a surprise after GOP-driven cuts in embassy security funding.
Ronan Farrow, who worked as director of global youth issues under former Secretary of State Hillary Clinton and is the son of actress and activist Mia Farrow, highlighted embassy security issues in a 2013 story for The Atlantic, mentioning Clinton's warnings in 2011 that a lack of funding would hurt national security.
Farrow reiterated these concerns in a May 5, 2014, segment on his MSNBC show, Ronan Farrow Daily, amid news of another House-driven Benghazi investigation spurred by a recently revealed White House adviser's email with talking points for Rice.
On his show, Farrow asked Rep. Adam Schiff, D-Calif., if House Republicans "erred" in 2011 when they "cut $128 million from the administration's request for embassy security funding, that really laid the foundation." Later, Farrow said both parties are at fault because "in 2010, Democrats cut $142 million from those security requests."
"So this is really a back and forth, and it actually seems like, in my view, if you look at the history, both Democrats and Republicans are guilty of this, passing the buck," he said. "It's easy to gain political plaudits by saying 'spend less around the world,' and then it leads up to these tragedies."
The connection Farrow's drawing is clear enough: Congressional budget cuts, made by Democrats and Republicans, contributed to the security failures at the U.S. diplomatic facility in Benghazi. But as we'll show you, security funding has been increased in recent years and State Department officials say budget requests did not factor into the violent attack on Sept. 11, 2012. (Some of this ground was covered by the Washington Post Fact-Checker.)
The "cuts" aren't cuts
The first thing to know is the cuts over recent years aren't really cuts (i.e. taking money away from embassy security funding). Instead, Congress declined to provide the full amount requested by President Barack Obama. 
Really, this practice goes farther back. The nonpartisan Congressional Research Service says the department's base requests have not been fully funded since 2008 (in 2009, the department's base request was not met but it got more money in supplemental funds).
So what's the deal?
We struggled to verify some of Farrow's numbers, as there are many money pots that support embassy facility security and officer positions. Straight-up budget numbers are a little hard to figure out because of Congress' affinity for budget strategies like "continuing resolutions" and sequestration. We got the following figures from the Congressional Research Service (page 23 of this 2013 PDF) and chose to look at total security spending, which includes supplemental and overseas contingency funds primarily for missions in Iraq, Afghanistan and Pakistan.
State Department Funds for Embassy and Diplomatic Security (total security spending, plus supplemental and overseas contingency operations funds)
 

Request

(in millions)

Enacted

Difference

FY 2008

$2,138.7

$2,127.7

-$11.6

FY 2009

$3,404

$3,519.5

$115.5

FY 2010

$3,562.6

$3,420.8

-$141.8

FY 2011

$2,761.3

$2,576.6

-$184.7

FY 2012

$4,395.5

$4,076.2

-$319.3
Whichever numbers you use, they tell a similar story: Congress did not fully fund the administration's diplomatic security requests for several years. That's not unusual, said John Norris, director of the Sustainable Security and Peacebuilding Initiative at the liberal Center for American Progress. The difference between what the president wanted and what Congress appropriated is not akin to a budget cut as much as it is part of the push-and-pull of the budget process.
"It's rare for Congress to fully appropriate what's requested, or what is most often the case is some areas will be fully funded, some will be dramatically underfunded," Norris said. "Some will send back more money than what they requested reflecting whatever priorities are in Congress."
What's even more important for this fact-check is embassy security spending grew tremendously post 9/11.
From 1998 to 2012, the embassy security budget rose by more than 1,000 percent from $200 million to $2.6 billion, Norris said, and the infusion of money means that there are four security personnel for every diplomat. Base security funds, which represent a chunk of the total spending represented in the chart above, increased by 32 percent from fiscal year 2008 to 2012, according to CRS.
"If you look at the numbers in what we're spending, it's really hard to make the case that (budget constraints) is kind of the root cause of it," Norris said.
Money ties to the Benghazi facility
As for Benghazi, funding decisions by Congress don't appear to be a major factor in the 2012 attack. Investigations have faulted State Department management decisions for security breakdowns more than insufficient funding.
The State Department made some upgrades to the facility, such as increasing the height of perimeter walls, but the outpost in Benghazi was designated as a temporary facility. It did not have to meet State Department security standards of other full-time offices, and it was ineligible for some security upgrade money.
The facility did receive financial and other support for security repairs from diplomatic outposts in the Libyan capital of Tripoli and Egypt, But officials on the ground in Benghazi struggled to get additional security upgrades because they didn't have cash reserves and had to rely on the embassy in Tripoli to pass along requests.
There have been many inquiries into the situation in Benghazi, some of which we will touch on in this fact-check. One by the Senate Homeland Security Committee points out neither the State Department nor Congress sought extra money for Libya or Benghazi in a supplemental request, even as officials in Libya asked for a more sizable officer presence.
Farrow quoted a portion of the 2012 report by the Accountability Review Board, a group led by former Joint Chiefs of Staff Chairman Mike Mullen and veteran diplomat Thomas Pickering to examine the security picture at the special mission. The security was "inadequate for Benghazi and grossly inadequate to deal with the attack that took place," the report states.
But was that Congress' fault?
The report said Congress "must do its part" to address security risks and meet mission imperatives and suggested the State Department get more flexibility for building money so temporary facilities in dangerous situations can get more advanced security upgrades.
But it primarily faulted "systemic failures and leadership and management deficiencies," and not unfulfilled budget requests.
Another finding: The embassy in Tripoli was not an effective advocate in pressing Washington to provide more security for the Benghazi compound, which included a CIA annex. Senate committee investigations also cite unanswered cables for more temporary officers from Libyan Ambassador Christopher Stevens to the State Department.  
State Department officials, meanwhile have said publicly that budgets were not a factor.
During a House hearing into the attack on Oct. 10, 2012, Rep. Dana Rohrabacher asked deputy assistant secretary of state Charlene Lamb: "Was there any budget consideration and lack of budget which led you not to increase the number of people in the security force there?"
"No, sir," Lamb said.
Later, Rep. Blake Farenthold, R-Texas, asked, "So there's not a budget problem. It's not you all don't have the money to do this?"
"Sir, it's a volatile situation. We will move assets to cover that," Lamb said.
More of the same on May 8, 2013. Responding to a Democratic member who pointed to embassy security spending in recent GOP House budgets, committee chairman Rep. Darrell Issa, R-Calif., prodded Eric Nordstrom, former regional security officer in Libya, about Lamb's previous testimony.
Issa said, "Mr. Nordstrom, you were on that panel. Do you remember what she (Lamb) said?"
"Yes, she said that resources was not an issue," Nordstrom said. "And I think I would also point to the (Accountability Review Board) report, if I'm not mistaken, that they talked to our chief financial officer with (Diplomatic Security), who also said that resources were not an issue."
Farrow's executive producer Kathy O'Hearn defended his characterization of the situation. 
"In every segment, we have been diligent in making mention ... that this is not simply a question of resources, but one of how existing resources can be used," O'Hearn said. "We feel strongly that our reporting has been judicious and thorough."
Yet Farrow's interview with Schiff certainly lingers on the question of whether there were enough resources and the role of Congress. He first says that some Republicans are "strident" that resources were not an issue, then pivoted to Clinton's 2011 warnings that not agreeing to the White House's proposed budget would hurt national security. After that, Farrow brought up specific budget decisions by members of Congress. Only after that did he note that some standard building funds available to the State Department were not able to be used in Benghazi. 
Our ruling
Farrow pointed to "cuts" by Democrats and Republicans in Congress in recent years from what the Obama administration requested in embassy security funding and tied it to Benghazi, saying, "It's easy to gain political plaudits by saying 'spend less around the world,' and then it leads up to these tragedies."
It's true that Congress did not fully fund embassy security requests from the Obama administration in recent years, which is what Farrow argues amounts to a "cut." But funding for embassy security is up from 2008, and up dramatically since before 9/11.
How does this tie into the Benghazi attack? State Department officials and government experts lay more blame on decisions by upper management not to provide the temporary Benghazi facility with more officers and better protections than the availability of money.
Farrow made that very point in his segment, which makes it odd that he led his segment by tying the attack with insufficient congressional funding.
We rate his claim Mostly False.
The Atlantic, "The real Benghazi scandal," May 2013
Unclassified Accountability Review Board report on Benghazi, December 2012
U.S. Senate Select Committee on Intelligence,Review of the Terrorist attacks on U.S.facilities in Benghazi, Libya, September 11-12, 2012, Jan. 15, 2014
House Oversight and Government Reform Committee, interim report on Benghazi, April 23, 2013
Transcript of House Government and Oversight Reform Committee hearing, Oct. 10, 2012
Washington Post's The Fact-checker, "Barbara Boxer's claim that GOP budgets hampered Benghazi security," May 15, 2013
Mediaite, "Ronan Farrow needs a refresher on Benghazi," May 5, 2014
PolitiFact, "Joe Biden says Paul Ryan cut embassy security by $300 million," Oct. 12, 2012
MSNBC, "Democrat calls for boycott of Benghazi committee," May 5, 2014
Congressional Research Service, "Securing U.S. Diplomatic Facilities and Personnel Abroad: Background and Policy Issues," Nov. 8, 2013
Interview with John Norris, Center for American Progress director of the sustainable security program, May 12, 2014
Interview with Alec Gerbach, State Department spokesman, May 12, 2014
Browse the Truth-O-Meter
More by Katie Sanders
Support independent fact-checking.
Become a member!
In a world of wild talk and fake news, help us stand up for the facts.