Stand up for the facts!
Our only agenda is to publish the truth so you can be an informed participant in democracy.
We need your help.
I would like to contribute
"When you read the Koran, it talks about don't take Christians and Jews as your friends."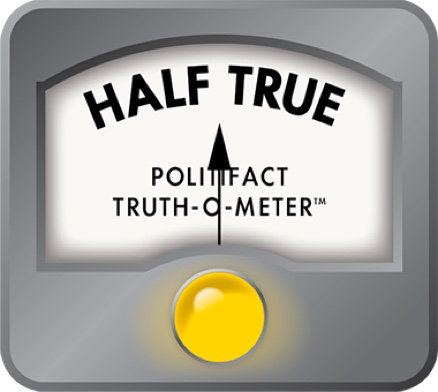 Sean Hannity: The Koran says 'don't take Christians and Jews as your friends"
International concern seems to mount by the day for nearly 300 Nigerian schoolgirls held captive by Boko Haram, a militant Islamist group whose name means "Western education is forbidden."
After threatening to sell the girls into slavery, a video released this week purports to show about 100 of them in full-length, black veils. The group leader says the girls converted from Christianity to Islam and will not be released unless imprisoned Boko Haram members are freed.
Fox News host Sean Hannity isn't the only pundit to denounce the group's actions. He convened a panel on his May 12 show, which included liberal The Five co-host Bob Beckel, to criticize liberals touting the #BringBackOurGirls Twitter campaign supported by first lady Michelle Obama.
We've seen conservatives offer similar criticisms in recent days, from Rush Limbaugh to Ann Coulter. Hannity took the discussion a step further, wondering if most Muslims subscribe to beliefs shared by Boko Haram.
Beckel entered the conversation by saying the response from "supposedly moderate" heads of Muslim states has been weak. "I tried to call the Egyptian embassy and I called the Saudi embassy to ask for a comment about these 275 girls and got nothing from them! When is a cleric, when is an imam, finally going to stand up and say, 'this is wrong'?"
That's when Hannity took over. "Do you think that this is general acceptance? When you read the Koran it talks about don't take Christians and Jews as your friends. It talks about jihad. It talks about apostate. All these things are in there. And do you think most Muslims buy into this radicalism, or (are) there moderate Muslims that are intimidated?"
Our question: Does the Koran talk about "don't take Christians and Jews as your friends"?  
What is he talking about?
A Fox News spokesperson said Hannity was talking about verse 5:51 of the Koran, the sacred book of Muslims. It's a verse that has spawned blog posts and message board queries about what it really means.
The original Koran (also Quran) is in Arabic, and Muslims believe it to be the word of Allah spoken to the prophet Mohammad via the angel Gabriel over a 23-year period.
Just as there are multiple English translations for the Bible, there are also English translations of the Koran, and experts are split on which translations are best and true to the Arabic text -- and on whether it should be translated at all. Interpretations are subjective, as not every word in Arabic has a flawless English equivalent.
"Scripture is not some sort of religious instruction manual that believers ingest uniformly and uncritically," says Kenneth Garden, a University of Tufts assistant professor of religion. "It inspires, yes, but it is also malleable and open to creative readings that highlight some passages and ignore others in ways we could never predict."
Still, the Quranic Arabic Corpus, a website that allows users to select passages from the Koran and compare parallel translations, offers several English translations of verse 5:51. Here are a few we found:
Saheeh International: "O you who have believed, do not take the Jews and the Christians as allies. They are (in fact) allies of one another. And whoever is an ally to them among you -- then indeed, he is (one) of them. Indeed, Allah guides not the wrongdoing people."

Arberry: "O believers, take not Jews and Christians as friends; they are friends of each other. Whoso of you makes them his friends is one of them. God guides not the people of the evildoers."

The Noble Qur'an: "O you who believe! Take not the Jews and the Christians as Auliya' (friends, protectors, helpers, etc.), they are but Auliya' to one another. And if any amongst you takes them as Auliya', then surely he is one of them. Verily, Allah guides not those people who are the Zalimun (polytheists and wrong­doers and unjust)."

The Message of The Quran says: "O you who have attained to faith! Do not take the Jews and Christians for your allies: they are but allies of one another -- and whoever of you allies himself with them becomes, verily, one of them; behold, God does not guide such evildoers."
Most but not all of these translations refer to friends while another says allies. Is the meaning as simple as it seems?
Lost in translation?
What did the experts say? Reactions ranged from Hannity is partially right to wildly wrong.
"Certainly 5:51 and other verses like it are great material for a group like Boko Haram to use," Garden said, while noting other verses contain messages of tolerance and warnings. "But apart from God speaking in a booming voice from on high and telling us how he would like the Koran to be interpreted, there is no objective way to say which is the correct reading of the scripture."
Let's start with the translation that introduces the word "Auliya'."
Other versions use "friends," but that word connotes a sense of, well, friendliness that, according to some experts and opinions, isn't supposed to be reflected in the text. "Auliya'" does not mean friends in the way of pals or companions. It's meaning is more about allies, protectors or guardians.
One footnote to this passage in The Message version of the Koran says "this prohibition of a 'moral alliance' with non-Muslims does not constitute an injunction against normal, friendly relations with such of them as are well-disposed towards Muslims."
Broader historical context is key, experts told us.
The verse refers to a specific period of tribal society in Mohammed's time, one marked by interreligious strife in which some Muslims in Medina were considering siding with certain Jewish tribes, said John L. Esposito, author of What Everyone Needs to Know About Islam and founding director of Georgetown University's Prince Alwaleed Bin Talal Center for Muslim-Christian Understanding.
"What Hannity is doing is just cherry-picking a passage," Esposito said. "It would be the equivalent of taking any of the statements in the Old Testament where God tells his people to fight and kill."
"The order here is not to take them as guardians or protectors," said Khaleel Mohammed, a San Diego State University professor who has compared English translations of the Koran. "Incidentally, the word for 'guardian' in Arabic and in Islamic terminology is 'wali,' the singular of Awliya."  
Reading the passage as Muslims cannot be friends with Christians and Jews flies in the face of the general treatment of those religions in the Koran, Esposito said. The different faiths share a connection to Abraham and a belief in the monotheistic God, and Islam acknowledges the word of God also coming in the Torah, Psalms and Gospels of the Bible.
"It contradicts the principle that both Christians and Jews are considered 'ahl al-kitab,' the people of the book," said Taoufik Ben Amor, Columbia University senior lecturer in Arabic studies. "Muslims can marry (Christians and Jews), trade, and coexist without forcing them to convert."
What's more relevant, some argued, is how most Muslims interpret the verse. Even though some radical Muslims may agree with Hannity's interpretation, most moderate Muslims believe it's a great thing to be friends with Jews and Christians, said Martha Schulte-Nafeh, University of Michigan Arabic program director.
The quote Hannity pulled is "not the normative understanding of how Muslims are with people of other faith," said Edgar Hopida, spokesman for the Islamic Society of North America.
Our ruling
In a segment condemning Boko Haram, Hannity said the Koran contains a verse that "talks about don't take Christians and Jews as your friends."
While some English translations of the Koran do include a similar phrase, some experts say Hannity is isolating the phrase out of its proper context. Also there is a debate if the true meaning of the passage is somehow altered in the translation itself. Much of the meaning depends on how people interpret scripture, which can be said for any spiritual text.
Hannity's claim is partially accurate but leaves out important details. We rate it Half True.
Interview with Edgar Hopida, communications director for Islamic Society of North America, May 13, 2014
Interview with John Esposito, Georgetown University professor and founding director of Prince Alwaleed Bin Talal Center for Muslim-Christian Understanding, May 13, 2014
Interview with Terje Østebø, University of Florida assistant professor in Department of Religion and Center for African Studies, May 13, 2014
Interview with Taoufik Ben Amor, Columbia University senior lecturer in Arabic studies, May 14, 2013
Interview with Ken Garden, Tufts University religion professor, May 14, 2014
Interview with Khaleel Mohammed, San Diego State University associate professor of religious studies, May 15, 2014
Interview with Carly Shanahan, Hannity spokeswoman, May 13, 2014
Interview with Martha Schulte-Nafeh, University of Michigan Arabic lecturer, May 16, 2014
SeekersGuidance.com, Friendship With Non-Muslims: Explaining Verse 5:51, Sept. 7, 2009
The Middle East Quarterly, "Assessing English Translations of the Qur'an," Spring 2005
Slate, "How to Read the Koran," Nov. 2008
Browse the Truth-O-Meter
More by Katie Sanders
Support independent fact-checking.
Become a member!
In a world of wild talk and fake news, help us stand up for the facts.