Stand up for the facts!
Our only agenda is to publish the truth so you can be an informed participant in democracy.
We need your help.
I would like to contribute
Cap and trade legislation "was originally a Republican idea."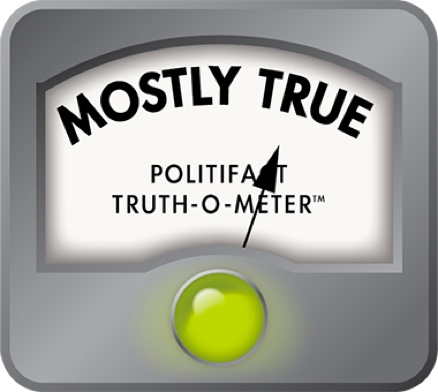 Cap and trade legislation was originally 'a Republican idea,' Wasserman Schultz says
U.S. Sen. Marco Rubio, a GOP presidential contender, made waves about climate change in a May 11 interview with ABC's Jonathan Karl on This Week.
"I do not believe that human activity is causing these dramatic changes to our climate the way these scientists are portraying it," Rubio said. "And I do not believe that the laws that they propose we pass will do anything about it. Except it will destroy our economy."
One of Florida's other nationally watched politicians -- Democratic National Committee chair Debbie Wasserman Schultz -- criticized her fellow Floridian's stance.
After a May 13 speech at Daemen College in upstate New York, an audience member asked her how to get "Congress unstuck in stomping on science."
Wasserman Schultz suggested that voters stop electing tea party-aligned politicians -- and then she turned her sights on Rubio for disagreeing with the scientific consensus that climate change is man-made.
Wasserman Schultz, who represents parts of Broward and Miami-Dade counties, said rising sea levels and flooding will make part of her district uninhabitable in the future. She called for politicians to reach across the aisle in search of solutions, singling out a cap and trade plan as an area where the parties could agree.
"That was originally a Republican idea. It was developed in the 1970s when the Clean Air Act was initially adopted."
We decided to check Wasserman Schultz's claim that cap and trade was originally a Republican idea.
Cap and trade
The idea of cap and trade is that the government sets a limit (the cap) on how much carbon individual companies -- typically electric utilities and manufacturers -- can emit. The government then issues permits to companies and allows them to buy and sell the permits as needed (the trade). If the policy works as planned, overall emissions decline, companies determine for themselves the best way to lower emissions, and the free market rewards those who lower emissions most effectively.
Wasserman Schultz started the clock ticking in the 1970s. Her spokesman, Sean Bartlett, told PolitiFact Florida that "the 1977 Clean Air Act amendments were the first time federal law used the concept of offset mechanisms that ultimately became the 'cap and trade' systems."
That law included precursor ideas, such as providing industry with flexibility to meet limits, rather than simply imposing controlling regulations, said Eric Pooley, a spokesman for the Environmental Defense Fund and author of The Climate War: True Believers, Power Brokers, and the Fight to Save the Earth.
In the 1980s, President Ronald Reagan used a cap and trade system to phase out leaded gasoline, noted MIT economics professor Richard Schmalensee and Harvard Kennedy School government professor Robert Stavins.
In 1989, President George H. W. Bush proposed the use of a cap and trade system to cut by half sulfur dioxide emissions from coal-fired power plants and consequent acid rain, they wrote in a Boston Globe op-ed in 2010.
"An initially resistant Democratic Congress overwhelmingly endorsed the proposal," the professors wrote. "The landmark Clean Air Act amendments of 1990 passed the Senate 89 to 10 and the House 401 to 25."
Bush not only accepted the cap, but he sided with environmentalists who wanted a larger cut than his own advisers, according to Smithsonian Magazine, in a report that detailed how the Environmental Defense Fund worked with Bush's White House to make cap and trade a reality.
"George H. W. Bush does indeed deserve enormous credit for being the champion of the cap and trade program for sulfur dioxide, a major cause of acid rain," Pooley said. "That has led many over the years to refer to it as a Republican idea."
But Pooley said that Senate Majority Leader George Mitchell -- a Democrat -- also deserves credit for leading the legislative charge that ultimately passed by an overwhelming bipartisan majority.
"So if pressed, I would call it a bipartisan idea that was championed by a Republican president," he told PolitiFact Florida.
In 2005, the EPA under President George W. Bush issued the Clean Air Interstate Rule, which aimed to achieve "the largest reduction in air pollution in more than a decade" using cap and trade, wrote Stavins and Schmalensee.
They noted the contributions under Reagan and both Bushes to argue that cap and trade should be embraced by Republicans as well as Democrats.
"After all, these policies were innovations developed by conservatives in the Reagan, George H. W. Bush, and George W. Bush administrations (and once strongly condemned by liberals)," they wrote.
In 2003, McCain, an Arizona Republican, and Sen. Joe Lieberman, then a Democrat from Connecticut, introduced the "Climate Stewardship Act," which would have used a similar cap and trade approach to reduce carbon pollution linked to global warming. Versions of the bill were reintroduced in 2005 and 2007.
That was the first time legislation was introduced to use cap and trade for carbon emissions, Pooley told PolitiFact.
"The enormous economic costs of damage caused by air pollution and greenhouse gas emissions to the environment and human health are not factored into the price of power produced by fossil-fueled technologies," McCain said in a floor speech to mark the bill's 2007 introduction. "Yet, it's a cost that we all bear, too often in terms of ill-health and diminished quality of life."
McCain's 2007 version was co-sponsored by Illinois Democratic Sen. Barack Obama. And both McCain and Obama had cap and trade programs in their presidential platforms.
In June 2009, the Democrat-controlled House of Representatives passed a cap and trade bill, by a razor-thin margin, 219-212. But the bill failed to survive in the Senate amid Republican opposition.
In 2011, the Republican-controlled House of Representatives has taken a firm stand against a cap and trade bill. "A full-blown fleecing of the middle class, it would raise electricity prices, increase gasoline prices, and ship American jobs to countries like China and India," wrote John Boehner, now the Speaker of the House, about the bill in June 2010.
Our ruling
Wasserman Schultz said that cap and trade legislation "was originally a Republican idea."
Experts who have followed the history of the environmental policy focus on the fact that emissions trading to address acid rain became part of the Clean Air Act of 1990 under Bush. The legislation ultimately passed with bipartisan support under a Republican president.
More recently, another prominent Republican -- McCain -- co-sponsored cap and trade legislation.
Democrats did support cap and trade legislations at different points along the way. But we found a strong tradition of support from Republican presidents for cap and trade, which uses markets to try to reduce pollution.
We rate this claim Mostly True.
U.S. Rep. Debbie Wasserman Schultz, Speech at Daemen College and response to a question, May 13, 2014
Foreign Policy, "Capping it Off," Feb. 22, 2010
New York Times op-ed, "A Republican case for climate action," Aug. 2, 2013
New York Times Thomas Friedman column, "G.(reen)O.P.?" June 3, 2012
Boston Globe op-ed by Richard Schmalensee and Robert Stavins, "The Power of Cap-and-Trade," July 27, 2010
Smithsonian magazine, "The political history of cap and trade," August 2009
Mother Jones, "Remember when cap and trade was a GOP idea?" Dec. 21, 2010
PolitiFact, "Democrat John Boccieri invokes GOP Sen. John McCain to back up his cap-and-trade stance," Sept. 13, 2010
Project 88 Harnessing market forces to protect the environment, 1988
Interview, Sean Bartlett, spokesman for U.S. Rep. Debbie Wasserman Schultz, May 14, 2014
Interview, Richard Schmalensee, MIT professor of Economics, Emeritus, May 16, 2014
Interview, Robert Stavins, Professor of Business and Government Environment and Natural Resources Program, Belfer Center for Science and International Affairs at Harvard Kennedy School, May 16, 2014
Interview, Eric Pooley, spokesman Environmental Defense Fund and author of The Climate War: True Believers, Power Brokers, and the Fight to Save the Earth, May 21, 2014
Browse the Truth-O-Meter
More by Amy Sherman
Support independent fact-checking.
Become a member!
In a world of wild talk and fake news, help us stand up for the facts.