Get PolitiFact in your inbox.
Says a "liberal" immigration reform group endorsed his GOP primary opponent, Dave Brat.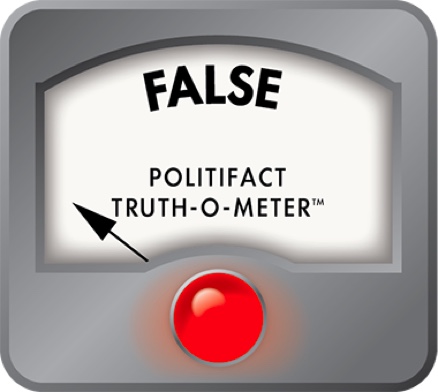 Eric Cantor says "liberal" immigration group backs his GOP primary rival, Dave Brat
U.S. Rep. Eric Cantor, R-7th, is portraying himself as a bastion against illegal immigration in fending off a June 10 primary challenge from Dave Brat, a professor at Randolph-Macon College.
"Just yesterday, a liberal pro-amnesty group held a rally and encouraged their supporters to vote in our election for our opponent because Congressman Cantor is standing up to Obama on illegal immigration," Cantor's campaign said in a May 29 email to supporters.
The statement caught PolitiFact's attention because we attended the May 28 rally at the state Capitol held by Casa de Virginia, a group that supports immigration reform.
The speakers certainly needled Cantor, the House majority leader, for not scheduling a vote on a bill to overhaul the nation's immigration laws. They held signs saying "Eric Cantor: the one man blocking immigration reform," and "Eric Cantor Give us a vote!"
But we didn't hear anyone endorse Brat, who accuses Cantor of being soft on immigration.
To the contrary, U.S. Rep. Luis Gutierrez, D-Ill., brushed off speculation that the primary was tied to the timing of the rally.
"Some people think we're here because there's a primary next week, nothing could be further from the truth," Gutierrez said in the keynote speech.  "The primary is really irrelevant to us. We're here because the majority leader, Eric Cantor, controls the agenda of the Congress of the United States. And we have come here to say … Stop being an obstacle. Stop being in the way."
Gutierrez said at another point that the primary might be impeding passage of immigration reform.
"Here is the good news, they are going to finally have a primary here in Virginia," Gutierrez said. "Maybe after all the partisan politics are over, we can finally get back to the business of the people of the United States."
We asked Ray Allen Jr., Cantor's political adviser, for evidence that rally organizers urged those in attendance to support Brat. He pointed to a flier handed out at the event that said, "Vote *ABC* June 10 -- Anybody But Cantor."
Allen sent us a photo of the flier in a red packet of immigration information that was handed out by organizers of the rally.
"While the flier says vote for anybody but Cantor, Brat is the only anybody on the ballot," Allen emailed. "The intent of the flyer is obvious to all."
But the "Anybody But Cantor" flier was not included in the packet the rally organizers gave to the media. A man disseminated the orange sheet before the rally, but his affiliation was unclear. A disclaimer on the bottom of the page provided no clues, saying, "This message is not authorized by any candidate."
The same man also passed out the flier at news conference Brat held in the Capitol shortly before the rally. Brat used the occasion to question Cantor's toughness on immigration reform.
Zachary Werrell, Brat's campaign manager said his campaign didn't pass out the flier and he had no idea who did.
Lindolfo Carballo, coordinator of Casa de Virginia, said his group is not connected to the flier. "It was someone who came to the event before we even started and was passing the flier around," he said. "We asked him to stop. He wasn't part of our group and the flier wasn't part of our package."
Carballo said, "We're not endorsing anyone. We are just asking Eric Cantor to allow a vote on immigration reform."
As to Cantor's claim that the group is backing Brat, Carballo said, "He is going to play this game of his. We are not here to play."
Cantor has declined to schedule a House vote on a comprehensive immigration reform bill that passed the Senate last year. The legislation would spend billions on border control and establish a lengthy path to citizenship for many immigrants who entered the country illegally.  
Cantor says rather than pass a comprehensive bill, Congress should take a piece-by-piece approach to immigration. The majority leader says he supports a path to citizenship for children who were brought into the country illegally by their parents.
On May 16, Cantor announced that he would not allow an amendment to the defense authorization bill that would allow children of illegal immigrants to join the military and receive legal status once they've served. Cantor said he supports the concept of the measure, but did not want to attach it to the authorization bill. The majority leader has declined to say when or if he would set up a separate vote for the Enlist Act.
Our ruling
Cantor says Casa de Virginia, a group supporting immigration reform, endorsed his Republican primary opponent during a May 28 rally in Richmond. Seeking to shore up his conservative support, Cantor cited the action as proof that that he is "standing up to Obama on illegal immigration."
The problem is that no speaker at the rally issued an endorsement of Dave Brat, Cantor's opponent. To the contrary, the keynoter stressed that the group was not taking sides in the primary; it was simply calling on Cantor to allow a House vote on immigration reform.
Cantor's campaign points to a flier passed out at the event urging voters to support "anyone but Cantor" in the primary. Casa denies any connection to the flier. The missive was not part of an information package Casa distributed at the rally. We know this because we were there.
Cantor's statement is False.
Cantor for Congress e-mail to supporters, May 29, 2014.
Email from Ray Allen, advisor to Eric Cantor's congressional campaign, May 29, 2014.
Interview with Zachary Werrell, campaign manager for Dave Brat, May 29, 2014.
Rep. Luis Gutierrez's comments at immigration reform rally at the state capitol, May 28, 2014.
Dave Brat's comments at state capitol event, May 28, 2014.
The Huffington Post, "Eric Cantor attacked from all sides on immigration," May 28, 2014.
Richmond Times-Dispatch, "Right, left rip Cantor on immigration," May 29, 2014.
Interviews with Lindolfo Carballo, coordinator for Casa de Virginia, March 29, 2014.
Browse the Truth-O-Meter
More by Warren Fiske
Support independent fact-checking.
Become a member!
In a world of wild talk and fake news, help us stand up for the facts.