Facts are under assault in 2020.
We can't fight back misinformation about the election and COVID-19 without you. Support trusted, factual information with a tax deductible contribution to PolitiFact
I would like to contribute
"We have the third-lowest minimum wage … of developed countries."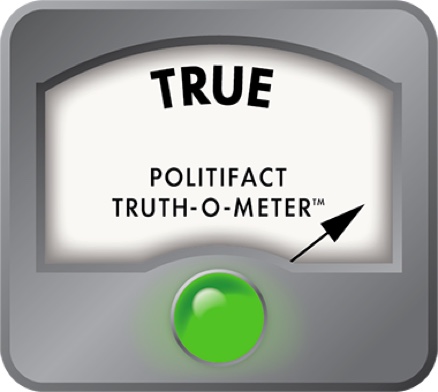 David Cicilline says U.S. has third-lowest minimum wage among developed countries
During a highly charged -- and pretty entertaining -- debate on Channel 10 last Sunday, incumbent Democrat David Cicilline squared off against Cormick Lynch, the Republican who is challenging him for the 1st Congressional District seat.
Lynch kept speaking over Cicilline, Cicilline repeatedly patted Lynch on the arm to quiet him, and moderator Bill Rappleye tried to keep everything under control. ("Please, don't touch," he said more than once.)
One of the issues that divides the candidates is the federal minimum wage. Cicilline is co-sponsor of a bill that would raise it to $10.10 from its current $7.25. Lynch vehemently opposes the move.
"Raising the minimum wage is going to further destroy the business environment," Lynch said in the debate. "We need to drive private-sector investment and restore the economy, not legislate solutions to the problem."
Cicilline countered that raising the minimum wage would stimulate the economy by giving people more money to spend.
"No-one should work full-time in this country … and live in poverty," he said. "We have the third-lowest minimum wage of countries in the OECD, of developed countries."
Lynch was hardly convinced.
"Congressman, what color was the unicorn you rode in on today?" he said. "What planet did it take you here from?"
Mythical creatures and space travel aside, we were interested in Cicilline's claim about how the U.S. minimum wage stacks up against those in other countries.
The "OECD" referred to in Cicilline's statement is the Organisation for Economic Co-operation and Development, an international group headquartered in Paris that aims to stimulate world trade. It has 34 member countries that range from the highly-developed, such as the United States, Germany and Japan, to the emerging, such as Mexico, Turkey and Chile.
The group compiles a range of data on the economies of  its member nations. One area of analysis is earnings, which includes minimum wages.
When we first looked at the data on minimum wages, we thought Cicilline might be mistaken. The minimum wage in the U.S. measured in real dollars falls in the middle of the pack of 24 countries that supplied numbers to the OECD, according to this table.
Australia ranked first with a minimum wage in U.S dollars of $15.20, followed by Luxembourg ($14.30) and France ($12.50). The United States ranked 11th and Mexico came in last at $0.60.
But there's another way of comparing minimum wages that offers more context by accounting for cost-of-living variations from country to country. The OECD compiles another table comparing minimum wages relative to the median wages of full-time workers.
"Median rather than mean [average] earnings provide a better basis for international comparisons as it accounts for differences in earnings dispersion across countries," the OECD explains.
In the United States, the minimum wage is just 37 percent of the median wage. In a comparison of the 28 countries in the table, the United States ranks 26th, above only the Czech Republic and Mexico.
The leading countries in that table are Turkey, where the minimum wage is 69 percent of the median wage, followed by Chile (68 percent) and France (61 percent). In that comparison, the United States is indeed third-lowest.
Economists say that this type of comparison creates a benchmark for looking at minimum wages across time periods or countries. It shows the buying power of different minimum wages in different places, they say.
On average, the minimum wage in OECD countries has hovered around 50 percent of the median wage, according to this paper from the Hamilton Project. In the United States, it used to be that high but has steadily fallen. (See page 3 of the paper for a good graphic showing this.)
Cicilline's spokeswoman told us that the source of the Congressman's statement was an Oct. 24 interview on MSNBC with U.S. Labor Secretary Tom Perez. During the interview, as the screen flashed data from the same table that we found, Perez said that the United States has the third-lowest minimum wage among OECD nations.
Our ruling
David Cicilline said that the United States has the third-lowest minimum wage among countries in the Organisation for Economic Co-operation and Development.
Although the U.S. minimum wage is not that low in terms of U.S. dollars, it is third-lowest in a more meaningful comparison relative to the median wage. (Here's a good graphic from the Department of Labor showing how the U.S. stacks up against other developed nations.)
We rule Cicilline's statement True.
(If you have a claim you'd like PolitiFact Rhode Island to check, e-mail us at [email protected] And follow us on Twitter: @politifactri.)
Turnto10.com, "10 News Conference: 1st Congressional District," Oct. 26, 2014, accessed Oct. 27, 2014
Interview and emails, Elizabeth White, spokeswoman, U.S. Rep. David Cicilline, Oct. 27-28
Email, Leonard Lardaro, Professor of Economics, University of Rhode Island, Oct. 30, 2014
Stats.OECD.org, "Real minimum wage;" "Minimum relative to average wages of full-time workers;" Organisation for Economic Co-operation and Development, accessed Oct. 27, 2014
NYTimes.com, "A Minimum Wage That Makes More Sense," June 27, 2014, accessed Oct. 30, 2014
HamiltonProject.org, "Designing Thoughtful Minimum Wage Policy at the State and Local Levels," accessed Oct. 31, 2014
MSNBC.com, "Labor secretary: Stimulate consumption," Morning Joe, Oct. 24, 2014, accessed Oct. 28, 2014
Twitter.com, "Minimum wage as % of median wage: How the U.S. compares to other developed nations," U.S. Department of Labor, accessed Oct. 30, 2014
Browse the Truth-O-Meter
More by Alex Kuffner
Support independent fact-checking.
Become a member!
In a world of wild talk and fake news, help us stand up for the facts.