Stand up for the facts!
Our only agenda is to publish the truth so you can be an informed participant in democracy.
We need your help.
I would like to contribute
"Every time somebody new gets the Ebola virus, it mutates."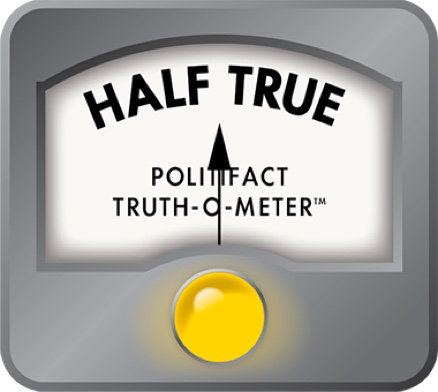 Glenn Beck warns of massive mutations in Ebola virus
The prospect of wholesale economic and social collapse exerts a peculiar magnetism on some people. The fight against the Ebola virus is custom-made for such speculations and conservative radio host Glenn Beck raised them in full during the Oct. 15 broadcast of his radio show.
Beck envisioned fearful Americans avoiding trips to the mall, leading to a downward spiral in consumer spending. Although to date, the virus has only been known to be transmitted by contact with the bodily fluids of one infected person, Beck said that would change.
"Think of this America, please think of this," Beck said. "Every time somebody new gets the Ebola virus, it mutates. It's going to go aerosol."
To go "aerosol" would mean water droplets from a sneeze or a cough could transmit the disease. There is no recorded case of this occurring with Ebola; one study positively asserts that the virus does not spread this way.
Still, Beck argued that the 8,000 victims of Ebola in West Africa represent 8,000 "different combinations" of Ebola.
Around PunditFact, we say there's no way to check a prediction, but what we can do is dig deeper into Beck's claim that the Ebola virus mutates with each new person it infects.
We contacted Beck's producers and they added some nuance that Beck left out.
"Many of those mutations mean nothing, but some of them might be able to change the way the virus behaves inside the human body," the producers said in an email.
According to two top infectious disease researchers, Beck is correct that the virus mutates, but left out what his producers later noted -- namely that not every mutation does anything to make Ebola more deadly or more difficult to treat.
The explanation why can get technical, but you can break down what happens as a series of steps that reduce the impact of these genetic changes. By the way, both researchers also said that the virus doesn't need a new victim to mutate. It mutates inside its host, even if it is never passed on.
Most mutations hurt the virus
You need to understand a basic fact about Ebola. As of now, there is no "cure," as in there are no drugs that kill Ebola. Doctors treat the symptoms of Ebola while the body fights the virus. In that respect, it's like the flu.
Adam Lauring is an assistant professor in the Division of Infectious Diseases and Department of Microbiology and Immunology at the University of Michigan Medical School. Lauring explained that because Ebola is an RNA virus, each time it replicates in a person's body, there's a good chance that small changes will take place. But Lauring emphasized that most changes do not strengthen the virus or make it more resistant to human defenses. In fact, the typical mutation has the opposite effect.
"The available data consistently show that most newly generated mutations in RNA viruses reduce fitness," Lauring said. "That is, most mutations are made and then lost from the population. They do not take hold."
Put simply, the virus might mutate but it doesn't really matter.
Lauring said we should keep in mind that the Ebola virus largely works through the proteins it produces. The virus' genes make the proteins and then the proteins help the virus infect more parts of the body. Lauring's point is that with most mutations, the genes produce a protein that doesn't do what the virus needs and that copy of the virus dies.
Most mutations don't change anything
With the virus replicating itself billions of times in a single victim, some genetic drift will take hold. But in this group, there are two basic types: synonymous and non-synonymous. The difference is in how they affect proteins.
"Synonymous mutations don't change the protein sequence," Lauring said.
Remember, the proteins determine how the virus works. If the proteins remain the same, so does the virus, for all practical purposes. (This is cellular biology so things are more complicated.)
Since non-synonymous mutations change proteins, we'd want to know how often they happen in Ebola. Fortunately, a large team of researchers published a paper that goes directly to that point.
Stephen Gire, a researcher at the Sabeti Lab at Harvard University, was one of the authors. Gire and his colleagues recently took samples from 78 patients in Sierra Leone over a three-week period. When they drilled down into the virus' genome, they found 40 mutations that had taken place in "protein coding regions."
About a third were non-synonymous. Put another way, 14 were able to change the proteins in the virus. The other 26 left the virus functionally as it had been before.
Of that group of 14, eight occurred in regions that Gire called functionally interesting. But Gire emphasized, "that doesn't necessarily mean that these mutations changed or helped the virus."
Without more research, Gire said it's impossible to know if these mutations actually made the virus more successful as an organism, and more able to move from one person to the next.
Mutations might not be passed on
Gire and his colleagues found that even those mutations that propagated in a victim's bloodstream might go nowhere.
"We have many instances where we see a mutation pop up, but then there are no transmissions from that patient and so that mutation potentially dies off," Gire said.
This gets back to the central topic in Beck's statement. It isn't a question of whether the virus mutates, but whether it adapts to new environments and spreads out in a new form.
"Mutation is not evolution," said Lauring.
A solemn reminder
This isn't to say Ebola is not a serious threat. Gire and his co-authors wrote that "continued progression of this epidemic could afford an opportunity for viral adaptation, underscoring the need for rapid containment."
At the very end of the article, there is this dedication:
"Tragically, five co-authors, who contributed greatly to public health and research efforts in Sierra Leone, contracted EVD (Ebola) and lost their battle with the disease before this manuscript could be published: Mohamed Fullah, Mbalu Fonnie, Alex Moigboi, Alice Kovoma, and S. Humarr Khan. We wish to honor their memory."
Our ruling
Beck warned that every time someone new gets the Ebola virus, it mutates. First, mutation and replication go hand in hand and infecting a new person doesn't change that. But the much larger point is that Beck is painting mutations with a broad brush.
Most of them hurt the virus and are automatic dead-ends. Of those that don't actually hurt it, about two-thirds don't change how Ebola functions. Of those that change how the virus functions, there's no data to say whether the functional changes matter. However, the most recent study in West Africa found that many new varieties are not passed on to new victims.
Beck's statement about Ebola mutations is partially accurate but leaves out important details. Accordingly, we rate it Half True.
WGST, The Glenn Beck Program, Oct. 15, 2014
Adam Lauring and Raul Andino, Quasispecies Theory and the Behavior of RNA Viruses, July 22, 2010
Science, Genomic surveillance elucidates Ebola virus origin and transmission during the 2014 outbreak, Aug. 28, 2014
Molecular Biology and Evolution, A Large Variation in the Rates of Synonymous Substitution for RNA Viruses and Its Relationship to a Diversity of Viral Infection and Transmission Modes, Jan. 24, 2004
Scientific Reports, Evaluation of transmission risks associated with in vivo replication of several high containment pathogens in a biosafety level 4 laboratory, July 25, 2014
Kaiser Family Foundation, Special Focus On Ebola, Oct. 16, 2014
Email interview, Stephen Gire, research scientist, Sabeti Lab, Harvard University, Oct. 16, 2014
Interview, Adam Lauring, Assistant Professor, Department of Microbiology and Immunology, University of Michigan Medical School, Oct. 16, 2014
Browse the Truth-O-Meter
More by Jon Greenberg
Support independent fact-checking.
Become a member!
In a world of wild talk and fake news, help us stand up for the facts.