Stand up for the facts!
Our only agenda is to publish the truth so you can be an informed participant in democracy.
We need your help.
I would like to contribute
"U.S. troops are getting only 4 hours of Ebola training before deployment to Liberia."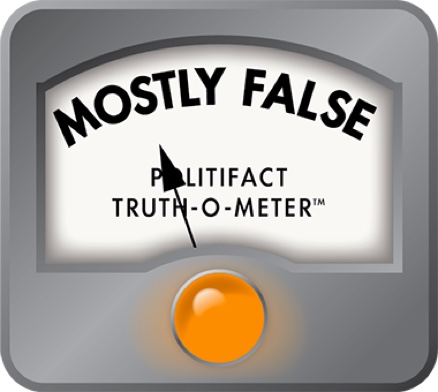 Do U.S. troops get just 4 hours of Ebola training?
American personnel have just begun to arrive in West Africa in significant numbers and already, critics of President Barack Obama have raised questions about how the administration is handling the operation. A month ago, Obama announced plans to send up to 4,000 service members to help contain the deadly outbreak of Ebola. So far, about 600 are in the region, most of them in the Liberian capital of Monrovia and the rest at a staging area in Senegal.
Former U.S. Rep. Allen West, R-Fla., decried the poor preparation these people received before they left.
"Un-frigging-believable," West tweeted. "U.S. troops are getting only 4 hours of Ebola training before deployment to Liberia."
West expanded on his disbelief in a blog post and cited as his source a Daily Beast article that had a similar headline (sans "frigging"). In West's blog post, he dismissed assurances from military officials that soldiers would not be in contact with anyone who is ill with the disease.
"We are taking incredible chances with the lives of our men and women," West wrote. "You cannot mitigate all the risks of Ebola — certainly not with just four hours of training preparation."
We contacted the Defense Department to learn more about the training. What the Pentagon said tells us West might have wanted to read more than one article. The training for everyone is more extensive than he said. In addition, servicemen with greater risk of exposure get more training than those posted to locations where no Ebola exists.
Army spokesman Matthew Bourke told PunditFact that on top of the standard pre-deployment training, the Army took these soldiers through a total of three other sessions. One focused specifically on Ebola, a second dealt with medical threats in general, and the third made sure they knew how to use and take off any protective clothing they might use.
"The briefing on just Ebola itself, that small piece, may have in fact been roughly four hours," Bourke said. "But it was just a small piece of the greater training."
The press office for U.S. Africa Command (AFRICOM), the central coordinating body for the military's Ebola deployment, pointed us to a memo that lays out four levels of training. Service members who move among the general population train with protective suits. There is a higher level of training for those who work in any center that treats patients with Ebola, and another level of training for those who work in Ebola testing labs.
Charles Prichard, AFRICOM spokesman, said there is no prescribed time for each level of training.
However, Bourke said depending on the size of the group, it can take four hours to explain and take time to practice the right way to put on, decontaminate and remove a gown, boot covers and mask.
So let's add this up. We have four hours of Ebola training. Then about four hours practicing with protective clothing. Then another unspecified amount of time to learn about medical threats in general. Every service member gets this amount of training, or more if their posting requires it.
West undercounts the training time by more than half. In an interview on Fox News, West seemed to acknowledge his mistake. The interviewer suggested that the total training took three days. West took this to mean that a public outcry had forced the military to boost its training program.
The timeline doesn't back that up. West posted his blog Oct. 20. The article he relied on was written Oct. 16. The Defense Department memo on training is dated Oct. 10. The policy was in place well before the public read about it.
The mission
In that Fox News interview, West cast the entire operation in a military light. He spoke of sending troops "into the hot zone of a deadly disease." This might suggest they will come face to face with Ebola. Bourke said that for the soldiers who got the training West had in mind, that is not accurate.
"Soldiers are not deploying to treat Ebola patients," Bourke said. "They will be training Liberian health care providers. They will be building Ebola Treatment Units. And they will be providing logistics support."
A team from the 101st Airborne Division recently deployed to Senegal and Liberia to manage the arrival of all the materials and manpower needed to build a 25-bed hospital and 17 100-bed "treatment" units. The military is deploying engineers, comptrollers and quartermasters.
Some military medical staff will train local health care workers. Very few medical staff will come into close proximity with the virus. They are lab workers who will test samples of bodily fluids for the Ebola virus. The Pentagon discussed this with reporters and estimated it would involve about 25 people over the coming months. Each of them are specialists in this kind of work.
Our ruling
West said the United States is sending military personnel to confront Ebola after just four hours of training. While the average service member sent to West Africa will receive that amount of training specific to Ebola, the Army said that is a small part of the total training to attune them to medical hazards and to practice the measures to minimize the risk of exposure. That training applies to those who are unlikely to be exposed to the virus at all. Those who have a higher risk of exposure receive additional training.
The claim has an element of truth but leaves out significant information. We rate it Mostly False.
Allen West, tweet, Oct. 20, 2014
Allenwest.com, Un-frigging-believable: US troops get just 4 hours of Ebola training, Oct. 20, 2014
Fox News, On the Record With Greta Van Susteren, Oct. 21, 2014
U.S. Department of Defense, Pre-Deployment, Deployment , and Post-Deployment Training, Screening, and Monitoring Guidance for Department of Defense Personnel Deployed to Ebola Outbreak Areas , Oct. 10, 2014
U.S. Department of Defense, Pentagon Briefing On DoD Response to Ebola with Gen. Rodriguez, Oct. 8, 2014
Daily Beast, U.S. Soldiers Get Just Four Hours of Ebola Training, Oct. 17, 2014
Military.com, Soldiers Deploying to Liberia will Receive Ebola Hazmat Suits, Oct. 21, 2014
Newsmax, US Soldiers Get Just 4 Hours of Training Before Ebola Deployment, Oct. 18, 2014
U.S. Department of Defense, Treatment Facility Construction Continues in Liberia, Oct. 15, 2014
U.S. Department of Defense, Dempsey Says Combating Ebola a National Security Priority, Oct. 22, 2014
U.S. Department of Defense, Soldiers Leave Senegal for Liberia to Support United Assistance, Oct. 20, 2014
Interview, Matthew Bourke, public affairs officer, Office of the Chief of Public Affairs, U.S. Army, Oct. 22, 2014
Email interview, Charles Prichard, media action officer, Office of Public Affairs, U.S. Africa Command , Oct. 23, 2014
Browse the Truth-O-Meter
More by Jon Greenberg
Support independent fact-checking.
Become a member!
In a world of wild talk and fake news, help us stand up for the facts.