Stand up for the facts!
Our only agenda is to publish the truth so you can be an informed participant in democracy.
We need your help.
I would like to contribute
Say Apple's Tim Cook "will not do business with Indiana."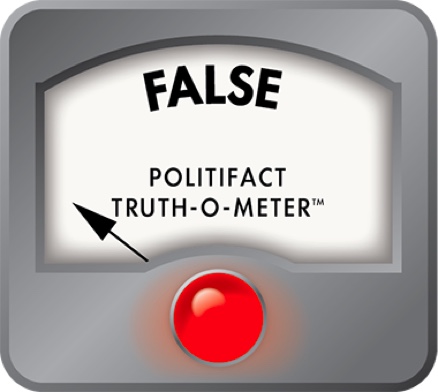 Tim Cook did not promise Apple boycott of Indiana
Some social conservatives have had it with backlash directed at Indiana over its Religious Freedom Restoration Act.
In a column for conservative grassroots site RedState.com, editor-in-chief Erick Erickson criticized business owners and people on the left who say the law will allow anyone to cite religious belief in refusing to serve gays and lesbians. Erickson's opening sentence hones in on Apple chief executive Tim Cook for what he sees as hypocritical business practices.
"To recap: Tim Cook (please, please click this link) and the left are happy to do business in countries that stone to death or otherwise jail gay people, but will not do business with Indiana," Erickson wrote, "which merely passed a law insisting that the 'free exercise' clause of the first amendment be on the same legal footing in courts as the 'free speech' clause of the first amendment."
Erickson would not respond to our requests for more information, but his point is fairly evident: Apple will do business in countries where being gay is illegal (there were more than 70 such countries as of 2013) but won't do business with Indiana.
That turns out to be putting words in Apple's mouth.
What Cook said
Cook, who has been Apple's CEO since 2011, started speaking out against Indiana's religious freedom law with a couple of tweets March 27, the day after Republican Gov. Mike Pence signed the measure into law.
Cook wasn't done criticizing the law. In a March 29 Washington Post op-ed, Cook, who is gay, warned that the legislation in Indiana and other states allows people to cite personal religious beliefs as a reason not to serve a customer based on sexual orientation. (Some experts say such refusals along these lines under Religious Freedom Restoration Acts would not win out in court, but the law may lead some people to think they have that right.)
"Our message, to people around the country and around the world, is this: Apple is open," he wrote. "Open to everyone, regardless of where they come from, what they look like, how they worship or who they love. Regardless of what the law might allow in Indiana or Arkansas, we will never tolerate discrimination."
Cook also said, "on behalf of Apple, I'm standing up to oppose this new wave of legislation — wherever it emerges."
Strong words, yes. But like his tweets, the op-ed said nothing about the company no longer doing business with Indiana.
We searched and found no other instance of Cook, or Apple, making comments about Indiana's law or suggesting they would not do business in, or with, the state.
Erickson did not respond to us via our email, phone or Twitter queries. Instead, he posted a blog on RedState saying "Seriously. Sometimes a tweet is just a tweet." (Erickson's post was not a tweet, it was a column.)
Erickson isn't alone among bloggers in the right-wing blogosphere who hold up the company's Middle East presence in criticizing the CEO's stance toward Indiana.
Apple has locations in predominantly Muslim countries where some states or sects under sharia law punish homosexuality with death, including Saudi Arabia, Nigeria and Qatar.
As for Indiana, the state is home to two Apple retail stores in malls in Indianapolis and Mishawaka. Both were still in operation April 2, 2015, when we called.
An Apple spokesman offered no additional comment.
Our ruling
In trying to call out Apple's Cook for clashing business practices over gay rights, Erickson said Cook "will not do business with Indiana."  
That is not true based on Cook's public remarks on Twitter and in an op-ed. Cook has been outspoken in his position against the law and others like it across the country, but Apple stores remain open in Indiana and iPhones, iMacs and everything else is still being sold.
Erickson's claim rates False.
Browse the Truth-O-Meter
More by Katie Sanders
Support independent fact-checking.
Become a member!
In a world of wild talk and fake news, help us stand up for the facts.