Stand up for the facts!
Our only agenda is to publish the truth so you can be an informed participant in democracy.
We need your help.
I would like to contribute
"Iran's defense budget is $30 billion. Our defense budget is closer to $600 billion."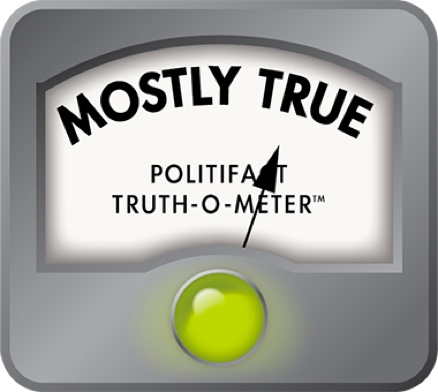 Obama: Iran spends $30 billion on defense; U.S. about $600 billion
As President Barack Obama tries to win support for a nuclear deal with Iran, one of his arguments is that this strategy of negotiation comes with minimal risk. In an interview with the New York Times, Obama made the point that America is and will remain much more powerful than Iran.
"Iran's defense budget is $30 billion. Our defense budget is closer to $600 billion," Obama said. "Iran understands that they cannot fight us."
As part of the promise we made during our Kickstarter campaign, we gave a reader the chance to pick from a list of possible claims, and the reader asked us to look into Obama's comparison of the Iranian and U.S. military budgets.
We asked the White House for the source of the president's statement. The press office staff was checking but as of the time we published, we had not heard back.
Iran
Iran has about 500,000 people in its military, including many conscripts with limited training and some elite forces. According to the U.S. Defense Department's annual review of Iran, "Iran's military doctrine is defensive. It is designed to deter an attack, survive an initial strike, retaliate against an aggressor, and force a diplomatic solution to hostilities while avoiding any concessions that challenge its core interests."
A summary from the Congressional Research Service, the nonpartisan analytic branch of Congress, says "Iran lacks the logistical ability to deploy its own ground forces across waterways such as the Persian Gulf, but Iran is able to project power throughout the region by recruiting, advising, and arming Shiite fighters from around the region as a force multiplier."
The reports adds that Iran "is developing increasingly lethal systems such as more advanced naval mines, submarines, coastal defense and anti-ship cruise and ballistic missiles, and attack craft."
We found several estimates of Iran's military spending. The Congressional Research Service said the country spends about 3 percent of its GDP, which translates into about $11 billion. Reuters reported that Iranian President Hassan Rouhani plans to spend 282 trillion rials on defense. At the current exchange rate, that equals about $10 billion. The Stockholm International Peace Research Institute database has a similar figure.
Long-time Middle East analyst Anthony Cordesman with the Center for Strategic and International Studies wrote that after accounting for Iran's support for its defense industry, the money it spends on Shiite paramilitary groups in other countries, and its nuclear program, the total could reach $14 billion.
The highest estimate we found came from the Center for Arms Control and Nonproliferation, a Washington think tank and advocacy group. It put Iran's total spending at $17.7 billion in 2013.
U.S. military spending
Most of the military budget falls under the Defense Department. The actual total includes portions of the country's nuclear program at the Energy Department and defense-related spending in other departments.
For the Defense Department alone, the Congressional Budget Office's summary of the budget bill passed last December shows $520 billion in outlays with another $64 billion (good for two years) to cover overseas contingency operations, such as fighting the Islamic State group. That yields a total of $584 billion.
Laicie Heeley is policy director at the Center for Arms Control and Nonproliferation. By Heeley's tally, after you add in $19 billion for nuclear weapons and $7.5 billion in other departments, the total comes to $621 billion.
For fiscal year 2016, the president is requesting nearly $612 billion.
"It's hovered around the $600 billion for the past two years and hit almost $700 billion in FY12," Heeley said.
Our ruling
Obama said that "Iran's defense budget is $30 billion. Our defense budget is closer to $600 billion." The highest estimate we found for Iran's total defense spending was $18 billion. That is significantly less than Obama said, although if anything, it supports his argument more than the number he used.
Obama gave himself some wiggle room on American defense spending. It is actually a bit higher than $600 billion but his phrasing is pretty close.
With the caveat that Obama overstated Iran's military spending, we rate the claim Mostly True.
Note: This claim was fact-checked as part of a reward to our Kickstarter campaign to live fact-check the 2015 State of the Union. Thanks to all who contributed.
New York Times, Iran and the Obama Doctrine, April 5, 2015
Department of Defense, Unclassified Executive Summary: Annual Report on Military Power of Iran, January 2014
Congressional Research Service, Iran: U.S. Concerns and Policy Responses, March 18, 2015
Reuters, Iran to hike military spending despite lower oil prices, sanctions, Dec. 7, 2014
United States Institute of Peace, The Iran primer: The conventional military
Stockholm International Peace Research Institute, Military Expenditure Database
Center for Arms Control and Nonproliferation, U.S. Defense Spending vs. Global Defense Spending, April 24, 2014
Congressional Budget Office, H.R. 83, the Consolidated and Further Continuing Appropriations Act, 2015, Dec. 10, 2014
Washington Post, READ IN: Cromnibus Decoded Edition, Dec. 10, 2014
Library of Congress, H.R. 83: Consolidated and further continuing appropriations act 2015, Dec. 16, 2014
U.S. Department of Defense, Fiscal year 2015 budget request, March 2014
Association of Defense Communities, FY'15 Omnibus Spending Bill Crosses the Finish Line, Dec. 14, 2014
Center for Arms Control and Nonproliferation, Fiscal Year 2016: Defense spending request briefing book, February 2015
Email interview, Laicie Heeley, policy director, Center for Arms Control and Nonproliferation, April 8, 2015
Browse the Truth-O-Meter
More by Jon Greenberg
Support independent fact-checking.
Become a member!
In a world of wild talk and fake news, help us stand up for the facts.