Stand up for the facts!
Our only agenda is to publish the truth so you can be an informed participant in democracy.
We need your help.
I would like to contribute
"The president and vice president can't be from the same state."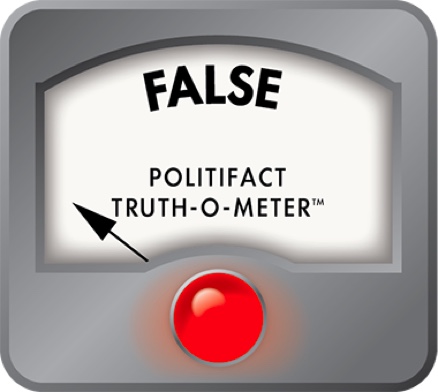 Can the president and the vice president be from the same state?
The links between Jeb Bush and Marco Rubio have some talking about a Bush/Rubio ticket in 2016. But is it even possible?
The day after Rubio announced he was running for president, liberal MSNBC host Lawrence O'Donnell was already looking ahead to what happens if Rubio's campaign falls short.
"Marco Rubio looks like one of the best possible vice presidential candidates in the Republican field," O'Donnell said on his show on April 14, 2015. "But the one person who can't choose him is Jeb Bush, because the president and vice president can't be from the same state."
While we're still waiting for Bush to make his candidacy official, O'Donnell's claim that "the president and vice president can't be from the same state," got our heads spinning. If correct, that would rule out a Florida ticket of Bush/Rubio, or a Texas ticket of Rick Perry and Ted Cruz for that matter, or any combination that includes Bush, Rubio and two other Florida residents and possible contenders -- Ben Carson and Mike Huckabee.
So is it true?
The answer is no. Neither the Constitution nor the Electoral College prevents Bush from picking a fellow Floridian or any candidate from choosing a running mate from the same state.
It just might make things tricky, depending on the situation. 
We'll explain the why and how. 
What the Constitution has to say about electing presidents
While registered voters select their preferred candidate for president, the actual electing of the president and vice president is in the hands of the Electoral College. There are 538 electors representing the 50 states and the District of Columbia. Candidates need a majority, 270, to win.
Those electors cast a separate vote for president and vice president. But that wasn't always the case. From 1789-1804, Electoral College members got to vote for two men (and back then, it was only men). The top vote-getter became president and the second-place winner became vice president.
There was one caveat. Electoral College voters, called electors, could not cast both of their votes for two people from their home state. In plainspeak, an Electoral College member from Maryland couldn't cast his two votes for candidates from Maryland. Electors from any other state could still vote for two Maryland representatives, just not the electors from Maryland.
The idea behind the restriction was to dilute the power of the big states and to encourage electors to look beyond their political allies. Here's the text from Article II of the Constitution:
"The electors shall meet in their respective states, and vote by ballot for two persons, of whom one at least shall not be an inhabitant of the same state with themselves."
In 1804, the Twelfth Amendment altered the Electoral College process and created a separate ballot for vice president. But the rule of not being able to use both votes on a person from an elector's home state remained in effect.
What does it all mean?
Let's use the Bush/Rubio hypothetical. Bush could choose Rubio to be his running mate. And if the two won, Florida's 29 electors could vote to make Bush president, but not to make Rubio vice president (or vice versa). If Bush and Rubio started with 299 electoral votes or more, that wouldn't matter and Rubio would still be vice president. But if the election were close, things would get complicated.
This is how it gets complicated
We don't have to look too far back to find an example of how this could play out.
"We actually flirted with the problem in the 2000 election where both George W. Bush and Dick Cheney had called Texas home in the runup to the nomination," said Robert Bennett, a law professor at Northwestern University and the author of Taming the Electoral College.
Cheney sidestepped the issue by registering to vote in Wyoming, the state he once represented in the House. It's good he did. Bush/Cheney wound up with 271 electoral votes. Take away Texas' 32 electoral votes from Cheney's tally and he wouldn't have hit the required 270.
Here's how the 2000 map looked:
So what would have happened if Cheney stayed a Texas resident? And what could happen with Bush and Rubio (or another same-state pair)?
There are few scenarios. 
One possible scenario is the Electoral College would vote to elect the new president but not elect the vice president. In that case, the election of the next vice president would become the work of the U.S. Senate, where each senator would get one vote.
If that vote is miraculously tied -- well, we're not sure what would happen next. Some people say the sitting vice president might get to break the tie. Others note that the vice president is not a senator, which is the process spelled out in the Twelfth Amendment. (Imagine if Joe Biden got to vote for himself to break a tie in 2012.)
Another possible scenario is that the Electoral College would vote to elect a new vice president and not a president. In this case, the U.S. House of Representatives would break that deadlock, with members of each state casting a single vote. A majority wins.
In the case of Bush/Cheney, it never got that far.
In the Bush/Rubio exercise, the fact that Republicans control the Senate and House (and a majority of the state delegations) improves their odds of prevailing. But it's definitely a risk.
John Harrison, a leading constitutional scholar at the University of Virginia School of Law, offered another hypothetical option looking ahead to 2016.
"The Florida Republican Party might seek an amendment to Florida law so that non-Floridians could serve as electors, and nominate a slate of, say, Georgians, who could come down for the day in December when the electors give their vote," Harrison suggested.
Harrison added that the Constitution is silent about whether electors must come from the state that appoints them. Harrison acknowledges that this question could be argued (in court) either way.
Our ruling
O'Donnell said the president and vice president can't be from the same state. That's incorrect, there is no law or regulation preventing a ticket from coming from the same state.
All the Constitution does is prevent electors in the Electoral College from voting for a president and vice president who are both from their home state.
In many elections, that actually wouldn't matter. President Barack Obama could have picked a running mate from Illinois in 2008 and 2012 with no ill effect. Ditto for Bill Clinton's victories in 1992 and 1996, George H.W. Bush's 1988 win and Ronald Reagan's victories in 1980 and 1984.
But in a close election, the Electoral College quirk could matter (as well as the hoops people might try to work around it).
That makes the possibility of an all Florida ticket risky, but not illegal or impossible.
We rate the claim False.
MSNBC, The Last Word with Lawrence O'Donnell, April 14, 2015
Snopes, Must the presidential and vice-presidential candidates be from different states?, April 8, 2015
National Archives and Records Administration, Historic election results
Time, Electoral College calculator map
Robert Bennett, Taming the Electoral College, 2006
National Archives and Records Administration, A Procedural Guide to the Electoral College
William and Mary Law Review, The transformative Twelfth Amendment, Joshua D. Hawley, 2014
National Archives and Records Administration, Who are the Electors?
Congressional Research Service, The Electoral College: How It Works in Contemporary Presidential Elections , Oct. 22, 2012
Federal Election Commission, The Electoral College, May 1992
St. Petersburg Times, Cheney has lackluster voting history, Sept. 9, 2000
Los Angeles Times, Arguing the primacy of states' rights - sometimes, Aug. 27, 2000
Email interview, Robert Bennett, professor of law, Northwestern University School of Law, April 15, 2015
Email interview, John Harrison, professor of law, University of Virginia School of Law, April 16, 2015
Browse the Truth-O-Meter
More by Jon Greenberg
Support independent fact-checking.
Become a member!
In a world of wild talk and fake news, help us stand up for the facts.