Stand up for the facts!
Our only agenda is to publish the truth so you can be an informed participant in democracy.
We need your help.
I would like to contribute
When President Abraham Lincoln signed his Emancipation Proclamation, "there were over 300,000 slaveholders who were fighting in the Union army."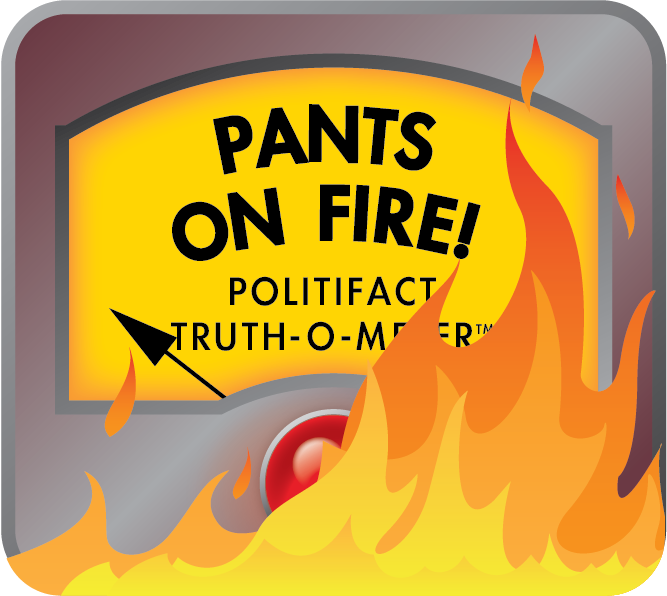 No, 300,000 slave owners did not fight on the Union side in the Civil War
A common argument in the dispute over official displays of the Confederate battle flag is that most people misunderstand the reasons behind the Civil War. It was not about slavery, these advocates say, but about the right to secede from the Union.
Chuck Baldwin, a fundamentalist pastor and columnist, made this case in a recent essay that appeared on his website and many others, including a fan page for Fox News' Megyn Kelly.
Baldwin gave many reasons to back up his conclusion, but a reader asked us to examine one in particular: Slavery was not the pivotal reason for the war because thousands of slave owners supported the North.
"Do you not realize that when Lincoln signed his (Emancipation) proclamation, there were over 300,000 slaveholders who were fighting in the Union army?" Baldwin wrote. "Check it out."
The first thing we did was reach out to Baldwin to learn his source. We did not hear from him.
As we researched this, we found that Baldwin's statement was vague on one key point -- he didn't say which states the slaveholders came from. When the war began, slavery was legal in four Union states. Those were Maryland, Delaware, Missouri and Kentucky. West Virginia fell somewhere in between because it split off from Virginia in 1863 to join the Union.
So in theory, there were slaveholders from Union states and slaveholders from Confederate states that could have fought on the Union side. That distinction might make no difference to Baldwin's argument, but it makes a big difference in the underlying math.
Keep your states straight
We don't know where Baldwin got his number, but it could be tied to an 1889 book written by Thomas Seaman Townsend, a private historian with a passion for recording the role of soldiers from New York in the Civil War. Townsend had a brief passage about the number of West Point graduates who remained loyal to the Union. West Point is located in New York.
"It will be seen that the disloyalty of West Point was not as great as is generally supposed. In the navy about one-third of the officers came from slaveholding States, yet remained faithful to the Union; while one-eighth of the Union army, or 300,000 men, were contributed by the Southern States."
Townsend doesn't say which "Southern" states he had in mind. Fortunately, one of the leading Civil War historians, James McPherson at Princeton University, knows Townsend's work and told us that he included the Confederate states, plus Maryland, Delaware, Missouri and Kentucky.
In addition to McPherson, we reached historians Robert Tinkler at California State University-Chico and Gary Gallagher at the University of Virginia. All of them agree on these approximate totals:
White Union soldiers from Confederate states -- 75,000-100,000
White Union soldiers from slaveholding Union states -- 200,000
So, in round figures, it is reasonably accurate to say that 300,000 white men from slaveholding states fought on the Union side. (In addition, as many as 200,000 black former slaves became Union soldiers and sailors.)
But there is no reason to believe that all or even a hefty minority of these white soldiers were slave owners themselves. In fact, all three historians we reached told us there was no evidence to back up that assertion and plenty of reasons to suggest it does not fit the facts that are known.
Few slaveholding Union soldiers
Gallagher told us that there is no breakdown of which Union soldiers came from slave-owning families. However, we do know where slavery was common and where it wasn't, and the Union soldiers in question came from places where it wasn't.
For the men from the Confederate states, Tinkler said the pattern is clear.
"These soldiers generally came from low slaveholding areas, such as the mountain regions of Tennessee, and small, non-slaveholding families," he said.
The upland residents of what became West Virginia fit the same mold. Tinkler said across Appalachia, support for secession was thin at the start of the war and as time went by, resistance increased. The Confederate Congress played a role in that.
"In October 1862, Congress amended the Conscription Act with what became known as the 'Twenty Negro Law,' a provision that exempted from the draft one white man of military age on plantations with at least 20 slaves," Tinkler wrote. "Designed to help secure plantation districts against slave revolts, this exemption policy inspired much class-based opposition to the Confederacy. 'A rich man's war, but a poor man's fight' became the cry of many southerners of modest means."
Needless to say, men of modest means were less likely to own slaves.
For the Union states that allowed slavery, the 1860 census shows that they had much lower rates of slave ownership than the Confederate states. The average fraction of slaveholding families was about 11 percent for those Union states, while in the Confederacy, it was about 40 percent.
All three historians told us that the number of men on the Union side who owned slaves was quite small.
"Very few of them were slaveholders, probably not more than a very few thousand," McPherson told us. "Among those Southern whites who did own slaves, even in the Unionist border slave states, many supported the Confederacy, and fought for it."
McPherson said in researching his book For Cause and Comrades, he read the letters of about 60 Union soldiers from slave states and he can't recall a single one who owned slaves.
Implausible numbers
Data from another direction also throws Baldwin's figure into question. The nation's 1860 census counted a bit under 1.6 million men of military age (18-45) in slaveholding states. This included men in all the Confederate states, plus Maryland, Delaware, Missouri and Kentucky. The census also reported the percentage of families that owned slaves in each state. State-by-state, we applied that percentage to the total number of military age males.
In 1860, there were about 412,000 men from slaveholding families who could serve as soldiers.
We can only take this as a rough guide for several reasons — in the course of the war, young men would be killed, others would come of age, and later in the war, the Confederates broadened the age of conscription to span from 17 to 50 years old. But the general scale shows how Baldwin's figure stretches belief.
If 300,000 Union soldiers were slave owners, it would mean that somewhere in the ballpark of three-quarters of the available slave owning men put on the Union blue. If that were true, it is hard to see how the Confederacy would have had enough men to deliver any success on the battlefield. For the record, in 1863, Confederate forces totaled about 300,000.
Gallagher noted that over the four years of the war, the South put 800,000-900,000 men under arms. It was a mobilization effort that he called "astonishing."
"That could only be accomplished by putting the vast majority of males from slaveholding families into service," Gallagher said.
Our ruling
Baldwin said that 300,000 slaveholders fought in the Union army. The closest we can get to that figure is an estimate that 300,000 men from states that allowed slavery put on the Union blue uniform. But that provides no evidence that all of them owned slaves, either directly themselves or through their families.
The historians we reached said the actual number of slaveholders who fought for the Union was tiny, perhaps a few thousand.
The data from the 1860 census show that if Baldwin were correct, an overwhelming fraction of all of the young men from slave-owning families across the Deep South and beyond would needed to have broken with their communities and fought for the Union. Had that happened, it is hard to see how the Confederacy would have been able to fight at all.
The chance that a few thousand slaveholders fought for the Union, rather than the 300,000 as Baldwin said, does little to keep this statement in the realm of reality. We rate it Pants on Fire.
Chuck Baldwin, The Confederate Flag Needs To Be Raised, Not Lowered, July 9, 2015
Thomas Seaman Townsend, The Honors of the Empire State in the War of the Rebellion, A. Lovell and Co., New York, 1889
California State University-Chico, Southern Unionists in the Civil War
U.S. Census Bureau, Census of population and housing - 1860
Frederick H. Dyer, A Compendium of the War of the Rebellion, Dyer Publishing, Des Moines, Iowa,1908
National Park Service, Civil War facts
Civil War Statistics, Strength of the armies
Email interview, James McPherson, professor emeritus, Department of History, Princeton University, July 22, 2015
Email interview, Gary Gallagher, professor, Corcoran Department of History , University of Virginia, July 23, 2015
Email interview, Robert Tinkler, professor, History Department, California State University-Chico, July 22, 2015
Browse the Truth-O-Meter
More by Jon Greenberg
Support independent fact-checking.
Become a member!
In a world of wild talk and fake news, help us stand up for the facts.