Stand up for the facts!
Our only agenda is to publish the truth so you can be an informed participant in democracy.
We need your help.
I would like to contribute
"Between 2010 and 2014, there was no net in-migration from Mexico."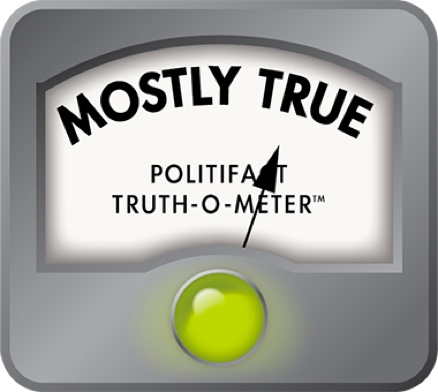 Bill Clinton: Zero net migration from Mexico since 2010
Among the more inflammatory words out of Donald Trump's mouth during his kick-off speech were the ones about Mexico.
"When Mexico sends its people, they're not sending their best," Trump said as he announced his White House bid. "They're sending people that have lots of problems, and they're bringing those problems (to) us. They're bringing drugs. They're bringing crime. They're rapists. And some, I assume, are good people."
That last phrase hardly counterbalanced the rest. Mexican officials took serious offense. The interior minister said the charge was absurd and prejudiced, and that it served only to generate controversy.
The Daily Show's Jon Stewart had a go at Trump with former President Bill Clinton on June 17, 2015.
Clinton: "What he said about the Mexicans, which was …"
Stewart: "Bizarre."
Clinton: "Not only that, just wrong. Basically between 2010 and 2014, there was no net in-migration from Mexico. That surprise you all?  All we read about is the violence and the drug war. The truth is that the previous president built 140 tuition free universities. Two years ago, the Mexicans produced 113,000 engineers. We produced 120,000. They've had very brisk growth, and except in the narco-centers, the crime rate, the murder rate has gone down. It's a very interesting country."
There's plenty of interesting statistics there, but we'll focus just on the one about zero net in-migration.
We asked the Clinton Foundation for the data behind that claim but didn't hear back. Still, we were able to reach experts who were able to walk us through the numbers.
One way to measure net migration (the number of new arrivals versus the number who leave) is the count of people living in America who were born in Mexico. The Census Bureau tracks this. We used two sets of numbers from the American Community Survey -- an estimate based on three years of surveys and an estimate based on just the year the survey took place.
Year

Born in Mexico

 

3-year average estimate (1,000s)

1-year estimate (1,000s)

2013

11,604

11,585

2012

11,650

11,563

2011

11,700

11,673

2010

11,642

11,711
Source: American Community Survey
While there's a little variation, both estimates show a drop from 2010 to 2013. Steven Camarota, director of research at the Center for Immigration Studies, a group that favors reduced immigration, told us that the Mexican-born figures are a valid indicator of the overall trend.
"This strongly implies zero net (migration)," Camarota said.
Another researcher, Marc Rosenblum at the Migration Policy Institute, echoed that point.
What about 2014? That's the end point for Clinton's comparison, but finalized numbers aren't out yet.
To get a sense of what the numbers might say, Camarota dug into the raw monthly counts from the Current Population Survey. These figures are less reliable, but they too show a consistent decline for Mexicans living in the United States in each of the first quarters of 2012 through 2014.  (Camarota did find a rise in the first quarter of 2015, but that is outside Clinton's window.)
We should note that using a population count isn't a perfect yardstick. In theory, a higher death rate could drive the numbers down, but that's unlikely. First, it would be headline news if thousands of people started dying like that. Second, Rosenblum noted that Mexican immigrants tend to be in their prime working years and younger people are healthier.
A more complete study of net migration from Mexico came out in 2012. The Pew Research Center reported back then that based on census data from both sides of the border, from 2005 to 2010, more people moved from America to Mexico than the reverse.
That study raised the possibility that the net migration rate wasn't just zero -- it might actually be negative. Rosenblum thinks that's probably still true because some factors behind the shift show no sign of letting up.
In short, Clinton is right on the general trend experts agree, though we don't yet have the numbers for 2014 to completely confirm his point.
Four reasons for the decline
Demographics is possibly the biggest driver of the change in migration. The birth rate in Mexico has fallen steadily since at least 1990 and now stands at 2.2 children per woman. Rosenblum said that translates into fewer people coming into the workforce.
"In the 1980s, there was a surge of teenagers," Rosenblum said. "With the birth rate having been down for several decades, we're now seeing many fewer Mexicans entering the prime working age group."
Rosenblum said apprehensions at the border strongly suggest that fewer people are trying to sneak into the country. Data from the U.S. Border Patrol show a drop of more than 50 percent since 2009. It used to be border agents stopped over half a million people coming in from Mexico. Last year, it was about 230,000.
Not all of those people were Mexican, but the numbers are in line with the picture Clinton paints.
Rosenblum also believes that more surveillance, stiffer penalties and more barriers at the border have had the intended effect.
"All that enforcement has begun to pay off," he said.
Other drivers include the hit on the construction industry during the recession. That was a sector that drew many immigrants and while it has recovered a bit, it is not nearly as robust as it once was.
Plus, according to one survey, Mexicans who return to their native country generally find that they make more money than when they left.
Our ruling
Clinton said that between 2010 and 2014, there was zero net in-migration from Mexico. The census data to prove that is not in for 2014, but the numbers up to 2013 support his point, as do very preliminary 2014 data.The population of people living in America but born in Mexico fell by about 40,000 since 2010. That's not a perfect measure, but the experts we reached said it is a strong indication of a prevailing trend.
The experts we reached said that other data, including a rapid decline in apprehensions at the border and changing demographics in Mexico add weight to the conclusion that Clinton was correct.
With a caveat for the missing year of survey information, we rate this claim Mostly True.
Comedy Central, The Daily Show, June 17, 2015
Wall Street Journal, Donald Trump transcript, June 16, 2015
Pew Research Center, Net Migration from Mexico Falls to Zero—and Perhaps Less, April 23, 2012
U.S. Census, Selected characteristics of the foreign-born population: Mexico: 3-year estimates, 2015
U.S. Census, Selected characteristics of the foreign-born population: Mexico: 1-year estimates, 2015
U.S. Border Patrol, Illegal Alien Apprehensions From Mexico By Fiscal Year, 2015
Instítuto Nacional de Estadística y Geografía, Tasa global de fecundidad, años seleccionados de 1990 a 2013, April 2014
American Immigration Council, New Study Highlights Causes of Return Migration to Mexico, Jan. 14, 2014
Migration Policy Institute, Evolving Demographic and Human-Capital Trends in Mexico and Central America and Their Implications for Regional Migration, May 2011
Email interview, Marc Rosenblum, deputy director, U.S. Immigration Policy Program, Migration Policy Institute, June 18, 2015
Email interview, Steven Camarota, director of research, Center for Immigration Studies, June 20, 2015
Browse the Truth-O-Meter
More by Jon Greenberg
Support independent fact-checking.
Become a member!
In a world of wild talk and fake news, help us stand up for the facts.