Stand up for the facts!
Our only agenda is to publish the truth so you can be an informed participant in democracy.
We need your help.
I would like to contribute
"I never said I was on the Falkland Islands."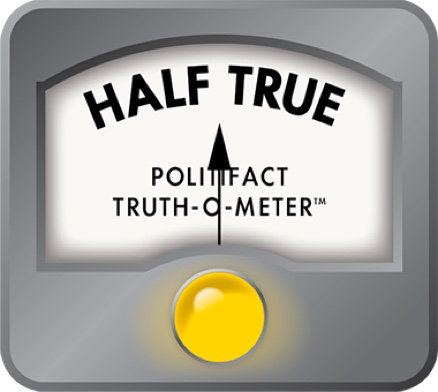 Bill O'Reilly: 'I never said I was on the Falkland Islands'
Bill O'Reilly's accounts of his early years as a reporter have garnered a lot of attention lately, especially his experiences in the 1980s during the Falklands War. For those who might not remember, a full-blown battle broke out in 1982 when Argentina sought to claim the islands that had long been held by the United Kingdom.
The scrutiny of the iconic Fox News host began with a Mother Jones article by David Corn and Daniel Schulman. It asserted, "For years, O'Reilly has recounted dramatic stories about his own war reporting that don't withstand scrutiny — even claiming he acted heroically in a war zone that he apparently never set foot in."
O'Reilly has aggressively defended his reputation.
"David Corn, a liar, says that I exaggerated situations in the Falklands War and Salvadoran War," O'Reilly said on his Feb. 20, 2015, show. "I never said I was on the Falkland Islands, as Corn purports. I said I covered the Falklands War, which I did."
The full scope of the dispute over O'Reilly's past actions is larger than a single fact-check, but here we will attempt to address O'Reilly's statement that "I never said I was on the Falklands Islands."
The Falklands War -- a primer
The Falkland Islands lie about 400 miles off the southern coast of Argentina. There are two main islands and hundreds of smaller ones. Today, there about 3,000 residents and around half a million sheep. Britain claimed the islands in 1765. By the 1960s, Argentina was pushing hard to assert its own rights to the territory, which it called the Malvinas.
The argument simmered until April 1982 when Argentine troops landed on the islands. Britain sent 100 war ships, fighter jets and infantry to repulse them. Britain sank an Argentine cruiser. Argentina bombed British landing craft. The fighting lasted about two and a half months until Argentina surrendered. By that point, it had lost about 650 men; about 250 British soldiers had died.
During all this time, no American journalists were on the ground on the islands themselves. Most of the coverage originated from Buenos Aires, the Argentine capital, over 1,000 miles from the fighting. When the British forces won, huge riots broke out around the presidential palace. Thousands took to the streets in frustration over the lost war. There was violence, tear gas, rock-throwing and rubber bullets fired. There were injuries and property damage, but to the best of anyone's knowledge, no one died.
Bill O'Reilly --  a primer
Everyone knows O'Reilly as the brash, "no-spin zone" Fox News host, but before taking up with Fox in 1996, O'Reilly had spent many years working his way up through network television. He had reporting jobs in cities including Dallas, Denver and Portland, Ore. His big break came in 1982 when he became a correspondent for CBS News.
While at CBS, he was sent to Buenos Aires to cover the Falklands War. It was there that he saw the riots that he has referred to as a war zone. In fact, O'Reilly felt CBS never gave him the credit he deserved for the reporting he did when the rioting was most intense. O'Reilly moved to ABC News in 1986, and then left to become the host of a news and entertainment show called Inside Edition. He stayed in that slot until 1995 when he went to Harvard's Kennedy School to get a degree in public policy.
The Fox News network was just getting started when O'Reilly graduated and he became host of the show that soon became known as The O'Reilly Factor.
O'Reilly and the Falklands
O'Reilly's accounts of his time in Argentina go into most detail when he describes helping a cameraman who was knocked down and cut his ear, and about soldiers firing on protesters. The rest of the time, his references to the war have been more in passing.
The Mother Jones article included several instances when O'Reilly talked or wrote about the Falklands. For example, it cited a line from O'Reilly's book The No Spin Zone: Confrontations With the Powerful and Famous in America, that said, "I've reported on the ground in active war zones from El Salvador to the Falklands."
There are also two video clips of O'Reilly referring to his Falklands experiences. In one, O'Reilly chides journalist Bill Moyers, saying, "I missed Moyers in the war zones of the Falkland conflict in Argentina, the Middle East and Northern Ireland. I looked for Bill, but I didn't see him."
Our search of the Nexis database unearthed an instance on Feb. 13, 2007, when O'Reilly talked on his show about the Falklands. He was interviewing two reporters who had covered the Iraq War. One of them, Mark Kukis with Time magazine, described what it was like to interview soldiers.
Kukis: "The soldiers that I was in combat with in those moments, they get really psyched up and they're excited, particularly the Marines in Ramadi. It's not a bad time to talk to them about what they're doing. It's probably the best time if you want to get a positive response from them."
O'Reilly: "Okay. See, my experience in El Salvador, in the Falklands War was let them calm down. Because ... when all hell breaks loose, you know, you're not thinking clearly. You're reacting."
While there's some wiggle room for interpretation, a reasonable person would think that O'Reilly had been with soldiers in combat in the Falklands.
In another video clip used by Mother Jones, O'Reilly was a little more ambiguous. "I was in a situation one time, in a war zone in Argentina, in the Falklands, where my photographer got run down and then hit his head and was bleeding from the ear on the concrete."
Interpreting O'Reilly's statements
Ultimately, this fact-check is an exercise in the art of language. Namely, did O'Reilly never say he was on the Falklands islands? Two media critics, one from Fox News and one from Politico said this is a dispute over semantics. Fox News said in a statement that "This is nothing more than an orchestrated campaign by far left advocates Mother Jones and Media Matters."
Lawyers and logicians remind us that it's impossible to prove the negative, but the evidence we've seen shows that O'Reilly used the preposition "in" to describe his Falklands experience. He said "in the war zones of the Falkland conflict in Argentina." And he said "in a war zone in Argentina, in the Falklands."
Under some circumstances, "in" can mean "during," as in "What did you do in the war, Daddy?" Daddy might have slogged through the swamps of Vietnam or he might have worked a desk in a Pentagon office.
On the other hand, it's not much of a stretch for a listener to conclude that O'Reilly's statements meant that he had been on the same ground where the actual fighting took place. Certainly during his interview with war reporters, O'Reilly strongly implied that he had been with soldiers in combat "in the Falklands War." Even experienced listeners have stumbled over his meaning.
Our ruling
O'Reilly said, "I never said I was on the Falkland Islands." The central word here is "on." O'Reilly has a point that — at least so far as we can tell — he's always said he was "in" the Falklands conflict rather than "on" the islands.
At the very least, we can say that when O'Reilly talked about the Falklands in the past, his phrasing was ambiguous — to the extent that reasonable people could understand him to mean he'd set foot in a place where military combat was taking place, not reporting from 1,000 miles away. Also, O'Reilly offered his statement as proof that he never had falsely claimed that he was in the thick of the fighting. But you can suggest you were there without specifying that you were on the islands. The English language is plenty flexible enough to convey the same meaning using a different word, such as "in."
O'Reilly's statement is accurate but omits important context, so we rate this claim Half True.
Correction: British forces sank an Argentine cruiser. An earlier version of this fact-check misidentified the type of vessel.
Fox News, The O'Reilly Factor, Feb. 20, 2015
Mother Jones, Bill O'Reilly Has His Own Brian Williams Problem, Feb. 19, 2015
CNN, What Bill O'Reilly has said about his time during the Falklands War, Feb. 20, 2015
Fox News, O'Reilly denounces Mother Jones story on his war reporting, Feb. 20, 2015
Fox News, The O'Reilly Factor, Feb. 23, 2015
Media Matters, O'Reilly Lied About Suicide Of JFK Assassination Figure, Former Colleagues Say, Feb. 24, 2015
BBC, Falkland Islands profile, Jan. 28, 2015
The Guardian, The Falkland Islands: everything you ever wanted to know in data and charts, Jan. 3, 2013
The Guardian, The worst reported war since the Crimean, Feb. 25, 2002
BBC, The Falklands for journalists: the ultimate embed experience, Jan. 12, 2015
Politico, Why the Bill O'Reilly charges aren't sticking, Feb. 23, 2015
Famous People, Bill O'Reilly biography
MSNBC, Morning Joe, Feb. 25, 2015, via Critical Mention
Mother Jones, CBS Has Released the Falklands Protest Footage Bill O'Reilly Asked For. It Doesn't Support His Claims., Feb. 23, 2015
Talking Points Memo, Joe Scarborough Defends Bill O'Reilly: 'He Was In The Falklands!', Feb. 25, 2015
Interview, Carly Shanahan, spokeswoman, Fox News, March 2, 2015
Browse the Truth-O-Meter
More by Jon Greenberg
Support independent fact-checking.
Become a member!
In a world of wild talk and fake news, help us stand up for the facts.