Stand up for the facts!
Our only agenda is to publish the truth so you can be an informed participant in democracy.
We need your help.
I would like to contribute
"White people control almost 90 percent of the nation's wealth."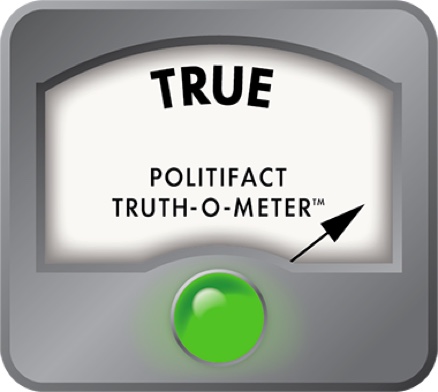 In its 'Race Together' campaign, Starbucks says white people hold nearly 90% of the nation's wealth
Soon after unveiling its "Race Together" campaign -- which seemed to get more bad publicity than good, initially -- Starbucks published an insert in 2 million copies of USA Today to explain why it wanted to start a national conversation about one of the nation's most sensitive topics.
The eight-page insert, which appeared March 20, 2015, included a series of statements about race.
One of them was: "White people control almost 90 percent of the nation's wealth."
That number is striking because only 67 percent of households are white, and reports have indicated the U.S. population is shifting toward minority-majority status.
With Starbucks chief executive officer Howard Schultz expected in Milwaukee on April 1, 2015, we thought we would check the company's claim.
The campaign
In addition to its coffee, Starbucks is known for social awareness. In 2015, it placed fifth in Forbes' annual ranking of the world's most admired companies. The rankings are based on nine attributes, and one of Starbucks' top attributes, according to the business magazine, is social responsibility.
"Race Together" grew out of concerns over police killings of unarmed black men in Ferguson, Mo., and New York. In announcing the campaign, Schultz called it "an opportunity to begin to re-examine how we can create a more empathetic and inclusive society – one conversation at a time."
Schultz encouraged his baristas to write "Race Together" on Starbucks cups and to engage in conversations while serving their customers. That ended after less than a week, which Starbucks said was as planned, after heavy criticism. Other parts of "Race Together" are continuing.
Starbucks hasn't confirmed it, but the family of Dontre Hamilton said Schultz would be meeting with them in Milwaukee. Hamilton was shot to death by a Milwaukee officer on April 30, 2014, after Starbucks employees called police to report Hamilton sleeping in a downtown park. The officer was fired.
Starbucks' evidence
To back its claim about white wealth, Starbucks cited a November 2013 article in the American Prospect, a liberal magazine. The author said he did calculations on net worth data from the 2010 version of the Federal Reserve System's Survey of Consumer Finances, a respected source.
According to the article: Whites held 88.4 percent of the nation's wealth; Hispanics, 4 percent and blacks 2.7 percent. The remaining 4.9 percent was listed as other. That category includes Native Americans, Asians, Pacific Islanders and those with a multi-racial background.
So, that's a start. But first let's take a step back.
To be clear, wealth -- commonly measured as net worth -- is different than income. It is the difference between a household's assets, such as savings or a home, and liabilities, such as a mortgage or a car loan. So, you can have a good-paying job but have a negative net worth, if your debts outweigh your savings.
Some reports in recent years have said as many as one in four households has zero net worth or negative net worth.
More recent data
We were able to get the latest and more detailed breakdown on net worth from the Federal Reserve, for 2013. The nation's net worth was $65.5 trillion and breaks down this way:
 
| Race/Ethnicity | Net worth | Share of net worth |
| --- | --- | --- |
| White | $58.1 trillion | 90 percent |
| Black | $1.71 trillion | 3 percent |
| Hispanic | $1.46 trillion | 2 percent |
| Other | $3.29 trillion | 5 percent |
As we close, we'll note that two of our most-clicked fact checks were about disparities in wealth:
In 2011, activist and filmmaker Michael Moore said in Madison that 400 Americans "have more wealth than half of all Americans combined." We rated the claim True.
And in 2013, we rated as True this claim by the liberal group One Wisconsin Now: "The Walton family, which owns Wal-Mart, controls a fortune equal to the wealth of the bottom 42 percent of Americans combined."
Our rating
Starbucks said: "White people control almost 90 percent of the nation's wealth."
That matches the latest net worth figures from the Federal Reserve System.
We rate the statement True.
Starbucks, "Race Together" insert in USA Today, March 20, 2015
PolitiFact National, "Missing data sinks U.S. and apartheid South Africa claim on black-white wealth gap," (False) Dec. 17, 2014
Demos, "The top 10% of white families own almost everything," Sept. 5, 2014
Federal Reserve System, "2013 survey of consumer finances," Oct. 20, 2014
Pew Research Center, "Wealth inequality has widened along racial, ethnic lines since end of Great Recession," Dec. 12, 2014
Urban Institute, "Nine charts about wealth inequality in America," accessed March 25, 2015
U.S. Census Bureau, "Distribution of Household Wealth in the U.S.: 2000 to 2011," accessed March 26, 2015
American Prospect, "The racial wealth gap," Nov. 6, 2013
Interview, Federal Reserve System spokesman Joe Pavel, March 26, 2015
Email interview, Urban Institute researcher Caleb Quakenbush, via spokesman Stuart Kantor, March 26, 2015
Email interview, Federal Reserve System economist Bryan Noeth, via senior media relations specialist Maria Hasenstab, March 27, 2015
Browse the Truth-O-Meter
More by Tom Kertscher
Support independent fact-checking.
Become a member!
In a world of wild talk and fake news, help us stand up for the facts.