Stand up for the facts!
Our only agenda is to publish the truth so you can be an informed participant in democracy.
We need your help.
I would like to contribute
Says Gary Farmer's claim that he "received an 'A' from the NRA" is "an absolute lie."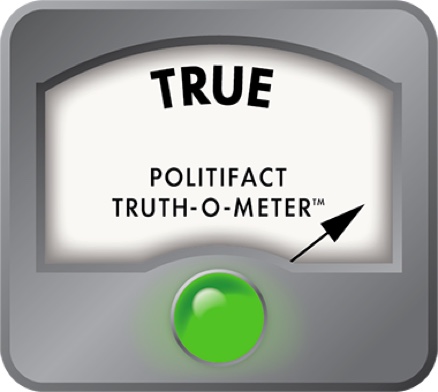 Florida Senate candidate never actually received an A from the NRA
In a duel for state Senate, two Democrats are battling over bad grades.
Jim Waldman, a former four-term House member from Lauderdale-by-the-Sea, sees a bad grade from the National Rifle Association as a selling point. But Parkland lawyer Gary Farmer, his well-funded primary challenger for the newly redrawn District 34 seat, calls it a false advertisement. (Rep. Gwyndolen Clarke-Reed is also in the race.)
Farmer's campaign sent out emails and fliers claiming Waldman received an A grade from the NRA. You can see how this might be a problem for a Democrat in a heavily Democratic district like Fort Lauderdale.
Waldman says it's not just a problem — it's wrong. He accused Farmer of being the liar, holding up his D from the NRA in 2010 and his voting record on gun legislation in the Florida House.
"Unfortunately, a political committee led by Gary Farmer is spreading lies about my record on guns," Waldman wrote in an email to his campaign subscribers. "They're spending tens of thousands of dollars mailing a FALSE claim to voters that I received an 'A' from the NRA."
He continued: "Check the report card. Their claim is an absolute lie."
With both camps taking aim, PolitiFact Florida stepped into the ring.
Throwing punches
This fight started in early July, when Farmer's campaign sent a mailer to residents of District 34 that said Waldman received an A from the NRA in 2010. In addition to fliers, Farmer also sent an email that claimed Waldman received an A rating for six years.
This email included a screenshot from the NRA's Political Victory Fund, which gives grades to politicians based on their support for Second Amendment rights. It also cited Project Vote Smart, a website that aggregates candidate information.
Farmer spokesman Jay Shannon said the NRA screenshot was captured July 1. Farmer's camp also showed us another screenshot from Project Vote Smart showing Waldman with an A in 2010 (and an F in 2008).
PolitiFact was able to confirm the Vote Smart screenshot through the Wayback Machine, which archives web pages from the Internet.
Shortly after the Farmer campaign took these screenshots, the campaign claims the grade changed from an A to a D on the NRA's subscriber-only website. After the NRA changed its grade, Waldman spokeswoman Ashley Walker called Project Vote Smart to report an error on their site, and it also changed the grade from an A to a D on July 11.
Project Vote Smart aggregates information from other organizations, so it makes sense it would change the grade if the NRA's website reflected something different.
But why did the NRA's grade change in the first place?
Farmer's email suggests it was an inside job, claiming friends of Waldman in the NRA changed it on his behalf. But he has no proof to back this up, and the NRA tells a different story.
Marion Hammer, the former president of the NRA and the executive director of the Unified Sportsmen of Florida, said Waldman never received an A from the NRA. Hammer said the NRA noticed the 2010 grade was listed as an A sometime this year, and changed it back to a D.
"Anyone who knows anything about Jim Waldman should know he would never get an A from (the) NRA and should be suspicious enough to check it out before using it," she said.
Waldman has typically voted not to expand gun rights during his tenure in the House, with a few exceptions.
In 2014, Waldman voted yes on two bills supported by the NRA. One bill, dubbed the "Pop-Tart" bill, relaxed Florida's zero-tolerance policy in schools by prohibiting administrators from disciplining children for playing with simulated weapons. The bill passed 97-17, with 25 Democrats crossing party lines to vote for it.
The other bill Waldman supported was the 2014 "warning shot" bill, partly inspired by Marissa Alexander, who was convicted in 2012 of three counts of deadly assault after firing a shot in the direction of her estranged husband and two of his children. She was sentenced to 20 years. Farmer described this bill as expanding Florida's "stand your ground" law, but some law enforcement agencies said it actually made the law more difficult to enforce. This bill passed in the House 92-24, with 18 Democrats in favor.
Hammer emphasized that the NRA changed the grade to correct the record, adding the NRA would never change grades as favors to candidates, no matter if they are aligned with the organization's views or not.
The real proof, she said, is in the magazines that the NRA Political Victory Fund sends out during election time (which can't be hacked).
According to the NRA's 2006-12 Florida report cards, these are Waldman's grades:
| | |
| --- | --- |
| | D |
| | D |
| | F |
| | N/A (Waldman did not respond to an NRA questionnaire) |
Waldman hasn't returned the questionnaire for 2016, either, and will probably receive a D again for 2016, Hammer said.
We never got a clear explanation as to why the grade was posted incorrectly in the first place. Hammer said she was not going to investigate the issue further, calling it a waste of "effort and energy in order to settle a dispute between two anti-gun Democrats."
Our ruling
Waldman said Farmer's claim that he "received an A from the NRA" is "an absolute lie."
Screenshots show the grade for Waldman was once listed as an A, but spokespersons for the NRA said that information was wrongly listed (and they don't know why).
The NRA made it clear that Waldman would never would receive an A, has only received a D or F in previous races, and did not change the grade for his benefit.
Waldman's claim is accurate. So we rate this claim True.
https://www.sharethefacts.co/share/84c66d52-2a74-4911-9c33-7a6834ffe5e1
Campaign email from Jim Waldman, July 8, 2016
Campaign email from Gary Farmer, July 8, 2016
Interview, Ashley Walker, Jim Waldman's spokeswoman, July 12-13, 2016
Interview, Jay Shannon, Gary Farmer spokesperson, July 13, 2016
Interview, Gary Farmer, July 13, 2016
Interview, Marion Hammer, former president of the NRA and th the executive director of the Unified Sportsmen of Florida, July 12-13, 2016
Interview, Amy Hunter, NRA spokesperson, July 12, 2016
National Rifle Association Political Victory Fund, July 12-14
House Bill 7029, "Code of Student Conduct," approved by Governor on June 20, 2014
Browse the Truth-O-Meter
More by Allison Graves
Support independent fact-checking.
Become a member!
In a world of wild talk and fake news, help us stand up for the facts.