Stand up for the facts!
Our only agenda is to publish the truth so you can be an informed participant in democracy.
We need your help.
I would like to contribute
Says Bill Nelson voted for "cuts to Medicare providers" and voted to weaken "Social Security protections" as a U.S. senator.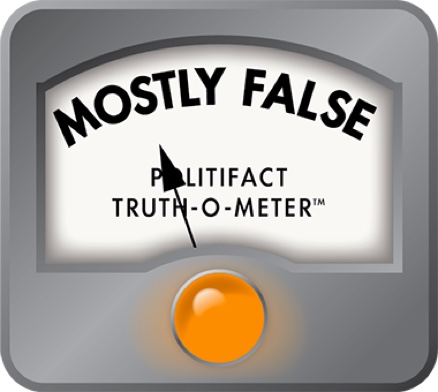 Republican PAC misleads in ad about Sen. Bill Nelson's record on Social Security, Medicare
A new ad portrays Democratic Sen. Bill Nelson as a career politician who doesn't have the backs of senior citizens.
The New Republican PAC, which is backing Gov. Rick Scott in Florida's closely watched Senate race, released a 30-second ad criticizing Nelson's voting record in Congress.
The ad juxtaposes Nelson's mugshots from the 1970s to the 2000s with claims about his votes on Medicare and Social Security, two federal programs that largely benefit seniors, at the time.
"Politician Bill Nelson continues to run for public office, leaving few footprints behind," a narrator says. "Votes with Hillary Clinton 89 percent of the time. And raises taxes again. Cuts to Medicare providers, weakens Social Security protections."
Nelson's team quickly raised objections, criticizing Scott for having "refused" to expand Medicaid, the federal health care program primarily serving the very poor.
"Here's the truth: No one is more committed to protecting Medicare and Social Security than Bill Nelson," said campaign spokeswoman Carlie Waibel.
We wanted to get to the bottom of the ad's claim: Did Nelson vote to cut Medicare providers and weaken Social Security protections?
The New Republican PAC cited a few votes Nelson took while in the U.S. Senate, but experts questioned whether the measures really lived up to the consequences the ad described. All in all, these were not votes geared toward making substantive, structural changes to the Social Security and Medicare programs.
Crash course on a spending showdown
The PAC cited two measures that Nelson supported in 2011 and 2013 affecting Medicare.
The 2011 vote was for the Budget Control Act, and the 2013 vote was for the Bipartisan Budget Act of 2013.
Understanding how those votes can be characterized as "cuts to Medicare providers" requires a lot of context and a little history lesson on the 2011 sequester.
Let's start with Nelson's vote on the Bipartisan Budget Act of 2013, spearheaded by Rep. Paul Ryan, R-Wis., and Sen. Patty Murray, D-Wash. The budget passed the Senate 64-36, and every Democrat, including Nelson, voted in favor.
The legislation averted a government shutdown in January 2014 by funding federal agencies and providing some relief from the across-the-board cuts known as sequestration in 2011.
Here's the relevant background: In the summer of 2011, President Barack Obama and Congress were engaged in a high-stakes standoff over the debt limit. House Republicans insisted on spending cuts before increasing the debt limit.
Obama and House Speaker John Boehner tried unsuccessfully to reach a "grand bargain" to put the federal budget on more stable footing. When that failed, they arrived at the much less ambitious Budget Control Act of 2011.
That law included about $1.2 trillion in future budget cuts, but it also directed Congress to find another $1.2 trillion via a bipartisan "supercommittee." As further incentive, the law had a threat: If a supercommittee couldn't agree on a package, or if Congress voted down the supercommittee proposal, a "sequester" — or across-the-board cut — would automatically go into effect, with half coming from defense.
Sequestration was enacted when Congress passed the Budget Control Act in August 2011.
The 2013 budget extended a 2 percent spending cut to Medicare provider and plan payments.
The liberal Center on Budget and Policy Priorities estimated that the 2 percent cut translated to a reduction of $11.1 billion for Medicare providers in fiscal year 2013.
"That means that doctors, hospitals, and providers will continue to bill Medicare in the normal way but will be reimbursed at 98 cents on the dollar, as will per-capita premium payments made to health insurance plans on behalf of Medicare participants," the center wrote in its analysis.
Medicare cut? Not that simple
So that's a cut, but experts suggested the ad is overplaying it.
First, the cut was intended as a short-term bridge to a more permanent solution to spiraling Medicare provider costs.
Second, the provision was a stopgap alternative to a much larger cut that would have gone into effect if nothing else was passed, said Stuart Guterman, a senior health care scholar at the Commonwealth Fund, which supports expanding health care access for the poor.
The final Medicare physician fee schedule rule called for a 20.1 percent reduction in the fee schedule update for 2014. By passing the legislation cited in the ad, Congress was also able to block the 20.1 percent cut and replace it with a small increase for services provided through March 31, 2014.
All in all,  Joe Antos, a health policy specialist at the conservative American Enterprise Institute, said "Two percent is clearly a minor reduction."
The last point we'll make about both bills is that they were bipartisan and passed by significant margins. And 28 Republicans including Mitch McConnell, who leads the Senate GOP majority that Scott hopes to join, supported the 2011 measure.
To push back on this claim, Nelson's camp said that he opposed cuts to Medicare in 2017 when the November GOP tax plan threatened to make cuts to Social Security (At the time, the CBO predicted the plan could cut $25 billion from Medicare.) They also pointed to legislation he sponsored such as measure to end a Medicare policy that causes seniors to be charged unknowingly with high costs after receiving medical care.
Did Nelson vote to 'weaken' Social Security protections?
The ad hammers Nelson for harming Social Security in the 1980s and again in the 2000s, first with a "cut" and then by weakening its protections. We're focused on his Senate actions for this fact-check, but we'll explain his 1983 vote below.
To support its claim, the pro-Scott group cited two votes Nelson took in 2006 and 2007.
It's misleading to characterize those as votes in favor of "weakening Social Security protections."
The votes involved essentially the same measure and were introduced by the same lawmaker, then-Sen. Jim DeMint, R-S.C. DeMint's amendments aimed to create a reserve fund for Social Security.
So, the vote wasn't explicitly looking to weaken Social Security protections. By voting against it, Nelson opposed adding something to the existing program.
The amendment failed both times, with Nelson and every other Democrat voting against the measures. According to the Democrats who voted against it, the amendment was a step toward Social Security privatization, which critics argued would worsen solvency, not strengthen it.  
Supporters of the amendment, including DeMint, argued that setting up a reserve fund would stop Congress from borrowing money from the Social Security Trust Fund.
Andrew Biggs, a Social Security policy specialist with the conservative American Enterprise Institute, called the claim about Nelson "iffy."
"The DeMint proposal was a stalking horse for personal accounts, in the sense of setting aside money that DeMint and others would have wished to be invested in personal accounts," Biggs said. "It's not unreasonable that someone who opposed Social Security personal accounts, as Sen. Nelson did, wouldn't favor (those) amendments."
So Nelson could counter-argue that his vote instead served to keep privatization at bay.
In addition, in 2015, Nelson cosponsored legislation to boost Social Security and other critical benefits for seniors and more recently, he filed legislation to waive the 30-day requirement with respect for Social Security to ensure that residents of Puerto Rico and the Virgin Islands affected by hurricanes would have immediate access to Social Security benefits.
He also was endorsed by the National Committee to Preserve Social Security and Medicare in April.
"Sen. Nelson has been a staunch advocate of Social Security, Medicare and Medicaid since taking office in 2001," they wrote. "His voting record on these issues has consistently earned him a 100 percent rating from the National Committee.
Social Security time machine
The pro-Scott PAC reaches into the early years of Nelson's time in Washington as further evidence that he made "cuts" to Social Security.
In 1983, Nelson voted for the Social Security amendments, which were passed by bipartisan majorities and signed into law by Republican Ronald Reagan. Before the amendments passed, actuaries warned that Social Security payments would be unable to continue paying benefits in July 1983 unless Congress acted.
The law raised payroll taxes, taxed Social Security benefits for some higher earners and gradually increased the full retirement age.
Our ruling
The New Republican PAC ad said that Nelson voted for "cuts to Medicare providers" and voted to "weaken Social Security protections" as a senator in the 2000s.
This claim is misleading. The votes neither weakened Social Security nor eroded the position of Medicare providers, experts said. The budget act in 2013 actually prevented a larger cut to Medicare providers, and the Social Security votes in the 2000s can just as easily be portrayed as a "stalking horse" for personal accounts. 
In addition, the ad ignores other actions Nelson has taken to protect Medicare and Social Security.
We rate this Mostly False.
Email interview, Melissa Stone, executive director of the New Republican PAC, June 11-12
Interviews, Nelson's campaign and Senate team, Carlie Waibel and Ryan Jones, June 12-13
Email interview, Gail Wilensky, a health adviser to President George H.W. Bush, June 12, 2018
Email interview, Joe Antos, a health policy scholar also at the conservative American Enterprise Institute, June 11-12
Email interview, Andrew Biggs, a Social Security policy expert with the conservative American Enterprise Institute, June 11
Email interview, Stuart Guterman, a senior health care scholar at the Commonwealth Fund, June 12
Email interview, Melissa Favreault, a Senior Fellow with the Urban Institute, June 12
PolitiFact, PolitiFact's guide to sequestration, Feb. 22, 2013
H.J.Res.59 - Continuing Appropriations Resolution, 2014; roll call vote #281
Center on Budget and Policy Priorities, The Pending Automatic Budget Cuts, Feb. 26, 2013
Browse the Truth-O-Meter
More by Allison Graves
Support independent fact-checking.
Become a member!
In a world of wild talk and fake news, help us stand up for the facts.