Stand up for the facts!
Our only agenda is to publish the truth so you can be an informed participant in democracy.
We need your help.
I would like to contribute
"Doctors kill about 250,000 people a year in botched surgeries."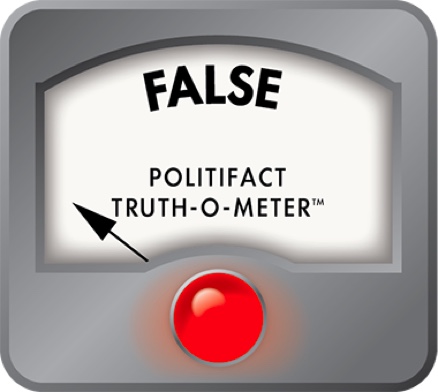 Do 250,000 Americans die every year because of mistakes made during surgery?
Speaking to an anti-government group in New York, Milwaukee County Sheriff David A. Clarke Jr. vowed to "do everything that I can" to get Donald Trump elected president.
The pledge made news back home.
But a claim Clarke made about doctors killing people is what caught our attention.
The conservative firebrand, who has built a national profile with frequent appearances on the Fox News Channel, spoke June 13, 2016 in Albany to the New York Oath Keepers.
The group, sometimes dubbed a citizens militia, says its aim is to educate people "on the true purpose of the Constitution, which is to preserve liberty for the people." It gave Clarke its annual leadership award.
The 38-year law enforcement veteran spent much of his speech defending police agencies from criticism by outsiders. 
"I decided at one point that I'd had enough. I was not going to let somebody who had never done this job for one day in their life transform this profession," Clarke said.
"That would be akin to me trying to transform the medical community after a botched surgery when I know nothing about the medical community. I'm not educated in it, I'm not trained in it. By the way, did you know that doctors kill about 250,000 people a year in botched surgeries?
"Has anybody-- has President Obama or the attorney general or Black Lives Matter -- demanded that the medical community be transformed? No. The medical community will have to figure that out."
There was a 250,000 figure in the news recently. But Clarke misstates it.
Recent study
Clarke refused to provide us information to back up his claim, saying through a spokeswoman that he "gets his data from the same sources that the anti-gun bigots get their data from."
But it seems likely his statement was based on news reports about a study on medical errors that was published several weeks earlier in The BMJ, formerly known as the British Medical Journal. It is an international peer-reviewed medical journal.
The study, which was done by researchers at Johns Hopkins University in Baltimore, made news in the Milwaukee Journal Sentinel and in news outlets across the nation.
Its major finding: An estimated 251,454 deaths per year, or 9.5 percent of all deaths in the United States, stem from a medical error.
In publishing the study, The BMJ declared that medical errors are the third-leading cause of death in the United States, behind heart disease and cancer.
Those diseases, according to the U.S. Centers for Disease Control and Prevention, each cause about 600,000 deaths per year.
Regarding Clarke's claim, there are two important things to note: 
1. The study did not attempt to do a count of deaths attributed to medical errors -- rather it made estimates based on medical death rate data and hospitalizations.
2. More importantly, the 250,000 estimate was based on many types of medical errors, not just botched surgeries -- anything from bad doctors to communication breakdowns when patients are handed off from one department to another, to medicine dosage mistakes, diagnostic errors and more.
"It boils down to people dying from the care that they receive rather than the disease for which they are seeking care," Johns Hopkins professor of surgery Martin Makary, the study's lead author, told the Washington Post.
Digging deeper
Critics pointed out that the study did not take into account studies from 2008 and later, when improvements have been made, Modern Healthcare reported.
For example, the U.S. Department of Health and Human Services reported in December 2015 that from 2010 to 2014, hospital patients experienced 2.1 million fewer hospital-acquired conditions, resulting in about 87,000 fewer patients dying in hospitals.
On other hand, we found that some studies have published estimates that were higher than the one from Johns Hopkins.
A study published in 2013 in the Journal of Patient Safety estimated that more than 400,000 patients per year die in hospitals as a result of "preventable harm." And a 2014 report for the U.S. Senate estimated medical errors killed 325,000 people per year.
Like the Johns Hopkins study, neither of those studies made an estimate of the number of deaths due specifically to errors in surgery. And Makary, the lead author of the Johns Hopkins study, told us he is not aware of any studies that count surgery deaths.
Our rating
Clarke said: "Doctors kill about 250,000 people a year in botched surgeries."
A study released several weeks before Clarke made the statement estimates that 251,000 people per year in the United States die from any number of types of medical errors.
But that figure is an estimate. Moreover, no estimate was made in the study on the number of deaths due to botched surgeries.
We rate Clarke's statement False.
https://www.sharethefacts.co/share/720b6f29-2935-4a40-adbd-b43c972c33dc
YouTube, David Clarke Oath Keepers speech (25:40), June 13, 2016
Email, David Clarke spokeswoman Fran McLaughlin, June 22, 2016
The BMJ, "The third-leading cause of death in the U.S.," May 3, 2016
New York Times, "Medical errors may cause over 250,000 deaths a year," May 3, 2016
Johns Hopkins University, "Study suggests medical errors now third leading cause of death in the U.S.," May 3, 2016
Washington Post, "Researchers: Medical errors now third leading cause of death in United States," May 3, 2016
Email, Johns Hopkins professor of surgery Martin Makary, June 22, 2016
Browse the Truth-O-Meter
More by Tom Kertscher
Support independent fact-checking.
Become a member!
In a world of wild talk and fake news, help us stand up for the facts.