Get PolitiFact in your inbox.
"Repeated requests for additional security in Benghazi were routinely denied" by Hillary "Clinton's State Department."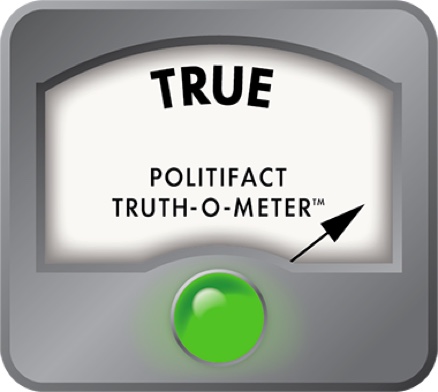 State Department under Hillary Clinton refused security requests for Benghazi, Paul Ryan says
The Sept. 11, 2012 attacks in Benghazi, Libya, which killed the U.S. ambassador and three other Americans, have spurred numerous Republican allegations against Democratic presidential nominee Hillary Clinton.
GOP nominee Donald Trump went so far as to say the Benghazi victims were "left helpless to die" as Clinton, then the secretary of state, "soundly slept in her bed."
That earned a False from PolitiFact National. Congressional investigations did not find Clinton was inattentive, much less asleep. Rather, she worked into the night after the attacks occurred.
Several days after that fact check was published, the sister of Christopher Stephens, the slain ambassador, said she did not blame Clinton. But Patricia Smith, the mother of one of the other victims, has blamed Clinton.
And Clinton, in part because of her "What difference does it make?" remark on the attacks, continues to be a target.
House Speaker Paul Ryan tweeted this on Sept. 26, 2016, a couple of weeks after the fourth anniversary of the attacks:
"Repeated requests for additional security in #Benghazi were routinely denied by Secretary Clinton's State Dept."
In contrast to Trump, the Wisconsin Republican didn't go quite as personal -- referring to Clinton's State Department, rather than Clinton herself.
That helps his claim.
Prior fact check
In May 2014, ahead of one of the congressional investigations into the Benghazi attacks, U.S. Sen. Ron Johnson, R-Wis., claimed the State Department "not only failed to honor repeated requests for additional security, but instead actually reduced security in Libya."
Our rating was True.
As we noted in that article:
"There are disagreements about whether State acted reasonably, but that it didn't honor requests for additional security is established fact," said Georgetown University adjunct assistant professor Daveed Gartenstein-Ross, who is also a senior fellow at the Foundation for Defense of Democracies, which focuses on foreign policy and national security.  
The State Department has acknowledged it rejected requests to provide more security personnel in Libya. It also acknowledged rejecting a request to erect guard towers at the Benghazi mission, but notes that a number of physical security upgrades, such as the installation of concrete barriers to block unused gates, were made during 2012.
The State Department's own Accountability Review Board concluded that the number of diplomatic security staff in Benghazi in the months leading up to the attacks was inadequate "despite repeated requests" from the Benghazi mission and the embassy in Tripoli for additional staffing.
In addition, PolitiFact National has reported that the numerous requests from officials on the ground in Libya for better security for the Benghazi compound are undeniable and well-documented.
It's worth noting, though, that our colleagues have also pointed out there is no evidence that Clinton herself was aware of the requests, or that she willfully denied them.
Our rating
Ryan said: "Repeated requests for additional security in Benghazi were routinely denied" by Hillary "Clinton's State Department."
Ryan's claim avoids trouble by focusing on the State Department, then led by Clinton, rather than on Clinton herself. It's well documented that the department didn't honor requests for more security prior to the 2012 attacks that killed four Americans.
We rate Ryan's statement True.
https://www.sharethefacts.co/share/2bba7888-3630-46d1-ae74-ca5bc3ef249c
Twitter, Paul Ryan tweet, Sept. 26, 2016
Email, Paul Ryan spokesman Ian Martorana, Oct. 5, 2016
Email, Hillary Clinton campaign spokeswoman Gillian Morris, Oct. 6, 2016
PolitiFact National, "Donald Trump says Hillary Clinton 'slept' through Benghazi attack (False)," June 23, 2016
PolitiFact National, "Mike Pence's inaccurate claim about Clinton's Benghazi role and response," July 21, 2016
PolitiFact National, "Rand Paul attacks Hillary Clinton's response to Benghazi attack," April 12, 2015
Washington Post Fact Checker, "600 'requests' from Benghazi for better security: What this statistic really means," Jan. 26, 2016
Washington Post, "State Dept. acknowledges rejecting requests for more security in Benghazi," Oct. 10, 2012
Browse the Truth-O-Meter
More by Tom Kertscher
Support independent fact-checking.
Become a member!
In a world of wild talk and fake news, help us stand up for the facts.