Stand up for the facts!
Our only agenda is to publish the truth so you can be an informed participant in democracy.
We need your help.
I would like to contribute
Says Hillary Clinton "viciously" attacked women abused by Bill Clinton.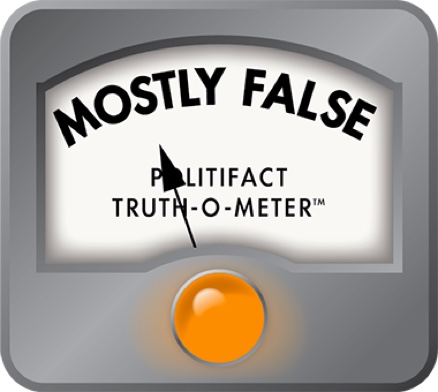 Trump says Clinton viciously attacked those who charged abuse by Bill
Donald Trump said at the second presidential debate that his lewd 2005 comments were "locker room talk," but what Bill and Hillary Clinton did was much worse.
"If you look at Bill Clinton, far worse," Trump said Oct. 9, 2016. "Mine are words, and his was action. His was what he's done to women. There's never been anybody in the history of politics in this nation that's been so abusive to women. So you can say any way you want to say it, but Bill Clinton was abusive to women."
Trump then criticized Hillary Clinton.
"Hillary Clinton attacked those same women and attacked them viciously. Four of them here tonight."
Here we're fact-checking Trump's claim that Hillary Clinton "viciously" attacked women who say they were abused by Bill Clinton.
What we found is that Hillary Clinton has been accused of threatening or shaming accusers of Bill Clinton. But all the accusations remain unproven, as do the specific allegations against Bill Clinton. In most cases, evidence Hillary Clinton intervened in any significant way doesn't exist.
An error in Trump's counting
Before we explain the case with each accuser, a small note. While Trump invited four women to the debate at Washington University in St. Louis, only three of them -- Juanita Broaddrick, Kathleen Willey and Paula Jones -- accuse Bill Clinton of sexual assault.
The fourth woman, Kathy Shelton, was a victim in a rape case. Hillary Clinton defended Shelton's attacker while working at a University of Arkansas legal aid clinic. You can read our fact-check related to that incident here.
Hillary Clinton and Juanita Broaddrick
In 1978, Juanita Broaddrick managed a nursing home in Arkansas. During the impeachment of President Bill Clinton, Broaddrick came forward to say that he had raped her in her hotel room in 1978.
Broaddrick also said that she believed Hillary Clinton knew about the rape and tried to intervene.
She described an encounter to the conservative website Breitbart. Broaddrick said that soon after the alleged event took place, she went to a Democratic fundraiser that the Clintons attended. Broaddrick said Hillary Clinton approached her.
Clinton said, "I just want you to know how much Bill and I appreciate the things you do for him. Do you understand? Everything you do," Broaddrick recounted.
Broaddrick told Breitbart, "What really went through my mind at that time is 'She knows. She knew. She's covering it up and she expects me to do the very same thing.'"
Broaddrick did not go public with her story, even going so far as to deny that the rape occurred in a sworn deposition (as part of the Paula Jones case). Two decades later though, investigators with independent counsel Ken Starr approached her and she told it all. Ultimately, Starr's team decided there was "inconclusive evidence" to press charges.
We found no evidence of Hillary Clinton viciously attacking Broaddrick, as Trump claimed, nor is there independent confirmation of the exchange at the fundraising event. Also, in a 1999 interview with NBC News, Broaddrick was asked if Bill Clinton or anyone close to him had ever done anything to keep her silent. Broaddrick said, "No."
Kathleen Willey
In 1993, Kathleen Willey was a Clinton supporter and a volunteer at the White House. Willey said that when she went to the president to ask for a paid position, he groped her.
Willey, now a Trump supporter, has said that Hillary Clinton "wrote the book on terrorizing women." Willey described what she believed to be efforts to intimidate her in an interview with the conservative website Daily Caller.
That list included "a dead cat found on her porch, a man she saw at night under her deck, and a stranger in her remote neighborhood inquiring threateningly about how her children were doing."
Willey also mentioned being told that Clinton insider Sidney Blumenthal said about her, "She may look good today … she's not going to look good by Friday."
In the course of responding to a lawsuit in 1999, Blumenthal did say Hillary Clinton played some sort of role in the White House response to Willey's allegations. She approved the public release of letters Willey had sent after the alleged event. The letters were characterized as "friendly" and, according to Blumenthal, Clinton thought they would undermine Willey's credibility because the tone was at odds with the episode she described.
We reached out to Willey to get more details but have yet to hear back.
Paula Jones
In 1994, Arkansas state worker Paula Jones accused Bill Clinton of making an unwanted sexual advance. Clinton ultimately paid $850,000 to settle with Jones without admitting guilt.
Jones has harsh words for Hillary Clinton. She said Clinton was out to discredit her.
"She don't care nothing about women. Because if she did she would believe what I had to say," Jones told Breitbart.
Jones said Clinton was an enabler of her husband's transgressions. After Jones sued Bill Clinton, his legal team questioned her and looked into her background.
But, again, we found no evidence Hillary Clinton attacked Jones. The closest was in 1998 when Clinton said she felt that Jones' lawsuit was part of a larger political agenda.
Other allegations
Long-time Washington journalist Carl Bernstein wrote in his biography of Hillary Clinton A Woman in Charge that in the 1992 campaign Hillary Clinton directed a special "defense team" to deal with allegations about "Bill's history with the Selective Service System, women claiming to have had affairs with him, and other personal aspects of the Clintons' lives."
One aide was sent to Little Rock, Ark., to dig for facts about the most worrying revelation from Gennifer Flowers, a woman who claimed to have had a long affair with Bill Clinton. The campaign hired a detective to look into the backgrounds of any women who had come forward.
The Trump campaign pointed to a New York Times article that described the work of that detective. The newspaper reported that in a memo, the detective said he would impugn Flowers' "character and veracity until she is destroyed beyond all recognition."
Importantly, however, while Flowers claimed she had an affair with Bill Clinton, she did not claim she was abused.
In a 1992 interview, Clinton herself called Flowers "some failed cabaret singer who doesn't even have much of resume to fall back on." And on another occasion, she said if she had the chance to cross-examine Flowers, she "would crucify her."
But the same New York Times article quotes a statement provided earlier this month by the Hillary Clinton campaign from James Carville, the 1992 campaign's top strategist.
"Hillary wanted us to defend the governor against attacks," the statement said. "It's just ridiculous to imagine that she was somehow directing our response operation. That was my job, not hers."
ABC News host George Stephanopoulos served as the communications director in Clinton's 1992 campaign. Stephanopoulos wrote in All Too Human, that when Connie Hamzy, one of the first women to claim a sexual encounter with Bill, came forward Hillary said, "We have to destroy her story."
Hamzy said Bill Clinton propositioned her, but she didn't object.
Lastly, no account of Bill Clinton's transgressions would be complete without mentioning one-time White House intern Monica Lewinsky. Lewinsky aimed to get the attentions of the president and succeeded. When Lewinsky's story came to light through the Starr investigation, Hillary Clinton forcefully rejected that there was any truth to it.
Clinton basically wrote it off as part of "this vast right-wing conspiracy that has been conspiring against my husband since the day he announced for president."
When Hillary Clinton said that, Lewinsky was still publicly denying her affair with the president.
Our ruling
Trump said that Hillary Clinton "viciously" attacked women who accused Bill Clinton of abuse.
Bill Clinton certainly has been accused of sexual assault and having affairs. The record shows Hillary Clinton played a role in defending her husband, and that the Clintons' first presidential campaign deployed tough tactics to defend against stories of consensual sex.
But in the cases of alleged abuse by Broaddrick, Willey and Jones, Hillary Clinton was largely silent. The words she allegedly had with Broaddrick are subject to interpretation. Approving the release of Willey's letters does qualify as an attack, but using a person's words against them is a fairly tame tactic. And Clinton did not attack Jones directly.
Overall, we rate the claim Mostly False.
NBC News, Dateline, Feb. 24. 1999
Breitbart, Paula Jones: Hillary Clinton 'Two Faced,' 'Liar,' 'Cares Nothing About Women at All', Jan. 3, 2016
Washington Times, 'Enabler' Hillary Clinton haunted by efforts to 'destroy' husband's accusers, Jan. 14, 2016
Daily Caller, Clinton sexual assault accuser admires Trump, Feb. 4, 2016
Buzzfeed, Juanita Broaddrick wants to be believed, Aug. 14, 2016
New York Times, '90s Scandals Threaten to Erode Hillary Clinton's Strength With Women, Jan. 20, 2016
Political Insider, A Woman Who Was Sexually Assaulted by Bill Clinton Drops a BOMB on Hillary (WHOA!),
World Net Daily, Willey: Look for 'scandal a day' with Hillary run, April 12, 2015
Breitbart, In Their Own Words: Why Bill's 'Bimbos' Fear a Hillary Presidency, Dec. 28, 2015
NBC News, Dateline - video, Feb. 24, 1999
Daily News, Hil backed effort to run down Willey, July 21, 1999, accessed via Nexis Oct. 10, 2016
Washington Post, Fact Checker Here's a guide to the sex allegations that Donald Trump may raise in the presidential debate, Oct. 9, 2016
PolitiFact, Did Hillary Clinton ask to be 'relieved' from representing an accused rapist in 1970s?, July 17, 2014
Washington Post, Another Clinton Accuser Goes Public, Feb. 20, 1999
Email interview, Steven Cheung, spokesman, Trump for President, Oct. 9, 2016
Browse the Truth-O-Meter
More by Jon Greenberg
Support independent fact-checking.
Become a member!
In a world of wild talk and fake news, help us stand up for the facts.