Stand up for the facts!
Our only agenda is to publish the truth so you can be an informed participant in democracy.
We need your help.
I would like to contribute
Says Russ Feingold broke his 1992 promise to always get the majority of funding from Wisconsin residents.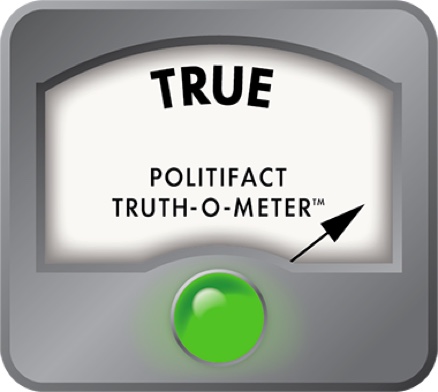 Did Russ Feingold break promise to fund campaign primarily in state?
In 1992, Democrat Russ Feingold introduced himself to Wisconsinites as a regular guy supported by regular guys (and gals).
He listed campaign promises on his garage door and repeatedly said he would take the majority of his funding from Wisconsinites — not out-of-state residents or interest groups.
He stayed true to that pledge throughout campaigns in 1992, 1998, 2004 and 2010 — when he was unseated by Republican Ron Johnson. In the 2016 rematch, Feingold has reversed course and is now taking the majority of his money from out of state.
Johnson frames this as a broken promise in a recent campaign ad, noting that at the time Feingold's pledge originated he did not limit it to any time period. Rather, he declared he was making the commitment "for the future."
Let's take a closer look.
Feingold's promise
PolitiFact Wisconsin examined this issue before, giving Feingold a "Full Flop" in October 2015 for reversing his position and accepting a majority of his funding from out of state.
The Flip-O-Meter ruling only examined whether Feingold had changed his position — which he clearly did. We are taking another look because Johnson now alleges that in doing so Feingold broke a promise to always get the majority of his funding from Wisconsinites.
The ad is the latest volley on this point, which Johnson has also made in an interview, a tweet and on his website.
If you ask Feingold now, his pledge was always for the campaign at hand.
"When I said in 1992, whenever I said that I would get a majority of my contributions from Wisconsin citizens, I made that pledge for that term," Feingold said in January 2016 as part of an "On The Issues with Mike Gousha" appearance at Marquette University Law School.
Let's go to the tape.          
Feingold stated in a 1992 TV ad that he would "rely on Wisconsin citizens, not out-of-staters, to pay for this campaign" -- a promise he touted often.
But he also took it a step further.
In an August 1992 primary debate on C-SPAN, an opponent accused Feingold of making a self-serving pledge because he was a newcomer to national races who didn't have the out-of-state contacts his opponents did.
"It's not just self-serving, because I'm promising it for the future," Feingold responded. "I'm saying that's a pledge that I'm going to keep. I'm not going to get in (office) and go, 'OK, where are the PACs and where are the out-of-state contributions?'
"I'm making a pledge for the future."
That is clearly not a pledge Feingold is keeping this time around. An analysis of Federal Election Commission data by the Center for Responsive Politics shows 70 percent of individual contributions to Feingold's campaign during this election cycle have come from out of state. That's the same number cited by Johnson in the ad.
Feingold has acknowledged the change in position, asserting in an August 2015 interview that keeping the 24-year-old pledge "makes no sense now" since the campaign finance landscape has changed dramatically due to a deluge of massive, undisclosed contributions.
We encountered a similar question in 2014 when the group One Wisconsin Now claimed Walker broke a promise not to take contributions during the budget process -- a claim we rated False.
In that case, the group misrepresented the nature of the promise.
First, the pledge was from Walker's brief gubernatorial bid in 2006, not his successful bid in 2010. And the promise, part of his first 100 days plan, referred to a specific period: "Scott Walker will not accept any campaign contributions (from any source) from the time he takes office (January 3, 2007) until the state budget is signed into law."
That's not the case for Feingold, who repeatedly cited the pledge, said at the time the  promise was "for the future," and then went on to follow it for three future campaigns.
Michael Tyler, a spokesman for Feingold's campaign, declined repeated requests to comment on how Feingold reconciles the "for the future" line with his current assertion that the promise, from the start, was only for the campaign at hand.
Our rating
Feingold used the words "pledge" and "promise" in 1992 while asserting his grassroots funding plan was for that election as well as "for the future." The future is here, and Feingold has failed to keep his promise.
Not only that, he claims he never said the pledge applied going forward, despite video evidence to the contrary.
Johnson's ad includes several clips that, while short, are used in context.
We rate Johnson's claim True.
https://www.sharethefacts.co/share/88b81dd7-e06d-4c6e-97f2-3eba9e4c5b9c
Twitter, Ron Johnson, Aug. 23, 2016
YouTube, Russ Feingold "Home Movies" from 1992, accessed Aug. 26, 2016
Email, Michael Tyler, spokesman for Russ Feingold campaign, Aug. 24, 2016
Email, William Allison, spokesman for Ron Johnson campaign, Aug. 25, 2016
C-SPAN, Wisconsin Senate Debate, Aug. 28, 1992 (19:24 mark)
On The Issues With Mike Gousha, Marquette University Law School, Jan. 26, 2016 (38:37 mark)
PolitiFact Wisconsin, Russ Feingold changes his tune on campaign contributions (Full Flop), Oct. 28, 2015
YouTube, Ron Johnson Broken Promises ad, published Aug. 23, 2016
Center for Responsive Politics (OpenSecrets.org), Wisconsin Senate Race, Geography Data, accessed Aug. 26, 2016
Milwaukee Journal Sentinel, "Johnson hits Feingold for dropping past fund-raising pledge," Aug. 13, 2015
Browse the Truth-O-Meter
More by Eric Litke
Support independent fact-checking.
Become a member!
In a world of wild talk and fake news, help us stand up for the facts.