Stand up for the facts!
Our only agenda is to publish the truth so you can be an informed participant in democracy.
We need your help.
I would like to contribute
Government orders South African firm "to lay off 3,389 white employees."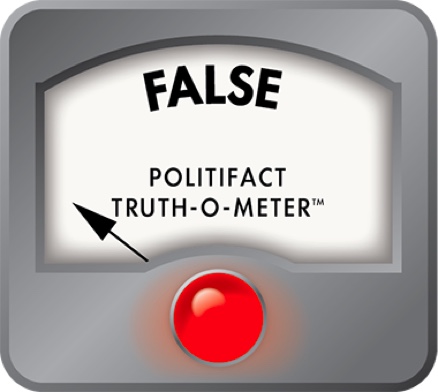 No, South African officials didn't order a firm to lay off white workers
Facebook users set the fake news flags waving when a 2015 news item resurfaced recently. The headline from a website with the URL conservative-headlines.com said, "South African firm ordered to lay off 3,389 white employees."
"A South African utility company has been given an ultimatum to reduce its number of white employees by 44.3 percent over the next five years," the article said. "This means 3,389 whites have to go. It is part of the Federal 'Black Empowerment' program."
The headline misses the mark on its main points, but behind it lie real events.
PolitiFact Global News Service examined the origins of this claim as part of the inaugural International Fact-Checking Day, April 2, 2017. Organizers at Poynter.org describe the day as "not a single event but a rallying cry for more facts - and fact-checking - in politics, journalism, and everyday life."
The conservative-headlines.com website, which features images of the Confederate flag and an op-ed in favor of a white "ethnostate" in South Africa, took its story from a prominent Afrikaans language news site Netwerk 24.
Netwerk 24 was reporting on the affirmative action plans of Eskom, South Africa's public electric company. South Africa operates under the Employment Equity Act, which says "employers must make sure designated groups (black people, women and people with disabilities) have equal opportunities in the workplace."
Netwerk 24 reported the 3,389 figure based, it said, on documents Eskom had submitted to three unions. One of the unions, Solidarity, describes itself has having "a close relationship with the Afrikaner community." Solidarity opposes "reverse racism," and regularly tangles with the government over affirmative action.
The factual part of the claim is this: In November 2014, the South African Labor Department sent Eskom a report telling it to set numerical targets so that the makeup of its workforce would more closely match that of the country at large. The company had to submit a plan to reach those targets by 2020.
The report itself doesn't give a number. But if Eskom didn't come up with a plan and implement it, then the Labor Department could bring a case against it in the government's Labor Court and seek to impose a fine.
We asked the Solidarity union where it got the figure of 3,389 whites and spokesman Francois Redelinghuys told us "this number was derived from the employment equity plan Eskom submitted whereby it was envisioned that by 2020 they aim to reduce the amount of white workers as part of their affirmative action strategy."
Redelinghuys didn't tell us how the number was derived.
Eskom spokesman Khulu Phasiwe told us, meanwhile, that "there is no such plan" to layoff white workers.
In Eskom's 2016 annual report, the company lays out the workforce makeup it hopes to achieve by 2021. For example, the fraction of black employees in senior management is slated to rise from about 61 percent to 89 percent.
It would seem likely that blacks would gain at the expense of whites, but there is no way to translate those changes into absolute numbers. Adding to the complicated picture, the company plans to downsize across the board by about 20 percent.
How this all would shake out racially is unclear. In May 2015, Solidarity said in a press release that in the coming year, Eskom planned to cut 1,689 blacks from its rolls, and 1,080 whites. In other words, blacks would be the bigger losers.
The company distanced itself from those figures, saying they had been part of a draft plan than was never adopted. But in any event, the numbers don't bolster the broader claim that whites will suffer more than blacks.
If the numbers in the headline are dicey, so is the idea that the government had "ordered" Eskom to lay off white workers.
Solidarity spokesman Redelinghuys told us that "we only said that said amount (of) white worker jobs would be reduced. The media made the article about laying off workers."
Professor of labor law Christoph Garbers at Stellenbosch University told us that "the (government's) report/ recommendation clearly does not say what the article says."
Garbers said the Labor Department told Eskom to take demographics into account, but "that is a far cry from interpreting this to mean that Eskom now has to dismiss people."
Garbers also said that by law and precedent "you can't justify dismissal on the basis of affirmative action."
Eskom's spokesman told us that to date, not a single worker has been "retrenched," or as we would say in American English, laid off.
Our ruling
A Facebook post said that the South African government ordered a company to lay off over 3,000 white workers. The source of the figure remains unclear. While the government did tell the state utility company Eskom to increase the fraction of black workers in various job categories, it did not specify a number. And while the government could take Eskom to court if it failed to adopt a higher goal, it did not order the firm to fire anyone. On that point, even the union most closely identified with white workers agreed.
Furthermore, even if that many whites did lose their jobs, the figure alone says nothing about whether more blacks might lose theirs. Eskom plans to downsize and in one plan leaked from the company, that's exactly what could have taken place.
Lastly, South African law bars a company from laying off a worker in order to meet affirmative action goals, an expert told us.
We rate this claim False.
Bloggers, South African firm ordered to lay off 3,389 white employees, March 9, 2015
Netwerk 24, Eskom moet ontslae raak van 1 081 wit ingenieurs, March 8, 2015
South African Labour Department, Recommendations - Eskom Limited, Nov. 18, 2014
Solidarity, Solidarity vs. Eskom: Fact guide, May 27, 2015
South African Labour Department, Basic Guide to Affirmative Action, Feb. 17, 2014
South African Labour Department, Basic Guide to Employment Equity Plans, Feb. 18, 2014
Eskom, Integrated report, March 31, 2016
Business Report, Eskom tackled on jobs, May 28, 2015
Employment Equity Amendment Act, 2013, Jan. 16, 2014
Email interview, Francois Redelinghuys, media relations officer, Solidarity, March 29, 2017
Email interview, Khulu Phasiwe, national spokesperson, Eskom, March 28, 2017
Email interview, Christoph Garbers, professor of law, Stellenbosch University, March 28, 2017
Browse the Truth-O-Meter
More by Jon Greenberg
Support independent fact-checking.
Become a member!
In a world of wild talk and fake news, help us stand up for the facts.