Get PolitiFact in your inbox.
"All pipelines that are coming into this country from now on has to be American steel."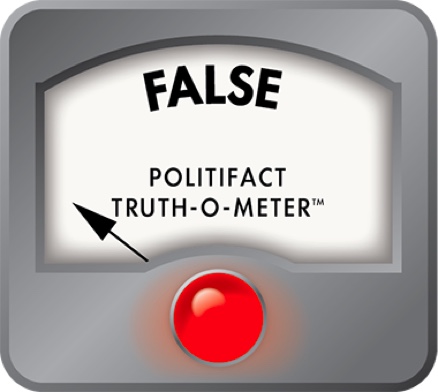 While mentioning Keystone XL, Donald Trump errs in saying pipelines must use only American steel
Visiting the Badger State for the first time as president, Donald Trump made a claim about steel and the proposed Keystone XL pipeline that is similar to one his staff has already had to correct.
While in Kenosha on April 18, 2017 to give a speech touting his "Buy American" agenda, Trump said in an interview with WTMJ-TV in Milwaukee:
I support the concept of everything from the U.S. You know, I don't know if you saw, but I approved a pipeline, right, called the Keystone pipeline, and other pipelines. And I want them to use American steel, American product. I want it manufactured here. And I made those changes just before we signed it. I said, Where's the steel coming from? So, all pipelines that are coming into this country from now on has to be American steel, which is really a big factor.
So, while mentioning the Keystone, which still needs approvals before it can be built, Trump is claiming "all pipelines that are coming into" the United States have to be made with American steel.
The Keystone XL 
Proposed by energy giant TransCanada, the 1,179-mile Keystone XL would transport more than 800,000 barrels of oil per day from Western Canada to Nebraska. Then it would connect with an existing pipeline system to refineries on the Gulf Coast, where the oil would be turned into petroleum products such as gasoline. The refineries export about two-thirds of their products; the rest is sold in the United States.
The project had been in limbo for more than seven years when the company's application to build the pipeline was rejected in November 2015 by President Barack Obama. He said the pipeline wouldn't serve U.S. national interests and would undercut America's global leadership on climate change.
In contrast, Trump promised during the 2016 presidential campaign that he would build the Keystone and get "a piece of the profits" -- a pledge that's been rated In the Works on PolitiFact's Trump-O-Meter.
An important step was taken in March 2017 when, at Trump's urging, the State Department issued a presidential permit for the Keystone. The permit is necessary for the pipeline to cross the U.S.-Canadian border. But before the pipeline can be built, it must win approval from the Nebraska Public Service Commission and local landowners.
The steel connection, meanwhile, relates to a memorandum regarding construction of American pipelines that Trump signed in January 2017.
Keystone and steel
The memorandum calls for U.S oil pipelines to use American steel in their construction -- but it is not an order carrying strict requirements.
The memo directs the secretary of commerce to "develop a plan under which all new pipelines, as well as retrofitted, repaired, or expanded pipelines, inside the borders of the United States," use materials and equipment produced in the United States, "to the maximum extent possible and to the extent permitted by law."
Five weeks after Trump signed the memorandum, the White House stated explicitly that it does not apply to the Keystone XL.
White House spokeswoman Sarah Huckabee Sanders told reporters that because the Keystone is not a "new" project, it is not bound by the memo. "But I know that everything moving forward would be -- fall under that (memorandum)," she said.
(The White House didn't provide us any information to back up Trump's claim.)
While carrying the weight of the president's signature, the memorandum has the force of law only over the executive branch of the federal government. (And for that matter, it is arguably a lesser form of presidential action than an executive order.)
Moreover, as Reuters has reported, the memorandum contains "legal language about ordering things to the maximum extent permitted by law, which is designed to preserve lots of wiggle-room"; and the attempt to mandate the use of American steel "would almost certainly violate 70 years of settled international trade law."
Chris Weld, a Washington trade lawyer whose firm represents American steel companies, told the Washington Post that the memorandum is not a mandate, but rather  "a message to U.S. pipeline operators to consider steps to purchase U.S.-produced iron and steel."
Meanwhile, the Keystone, while not yet under construction, is nevertheless well under way.
TransCanada has said it already has purchase agreements for the 660,000 tons of steel it will use for the Keystone XL. Half is to come from the Arkansas plant of an India-based steelmaker, 10 percent from a plant in India and the rest imported from Canada and Italy.
Trump, meanwhile, reportedly will sign an executive order directing the Commerce Department to investigate whether steel imports into the United States should be blocked on national security grounds.
Our rating
While mentioning the proposed Keystone XL oil pipeline, Trump said: "All pipelines that are coming into this country from now on has to be American steel."
The White House made it clear weeks earlier that a memorandum signed by Trump related to the use of American steel does not apply to the Keystone -- only to new pipeline projects.
And though the memorandum could put pressure on pipeline companies to use American steel, it does not contain any requirements that only American steel be used.
We rate Trump's statement False.
WTMJ-TV, video of Donald Trump interview, April 18, 2017
Email, special assistant to the president and assistant communications director Steven Cheung, April 19, 2017
USA Today, "Keystone XL pipeline will not use U.S. steel despite Trump's vow," March 4, 2017
CNN Money, "Despite Trump promises, Keystone pipeline won't have to use American steel," March 3, 2017
ABC News, "Keystone pipeline won't have to use American steel, despite Trump's repeated promises," March 3, 2017
PolitiFact New York, "Will all the oil from the Keystone XL pipeline be exported?" April 16, 2017
PolitiFact National, "State Department issues crucial Keystone permit," March 24, 2017
PolitiFact National, "Keystone project includes foreign steel," April 5, 2017
USA Today, "Presidential memoranda vs. executive orders. What's the difference?" Jan. 25, 2017
Snopes, "Are the Keystone and Dakota Access Pipelines Required to Use American Steel?" March 7, 2017
TransCanada, news release, Feb. 17, 2012
The White House, "Presidential Memorandum Regarding Construction of American Pipelines," Jan. 24, 2017
Washington Post, "Donald Trump's pledge to use only U.S. steel is loaded with caveats," Jan. 26, 2017
Washington Post Fact Checker, "Claims regarding Obama's use of executive orders and presidential memoranda," Dec. 31, 2014
Browse the Truth-O-Meter
More by Tom Kertscher
Support independent fact-checking.
Become a member!
In a world of wild talk and fake news, help us stand up for the facts.