Stand up for the facts!
Our only agenda is to publish the truth so you can be an informed participant in democracy.
We need your help.
I would like to contribute
"House GOP rules package bars CBO from counting spikes in deficit spending spurred by an ACA repeal."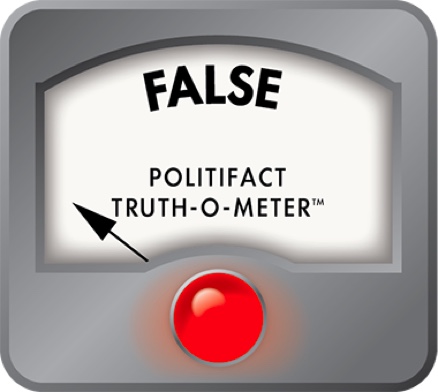 Keith Ellison wrong that CBO can't analyze cost of Obamacare repeal
House rules don't often become big news. This year was somewhat different.
The biggest news in the 2017 rules package was an amendment to curb the power of the independent Office of Congressional Ethics. After a big public backlash and critical tweets by President-elect Donald Trump, the amendment was withdrawn.
Somewhat less widely noticed, but which has come up periodically in pro-Democratic web posts and social media, was a provision that seemed to prevent the Congressional Budget Office from analyzing the cost of repealing the Affordable Care Act. If true, this would be significant, since the CBO, Congress' number-crunching arm, is a respected independent referee on questions of how much legislative proposals will cost the federal treasury.
If this happened, it would make it easier for Republicans to avoid answering the question of why they want to repeal a law at significant cost to the U.S. treasury.
At least one lawmaker made an issue of this rules provision on Twitter: Rep. Keith Ellison, D-Minn., who has taken on a higher profile due to his bid to become the next Democratic National Committee chairman.
"House GOP rules package bars CBO from counting spikes in deficit spending spurred by an ACA repeal," Ellison tweeted on Jan. 5, 2017. It was retweeted more than 2,400 times and received 1,600 likes.
The House rules package governs how the U.S. House of Representatives handles its basic procedures for the two-year duration of a congressional session. We wanted to know if it really contained what Ellison said.
Spoiler alert: It doesn't, as Ellison's office now acknowledges.
What the rules package says
The passage in question can be found here in section 3, subsection h. 
The provision is laden with jargon, but the gist is this: The rules package established a new requirement for CBO to undertake an unusually long-term analysis for legislation, and then specifically freed the ACA repeal from this type of analysis.
The rules package says that "the Director of the Congressional Budget Office shall, to the extent practicable, prepare an estimate of whether a bill or joint resolution reported by a committee (other than the Committee on Appropriations) ... would cause, relative to current law, a net increase in direct spending in excess of $5 billion in any of the four consecutive 10-fiscal year periods beginning with the first fiscal year that is 10 fiscal years after the current fiscal year."
According to the rule, any bills flagged as adding to the deficit by this required CBO analysis would be considered out of order, effectively sidelining them.
However, the rules package went on to list a specific exception to this requirement, including repealing or reforming the Affordable Care Act or a portion of the Health Care and Education Affordability Reconciliation Act of 2010. These were the two legislative vehicles that were used to enact President Barack Obama's signature health care law.
What the provision actually means
But while Ellison tweeted that the package "bars CBO from counting spikes in deficit spending spurred by an ACA repeal," it actually doesn't say CBO can't analyze the law's costs.
Rather, the provision in the rules package lifts the requirement that CBO track the cost of repeal or reform over the unusually long period mandated by the rules provision -- that is, 50 years after the first year CBO measures. Analyses over more typical -- and shorter -- time periods are not barred.
"People have misinterpreted this exemption to conclude that CBO wouldn't provide a cost estimate for ACA legislation at all," said Ed Lorenzen, a senior advisor to the Committee for a Responsible Federal Budget and a former senior aide to House Democratic Leader Steny Hoyer of Maryland. "But the exemption only applies to the new requirement for additional information regarding long-term costs in CBO estimates of legislation."
The Congressional Budget Act requires a cost estimate covering the next 10 years for all legislation considered by Congress, he said, and "the rules package doesn't change that."
Lorenzen added that the rules package doesn't prevent CBO from making a long-term analysis of the costs of an ACA repeal — it just says that doing such an analysis isn't mandatory.
"There's obviously a difference between saying something is not required and actually prohibiting it," Lorenzen said. "There's reason to believe that CBO would probably provide information about a ballpark estimate of budgetary effects of legislation related to the Affordable Care Act beyond the 10-ten year window even without a requirement to do so, given the magnitude of the impact and interest among members of Congress in the long term budgetary effects of the ACA."
Lorenzen said that he and his organization would have opposed a provision of the type Ellison assumes in his tweet. "But that's not what's happening here," he said.
Donald Wolfensberger, a former House Rules Committee aide who is now a scholar at the Woodrow Wilson International Center, agreed with Lorenzen's analysis.
"This is a new point of order and exemption from it, and implicitly does not alter existing budget rules and requirements, including the ability of CBO to make cost estimates," Wolfensberger said.
Ellison's office backed off after PolitiFact relayed Lorenzen's analysis and acknowledged that the interpretation in the tweet was incorrect.
Our ruling
Ellison tweeted that the "House GOP rules package bars CBO from counting spikes in deficit spending spurred by an ACA repeal."
In reality, the rules package doesn't bar CBO analysis of ACA repeal proposals. Rather, the rules package says that CBO is not required to conduct an extra-long-term analysis that goes 50 years into the future, although the office could do one if it wants. It also doesn't prevent CBO from doing the more typical, 10-year analyses it does for proposed bills. We rate the statement False.
Keith Ellison, tweet, Jan. 5, 2017
Text of House rules package, 2017
Email interview with Steve Ellis, vice president of Taxpayers for Common Sense, Jan. 12, 2017
Email interview with Gail Wilensky, head of Medicare and Medicaid under President George H.W. Bush, Jan. 12, 2017
Email interview with Donald Wolfensberger, scholar at the Woodrow Wilson International Center, Jan. 12, 2017
Email interview with Ed Lorenzen, senior advisor to the Committee for a Responsible Federal Budget, Jan. 12, 2017
Browse the Truth-O-Meter
More by Louis Jacobson
Support independent fact-checking.
Become a member!
In a world of wild talk and fake news, help us stand up for the facts.