Get PolitiFact in your inbox.
"I have never lobbied against sanctions personally... to my knowledge, Exxon never directly lobbied against sanctions.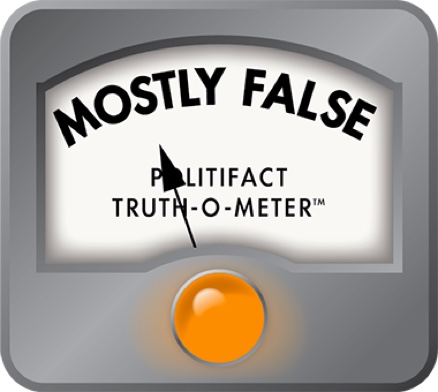 Rex Tillerson misleads on Russian sanctions opposition
U.S. senators grilled former Exxon CEO Rex Tillerson about his past dealings with Russia at his recent confirmation hearing to become secretary of state.
Sen. Marco Rubio, R-Fla., asked Tillerson whether he thought Vladimir Putin was a war criminal (Tillerson's answer: "I would not use that term"), while Sen. Bob Menendez, D-N.J., pressed him on Exxon opposing sanctions against Russia.    
Senators have taken a hardline on Russia, both for its annexation of the Crimean Peninsula in Ukraine and its likely interference in the 2016 elections. Some, including Rubio, were keen supporters of economic sanctions against Russia in 2014.
At that time, Exxon, with Tillerson at the helm, had struck joint venture deals with the Russian petro giant Rosneft to explore for oil across the country. Exxon estimated its exposure on those deals at $1 billion. Sanctions presented big problems for those investments.
At his confirmation hearing on Jan. 11, 2017, Tillerson rejected the assertion that he ever tried to scuttle sanctions.
"I have never lobbied against sanctions personally," Tillerson said. "To my knowledge, Exxon never directly lobbied against sanctions."
That's an artfully crafted answer that's pretty misleading
Government lobbying records show that in 2014 and 2015, Exxon paid the Nickles Group over $193,000 to press "issues related to Russian sanctions impacting the energy sector," along with a number of other matters.
It paid another $120,000 in 2014 and 2015 to Avenue Solutions for work on a range of issues, including "energy sanctions in the Ukraine and Russia."
In the same time frame, according to public logs, Tillerson visited the White House five times to see Jeffrey Zients, director of the National Economic Council. The meetings started about a week after President Barack Obama authorized the first of three rounds of sanctions. Bloomberg reported that Tillerson saw Treasury Secretary Jack Lew seven times in the second half of 2014. The Treasury Department oversees how sanctions are carried out.
That seems to directly contradict Tillerson's statement, but Exxon spokesman Alan Jeffers told us it didn't.
"Exxon Mobil regularly engages with lawmakers and others to discuss the potential impact of sanctions and to express our view that sanctions should treat American companies fairly," Jeffers said. "We do not express an opinion as to whether or not sanctions should be imposed; that is a decision for policy makers."
But at Exxon's May 2014 shareholder meeting, Tillerson offered a more negative take on sanctions overall. He told reporters that sanctions are "imprecise and ineffective." and that "our views are being heard at the highest levels," he said, according to the Associated Press.
Oil industry experts told us it's hard to believe that Exxon wouldn't have opposed the sanctions.
Tadeusz Patzek is a professor and petroleum industry analyst at King Abdullah University of Science and Technology in Saudi Arabia. Patzek thinks Tillerson is a good choice for secretary of state, but he also said Exxon's interests in Russia were quite clear.
"Russia is the last global frontier with big untapped oil resources that could be made available to Exxon," Patzek said. "From this point of view, Exxon must have viewed the sanctions as unhelpful to the corporation."
Tim LaPira, a political scientist who studies lobbying at James Madison University, told us Tillerson's claim is "implausible."
"The message of what sanctions would do would necessarily communicate that they were taking a clear position against them," LaPira said. "If Exxon Mobil hired expensive lobbyists to communicate about sanctions, but not the corporation's position against them, then it seems to me they used shareholders' money to accomplish exactly nothing."
Government ethics advocate Jordan Libowitz with Citizens for Responsibility and Ethics in Washington said, "I doubt they would lobby for a bill that essentially cost them $1 billion."
Our ruling
Tillerson said that he never lobbied against sanctions that targeted the Russian energy industry, nor to his knowledge had Exxon. But lobbying records show Exxon spent over $300,000 to argue its case on sanctions. Visitor records for the White House and the Treasury Department show Tillerson was a visitor when sanctions were being considered.
An Exxon spokesperson said the company simply offered information on sanctions. But in 2014 Tillerson told reporters that he thought sanctions generally were ineffective and that he had let top government officials know what he thought of them.
We rate this claim Mostly False.
https://www.sharethefacts.co/share/8f2e0fd6-e516-41da-82a1-2bb276c0c91d
U.S. Senate, Secretary of State confirmation hearing, Jan. 11, 2017
Open Secrets, Nickels Group - 2014, accessed Jan. 11, 2017
Open Secrets, Avenue Solutions - 2015, accessed Jan. 11, 2017
U.S. State Department, Ukraine and Russia Sanctions, September 2014
Politico, ExxonMobil helped defeat Russia sanctions bill, Dec. 18, 2016
Bloomberg, Tillerson Visited White House Often Over Russia Sanctions, Dec. 12, 2016
Associated Press, Exxon CEO: Sanctions not hurting Russia operations, May 28, 2014
White House, White House visitor record requests, accessed. Jan. 11, 2017
Fort Worth Star-Telegram, Exxon CEO says Russia sanctions aren't affecting business, May 28, 2014
Bloomberg, Trent Lott's Firm Made a Fortune Lobbying for the Kremlin, May 15, 2015
Forbes, Exxon's Sanctioned Russian Oil Deal Threatens Rex Tillerson As Trump's Secretary Of State, Dec. 15, 2016
Email interview, Alan Jeffers, spokesman, Exxon Mobil Corporation, Jan. 12, 2017
Email interview, Tadeusz W. Patzek, professor of earth science and engineering, King Abdullah University of Science and Technology, Jan. 11, 2017
Email interview, Tim LaPira, associate professor of political science, James Madison University, Jan. 11, 2017
Email interview, Jordan Libowitz, communications director, Citizens for Responsibility and Ethics in Washington, Jan. 11, 2017
Browse the Truth-O-Meter
More by Jon Greenberg
Support independent fact-checking.
Become a member!
In a world of wild talk and fake news, help us stand up for the facts.