Stand up for the facts!
Our only agenda is to publish the truth so you can be an informed participant in democracy.
We need your help.
I would like to contribute
"The cost-sharing reductions (were) a gift (that) they gave the insurance companies."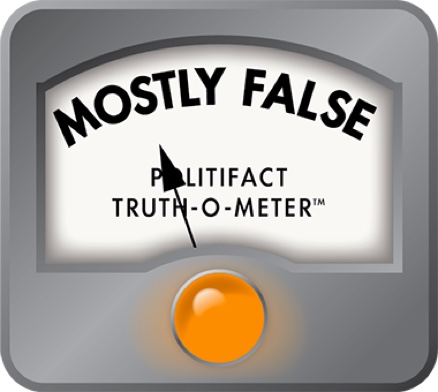 Trump mislabels Obamacare subsidy as gift to insurers
The current sword hanging over the Obamacare health insurance markets is the future of one of the subsidies in the system. It's called cost-sharing reduction and it cushions lower-income people from out-of-pocket costs when they see a doctor.
This makes up a small slice of the total insurance picture, but President Donald Trump brought the matter to a head Oct. 12 when he canceled all payments. They are worth an estimated $10 billion next year and the move sent a jolt through the individual and small business market. Premium hikes of 20 percent were suddenly a real possibility for policy holders.
Trump touted his decision at a cabinet meeting on Monday.
"I knocked out the CSRs (cost-sharing reductions)," Trump said Oct. 16. "That was a subsidy to the insurance companies. That was a gift that was, frankly, what they gave the insurance companies."
The very next day, two key Republican and Democratic senators announced a deal to keep the payments flowing.
At first, Trump seemed at ease with the compromise.
"It is a short-term solution so that we don't have this very dangerous little period -- including a dangerous period for insurance companies by the way," Trump said Oct. 17. "For a period of one to two years, we will have a very good solution."
Then, about eight hours later, at a Heritage Foundation dinner, Trump raised doubts about where he stands. He praised the bipartisan effort, but then returned to his theme about insurance companies.
"I continue to believe Congress must find a solution to the Obamacare mess instead of providing bailouts to insurance companies," Trump said.
Amidst these head-snapping shifts, we asked, are those cost-sharing reduction payments a bailout, a "gift" to the insurance companies?
We couldn't find an economist who thought they are.
In fact, while Washington would be sending insurers those checks, Trump's statement missed the point that the money doesn't end up in the companies' pockets.
Here's why.
This piece of Obamacare was designed to protect lower-income families from hefty out-of-pocket costs. The policies they bought on the Obamacare exchanges came with deductibles and co-pays, but instead of paying those themselves, the insurance companies do.
Who gets the money? The doctors, hospitals and labs that provide the services.
At the end of the day, the federal payment covers the insurer for footing the bill.
The Centers for Medicare and Medicaid Services guidelines for insurers spells this out pretty clearly. It defines cost-sharing reductions "as expenses on behalf of an enrollee for essential health benefits, including deductibles, copays, and coinsurance."
The actual process of figuring out how much to pay each insurance company has a few bumps and turns. Washington pays companies an estimated amount up front, and then trues-up the books every quarter.
Companies "must report the amount they paid for each eligible medical claim, the amount enrollees paid for the claims, and the amount of cost sharing that would have been paid for the same services under the corresponding standard plan," the guidelines say.
Martin Gaynor at Carnegie Mellon University said in no way does this amount to a subsidy for insurance companies.
"It's not like we were just handing them a pile of money for an expense they didn't incur," Gaynor said. "It's supposed to keep things neutral. You paid this out on behalf of the enrollee, and now here's money from Uncle Sam that's intended to keep you whole."
We asked economist Jeffrey Clemens at the University of California San Diego, and finance professor Scott Harrington at the Wharton School. They both agreed -- the cost-sharing reduction is no gift because if you look at the full picture, the insurance companies are no better off at the end then they were at the start.
The only wrinkle that Harrington saw was legal. Due to a court ruling, Trump had the right to cancel the payments. So long as he didn't do that, that was good news for the insurers.
But all that said, the cost-sharing reductions make insurance more affordable to people at or near the poverty line and that increases the number of policies insurance companies can sell. The value of the cost sharing is about one sixth the size of the premium tax credits, which do the heavy lifting to keep insurance affordable, but still, the impact is there.
We asked the White House about this and did not hear back.
Our ruling
Trump called the cost-sharing reductions payments a gift to insurance companies.
In reality, the money pays the insurers for payments they make to health care providers. It is a pass-through. Every health care economist we reached said if the companies don't gain any cash from the transaction, then there is no gift, no bailout or whatever term one might use.
The one grain of truth is that anything that makes insurance more affordable increases sales, even if by a small amount.
We rate this claim Mostly False.
White House, Remarks by President Trump in Cabinet meeting, Oct. 16, 2017
Centers for Medicare and Medicaid Services, Draft Manual for Reconciliation of the Cost-Sharing Reduction Component of Advance Payments for Benefit Year 2016, Nov. 2, 2016
Centers for Medicare and Medicaid Services, Health Insurance Marketplaces 2017 Open Enrollment Period Final Enrollment Report: Nov. 2, 2016–Jan. 31, 2017, March 15, 2017
Healthcare.gov, Cost Sharing Reduction, accessed Oct. 17, 2017
Commonwealth Fund, Eliminating Cost-Sharing Reductions, April 2017
Email interview, Scott Harrington, professor of health care management, University of Pennsylvania Wharton School, Oct. 17, 2017
Interview, Martin Gaynor, professor of economics and health policy, Carnegie Mellon University, Oct. 17, 2017
Email interview, Jeffrey Clemens, economist, University of California - San Diego, Oct. 17, 2017
Browse the Truth-O-Meter
More by Jon Greenberg
Support independent fact-checking.
Become a member!
In a world of wild talk and fake news, help us stand up for the facts.