Stand up for the facts!
Our only agenda is to publish the truth so you can be an informed participant in democracy.
We need your help.
I would like to contribute
Says "46 percent of people believe major national news organizations fabricate stories about me."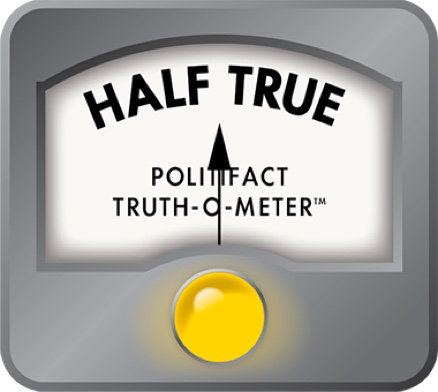 More to the story on poll Donald Trump tweeted about media trust
From the earliest days on the campaign trail, President Donald Trump regularly touted polls that underscored his popularity with the public. Nine months into his term, the pattern continues.
"It is finally sinking through," Trump tweeted Oct. 22. "46% of people believe major national news orgs fabricate stories about me. Fake news, even worse! Lost cred."
Trump was citing a Politico/Morning Consult poll. It asked, "Do you believe the nation's major news organizations fabricate news stories about President Trump and his administration, or not?"
Nearly half of the respondents, 46 percent, said yes, they do fabricate stories. Another 37 percent said no, and 17 percent said they didn't know.
So Trump accurately cited the poll results.
The next question is, are the numbers credible?
Several people who study polling told us that while they wouldn't take the number to be precisely accurate, it's fair to say that the results capture a widely held belief.
The greatest uncertainty about the Morning Consult poll is that it was conducted online. The big issue there is that, unlike traditional polling, it doesn't reach people randomly. Without getting too technical, picking people at random from a big list is the standard tool that allows pollsters to say that the people they reached are a good mirror of the public at large.
With online polls, pollsters use information about the people who fill out the survey and massage their response statistically to mirror the public at large. That might sound fishy, and experts raise many legitimate concerns. But it doesn't mean that the findings are automatically wrong.
The ugly truth is that neither approach is fantastic.
"Pollsters employing both probability samples and non-probability samples are facing great challenges in measuring public opinion," said political scientist Adam Berinsky at the Massachusetts Institute of Technology. "While the Morning Consult poll is not a random sample poll, it is no better or worse than other online polls, and I don't have any specific concerns about potential bias."
That said, Berinsky said he's noticed that Morning Consult "tends to lean a little pro-Trump relative to other polls."
That difference shows up on the presidential approval question. The Morning Consult survey reported that 44 percent of the people approved of the job Trump is doing. The average polling result today is 39.5 percent.
Michael Traugott and Josh Pasek at the University of Michigan, who have written about polling together, also see a skew in the Morning Consult responses, but like Berinsky, they take the results as roughly accurate.
"Clearly some decent portion of the public does believe this," Pasek said. "Is it 46 percent? I don't know. But it is not as though you can disregard this out of hand."
The use of the word "fabricate" struck both researchers as odd. They wondered how people might interpret it.
That's one reason Traugott sees this response less as a measure of public mistrust in the media and more an expression of partisan preference. He noted that nearly three-quarters of Republicans in the poll said news organizations invent stories about Trump, while one-fifth of Democrats did.
"America is very polarized and this is consistent with that," Traugott said.
Morning Consult cites its relative accuracy during the presidential election as proof that its results are reliable. Traugott and Pasek said that's actually an easier challenge than gauging what the public thinks about the media.
In fact, a couple of weeks before it partnered on this recent poll, Politico posted a story about the growing trust in news.
It cited a Reuters/Ipsos poll that found 48 percent of people had a great deal or some confidence in the press, a rise of nearly 10 points from the time of the election. A Quinnipiac survey reported 54 percent of respondents said they trusted the media more than Trump to tell the truth about important issues.
That doesn't make the Morning Consult poll wrong. What it shows is that how you ask a question changes the answers people give.
Our ruling
Trump said that 46 percent of people think news organizations fabricate stories about him. Trump accurately cited a recent poll result. The experts we reached said while the survey method is flawed, the problems aren't big enough to invalidate its approximate findings.
They cautioned against putting much weight on the exact number, which is generally in line with the country's partisan divide.
However, the survey tends to skew Republican and its results run counter to other recent polls showing that about half the public trusts the media to be fairly reliable, and as one poll found, more reliable than Trump.
Given the softness of the number and that polls on related issues gave a different impression, we rate the claim Half True.
Donald Trump, tweet, Oct. 22, 2017
Politico, Poll: 46 percent think media make up stories about Trump, Oct. 18, 2017
Politico, Media winning battle for trust with Trump, Oct. 5, 2017
Morning Consult, Polling Methodology Overview, accessed Oct. 24, 2017
Interview, Michael Traugott, research professor, Center for Political Studies, University of Michigan, Oct. 24, 2017
Interview, Josh Pasek, assistant professor of Communication Studies, University of Michigan, Oct. 24, 2017
Email interview, Adam J. Berinsky, Department of Political Science, Massachusetts Institute of Technology, Oct. 24, 2017
Browse the Truth-O-Meter
More by Jon Greenberg
Support independent fact-checking.
Become a member!
In a world of wild talk and fake news, help us stand up for the facts.