Stand up for the facts!
Our only agenda is to publish the truth so you can be an informed participant in democracy.
We need your help.
I would like to contribute
The omnibus bill "does not designate a single dollar for Planned Parenthood."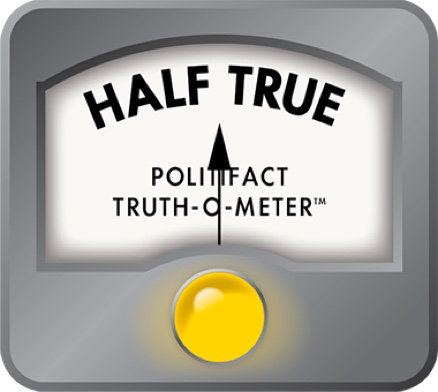 Pittenger says bill doesn't designate money for Planned Parenthood
The recent federal spending bill has become a point of contention in the Republican primary for North Carolina's 9th Congressional District seat.
Incumbent Rep. Robert Pittenger faces a challenge from Rev. Mark Harris, who lost the 2016 primary against Pittenger by only 134 votes. The duo has traded barbs over Pittenger's voting record, whether Harris worked to stop Donald Trump from becoming president and now over the omnibus bill that Congress passed and Trump signed in March.
Harris thinks Pittenger should've opposed the bill since it didn't fully fund a border wall, among other reasons. Pittenger, meanwhile, has touted its benefits.
One of the bill's positives, Pittenger said in a recent newsletter, is that the bill "does not designate a single dollar for Planned Parenthood."
When asked about the newsletter, Pittenger's staff pointed to a breakdown of the omnibus bill that was circulated by Rep. Cathy McMorris Rodgers, chair of the House Republican Conference.
Her summary of the bill, emailed to House Republicans, says "there has never been a line item for Planned Parenthood in the Labor, HHS, Education appropriations bill."
The Pittenger campaign also pointed out a congratulatory letter he received from the National Right to Life organization – which the campaign included in its statement about Planned Parenthood funding. National Right to Life is an anti-abortion group that has endorsed Pittenger and gives him a 100 percent "pro-life" voting record.
Funding remains
The group's letter supports Pittenger's claim that the bill doesn't include any "line item" money specifically for Planned Parenthood. But, the NRL letter notes that Planned Parenthood affiliates "are able to tap into funds from the various long-standing health programs."
"The greatest amount of federal money to Planned Parenthood flows through so-called 'mandatory spending programs,' mostly Medicaid," the letter says.
Indeed, recent estimates show that the organization about 40 percent of its funding from the government. Planned Parenthood receives more than $500 million in combined state and federal government funds.
If a Medicaid patient comes to Planned Parenthood, the organization can bill the organization for services the patient chooses.
Another portion can come through the government's Title X Family program, which subsidizes birth control and tests for sexually-transmitted diseases. But Congress and President Donald Trump last year passed a law that allows states to withhold that funding for groups like Planned Parenthood. Pittenger voted for that law.
Lawrence Shaheen, a spokesman for the Pittenger campaign, argued that the newsletter isn't deceptive because it included the National Right to Life letter explaining that Planned Parenthood still receives funding through other means.
Some tried to cut all funds
So the omnibus bill doesn't end funding for Planned Parenthood, even if the health organization isn't specifically mentioned as a funding recipient. But it wasn't for a lack of trying by some Republicans in Congress.
Some House Republicans – including several from the House Freedom Caucus – tied their support for the spending bill to cutting federal funding to Planned Parenthood, according to Politico. However, the effort died largely because the bill wouldn't garner enough support in the Senate to pass, according to Vox.
Planned Parenthood's continued eligibility for federal funding prompted Senate Minority Leader Chuck Schumer to tout the bill as a victory for Democrats.
"We don't have the House. We don't have the Senate. We don't have the presidency," Schumer said, "but we produced a darn good bill for the priorities that we have believed in."
While the omnibus bill gives no new funding to Planned Parenthood and doesn't designate money for the organization by name, it does allow Planned Parenthood to continue receiving money from the federal government.
Our ruling
Pittenger said the spending bill "does not designate a single dollar for Planned Parenthood." Technically, in the very literal sense of the word "designate," Pittenger is right. The bill doesn't specifically direct funding to Planned Parenthood by name.
But the federal government continues to pay for Planned Parenthood's services through Medicaid and other programs. And since voters are more likely to care about whether their tax dollars go to an organization – not whether the organization is specifically named in legislation – we rate Pittenger's claim Half True.
A newsletter distributed by Rep. Robert Pittenger.
Email correspondence with Lawrence Shaheen, spokesman for Pittenger's re-election campaign.
Story by PBS, "What's in the massive omnibus spending deal," published March 21, 2018.
Fact check by PolitiFact, "Florida Republican says abortions make up 37 percent of Planned Parenthood revenues," published April 21, 2011; "Would GOP bill expand women's health care by curbing Planned Parenthood?" published May 9, 2017.
Story by The New York Times, "Trump Signs Law Taking Aim at Planned Parenthood Funding," published April 13, 2017.
Story by CBS News, "Could Planned Parenthood survive without federal funds," published Feb. 6, 2017.
Story by Forbes, "What's Included (And What's Not) In The $1.3 Trillion Omnibus Bill," published March 24, 2018.
Stories by Politico, "Planned Parenthood defunding threatens government spending package," published March 7, 2018; "Congress closes in on massive spending bill," published March 19, 2018.
Stories by Vox, "Planned Parenthood gets over $500 million annually in public funds. Here's where it goes," published July 26, 2018; "Republicans are trying to defund Planned Parenthood. Again," published March 8, 2018.
Story by The Atlantic, "A Domestic Budget to Make Barack Obama Proud," March 25, 2018.
Browse the Truth-O-Meter
More by Paul Specht
Support independent fact-checking.
Become a member!
In a world of wild talk and fake news, help us stand up for the facts.