Stand up for the facts!
Our only agenda is to publish the truth so you can be an informed participant in democracy.
We need your help.
I would like to contribute
EPA administrator Scott Pruitt's short-term rental "was about market rate."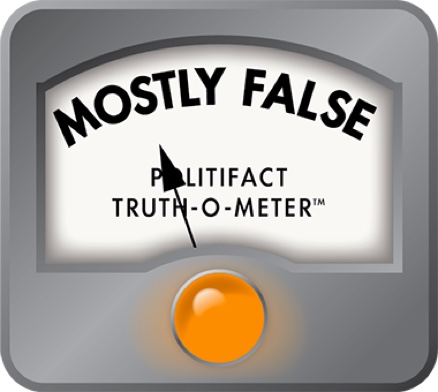 Was Scott Pruitt's apartment rental about market rate?
When Environmental Protection Agency administrator Scott Pruitt was getting settled in Washington in 2017, he paid the wife of a gas and oil lobbyist $50 a night for her condominium on Capitol Hill. Pruitt used the space for about six months and only paid when he needed a room.
The terms of the lease carried the whiff of a sweetheart deal with an industry that had dealings with the EPA. President Donald Trump on Twitter defended this and other controversial aspects of Pruitt's decision-making in an April 7 tweet:
"While Security spending was somewhat more than his predecessor, Scott Pruitt has received death threats because of his bold actions at EPA. Record clean Air & Water while saving USA Billions of Dollars. Rent was about market rate, travel expenses OK. Scott is doing a great job!"
For this fact-check, we will examine whether the price tag for Pruitt's short-term living arrangement was "about market rate."
White House press secretary Sarah Huckabee Sanders said Trump relied on an initial assessment from the EPA.
"He was referencing a report done by the EPA, which we are continuing to review," Sanders said April 9. "But in that, it cites the apartment was at market value."
That EPA report came from the agency's general counsel Kevin Minoli, written after media reports forced the issue into the open.
"Market value for rental apartments is commonly thought of in terms of rental cost per month," Minoli wrote March 31. "Under the terms of the lease, if the space was utilized for one 30-day month, then the rental cost would be $1500, which is a reasonable market value."
Based on that and other details, Minoli said the lease was not a gift.
Market rent
Washington's Capitol Hill neighborhood offers a wide range of apartment options. Browsing on the rental website Zillow, we found that some of them go for about $1,500 a month, or $50 a day for a 30-day month. But those have only one bedroom, and we know that the condominium Pruitt rented had two. His daughter used the other bedroom when she spent time in the city.
Even for one-bedroom units, the prices can easily go well over $1,500. Rents of $1,800 to $2,000 are common.
For two-bedroom units, we found one for $1,850, but after that, the prices went up to $2,200 and higher.
Pruitt described his lease as similar to an Airbnb rental, where he only paid for a bedroom when he was in town. But unlike that sort of Airbnb arrangement, he had access to the other amenities in the apartment, extending to the second bedroom used by his daughter. Pruitt got an Airbnb deal without the typical Airbnb drawbacks. 
Tim Burr with Yarmouth Management, a company that focuses on Capitol Hill rentals, said paying only when Pruitt needed the place made the terms notably convenient for Pruitt.
"With Airbnb, you're not guaranteed it will be available when you want it," Burr said. "That's very unusual."
We looked at the current Airbnb rates. The lowest price we found for immediate use was $40 a night, however, that is not the norm. To be fair, we can't see the rates Pruitt might have seen in the winter of 2017. (Changing the dates, we did find one shared space in a one-bedroom for $23, which seems an unlikely option for Pruitt. Comedian John Oliver also browsed Airbnb and suggested Pruitt could have done worse — crashing on a couch named Black Beauty.)
Pruitt said he might not always have free run of the apartment, but the use of the bedroom was not in question. It's important to note that ultimately, he only paid about $1,000 a month for the place.
The EPA steps back
As the press reported more details of Pruitt's arrangement, the EPA's Minoli followed up his first report with a statement handed to reporters.
"Some have raised questions whether the actual use of the space was consistent with the terms of the lease," Minoli said April 5.  "Evaluating those questions would have required factual information that was not before us and the review does not address those questions."
So, two days before Trump's tweet, the EPA had backtracked on at least part of its ethics review.
One day before Trump's tweet, the Office of Government Ethics, the watchdog body for the executive branch, raised doubts about Pruitt's lease.
In a letter to the EPA on April 6, the ethics office wrote "additional information has now come to light that calls into question whether the earlier determination that the Administrator paid market value for the use he made of the apartment would still be valid."
Our ruling
Trump said that Pruitt paid approximately market rate for the living space he rented from the wife of an energy lobbyist. Trump based that on a review from the EPA, but the agency later said it lacked all the facts to fully assess the situation.
A real estate professional familiar with rents in the neighborhood said the terms of the lease were unusually convenient for Pruitt. Our scan of current rents showed that the prices of two-bedroom apartments were higher than what he would have paid if he had stayed there every night for the entire six months.
Pruitt was there only about two-thirds of the time, paying closer to $1,000 a month. No one-or-two-bedroom units were available under any terms for that price.
The one caveat is we haven't seen the exact terms of Pruitt's lease or exactly how he and his family used the condominium. With that in mind, we rate this claim Mostly False.
Donald Trump, tweet, April 7, 2018
Zillow, Capitol Hil rentals, accessed April 9, 2018
Airbnb, Capitol Hil, accessed April 9, 2018
U.S. Office of Government Ethics, Letter to EPA re: Pruitt, April 6, 2017
The Hill, Top EPA official: Pruitt's condo rental met ethics rules, March 30, 2018
Bloomberg, EPA Chief's Family Also Stayed at Lobbyist's $50-a-Night Condo, March 31, 2018
Politico, EPA ethics official says he didn't have all 'factual information' on Pruitt's lease, April 5, 2018
Washington Post, 'That's bizarre': Realtors weigh in on Scott Pruitt's $50-a-night condo room deal in D.C., April 7, 2018
Interview, Tim Burr, information manager, Yarmouth Management, April 9, 2018
Browse the Truth-O-Meter
More by Jon Greenberg
Support independent fact-checking.
Become a member!
In a world of wild talk and fake news, help us stand up for the facts.