Stand up for facts and support PolitiFact.
Now is your chance to go on the record as supporting trusted, factual information by joining PolitiFact's Truth Squad. Contributions or gifts to PolitiFact, which is part of the 501(c)(3) nonprofit Poynter Institute, are tax deductible.
I would like to contribute
"California State Assembly bill would ban the (sale of the) Bible!"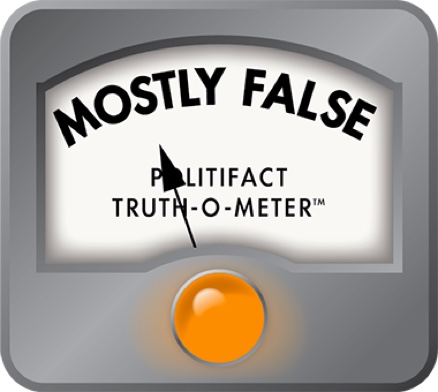 No, California bill would not ban Bible sales
Freedom of religion and speech are fundamental to American life, and some conservatives warn that a California bill threatens both.
"California State Assembly bill would BAN the Bible!" said the April 19 headline on the Oath Keepers website. "Whatever happened to Free Speech and Religious Freedom? Of course, this is the People's Republic of California, so such things are to be expected. They are so far down the totalitarian, Globalist path that they are oblivious to any sane, sensible ideas."
The controversy is over California bill AB 2943, a measure that puts strict limits on programs that aim to change a person's sexual orientation. The legislation, which passed out of the state assembly and over to the Senate, bans any "advertising, offering to engage in, or engaging in sexual orientation change efforts with an individual."
The bill does this by amending the state's consumer protection law, which covers such things as false advertising, selling defective goods and the like. So, the prohibition would only apply when money changed hands. Someone needs to be selling and someone needs to be buying a service called "sexual orientation change efforts" for this bill to apply.
The Oath Keeper headline (since changed) spoke of a complete ban on the Bible with no mention of selling. But in the video interview that went along with the post, the Oath Keeper host asked, "Would this prohibit the sale of the Bible?" We're checking whether the law would ban the sale of the holy book. 
While the odds are remote, some legal scholars said the law as written could lead to issues.
A slender link to the Bible
Even some opponents to AB 2943 argue that it likely wouldn't ban the sale of Bibles across the board.
"It is virtually impossible that California will immediately attempt to ban the sale of the Bible itself," wrote Robert Gagnon in the Federalist. "But citations of Bible verses in the context of declaring homosexual practice and transgenderism to be morally debased could indeed get one into serious trouble with the law if it comes in the context of selling or advertising a product or service."
Concerned Women for California of America, a group that "promotes biblical values" through prayer and advocacy, told lawmakers that the bill "puts in question the sale of books, participation in events, and related activities."
So from opponents, the impact on Bible sales is a question, not a certainty.
Room for debate
By one estimate, Americans buy about 25 million Bibles each year. Based on population, about 3 million would be sold in California.
UCLA law professor Eugene Volokh dismissed the idea that simply selling the Bible would be affected, because people buy Bibles for many reasons that lie outside the bill.
"The ordinary sale would not be an effort to change sexual orientation," Volokh said.
But on the other hand, Volokh can imagine circumstances when things would get muddy.
"There needs to be a practice that seeks to change the person's behavior," Volokh said. "A Bible sold with an eye to that could be affected by this law."
Paul Horwitz at the University of Alabama School of Law said there's a serious question that the law "could include books arguing that one should refrain from homosexuality lest one be condemned or damned, and thus could include the Bible, at least as some read it."
Apart from any impact on Bible sales, the core ban on any program sold to change someone's sexual orientation might itself fail on constitutional grounds, according to Jefferson Powell at Duke Law School.
The bill fails to define what it aims to block, he said.
"The law can't constitutionally apply to many forms of speech that have the purpose of persuading people not to act on, or enabling them not even to feel, same-sex attraction," Powell said. "But the bill's language displays no concern to tailor its scope to avoid those situations."
If the bill failed to pass constitutional muster, then the whole thing would be thrown out, along with any possible impact on the sale of Bibles.
Ample ground for disagreement
The legal dispute we found centered on whether the Bible itself argues for changing one's sexual orientation and whether every paid effort to dissuade a person from homosexuality meets the legal definition of a sexual orientation change effort.
Before all else, said University of Miami law professor Caroline Corbin, the Bible as a book lies outside the bill's reach.
"The bill prohibits the provision of certain services and advertisements of those services, and the Bible is neither of those things."
But what if the Bible were part of some sort of sexual orientation conversion program? Douglas Laycock at the University of Virginia said "no judge is that stupid" to view the Bible so narrowly.
"The Bible is a vast collection of books," Laycock said. "Only a few brief passages say anything about same-sex sexual conduct, and those don't say anything about sexual orientation, or about changing it."
In short, the Bible by itself is not a how-to kit for sexual orientation conversion.
George Washington law professor Catherine Ross echoed that point and emphasized that simply calling homosexuality a sin would not meet the definition of a "sexual orientation change effort."
"A person selling or promoting the Bible could say that in this book you will discover what is good and bad and the book will tell you that to be LGBT is really bad," Ross said. "But even that doesn't take the next step, and say that when you are convinced by reading this, the next step is to get into a Sexual Orientation Change program. And the statute is only triggered when a person promotes or advertises the Sexual Orientation Change Effort solution."
Ross also noted that the proposed law regulates commercial speech, which she said the Bible is not.
"The brief passages in the Bible that concern homosexuality would keep the book as a whole well below the standard for triggering the statute," Ross said. "An offer to sell a Bible would not bring the content of the Bible itself into the definition of commercial speech."
Our ruling
The Oath Keepers group said that a California law would ban the sale of the Bible.
We found that even some opponents of the bill don't go that far. The general consensus is that the Bible covers a lot of ground and the proposed law would have no effect on the ordinary sale of Bibles.
If the law had any impact at all, it would be on those occasions when a Bible is sold in conjunction with a program to change someone's sexual orientation. This is a point where legal scholars differ. Some say the law could touch the sale of a Bible, while others believe the Bible lies outside the scope of the law.
But even assuming the law might have an impact, with millions of Bibles sold in California, the weight of evidence suggests the bill might only touch a fraction of them.
We rate this claim Mostly False.
Oath Keepers, This California State Assembly bill would BAN the Bible!, April 19, 2018
Federalist, Snopes Is a Sneaky Liar About California's Bill To Ban Christian LGBT Talk, April 24, 2018
California Legislature, AB-2943 Unlawful business practices: sexual orientation change efforts, March 23, 2018
California Assembly Committee on Judiciary, Report: AB 2943, April 10, 2018
Snopes, Would a Proposed Law 'Ban the Bible' in California?, April 20, 2018
Interview, Eugene Volokh, professor of law, UCLA School of Law, April 24, 2018
Email interview, H. Jefferson Powell, professor of law, Duke University School of Law, April 25, 2018
Interview, Catherine Ross, professor of law, George Washington School of Law, April 24, 2018
Email interview, Douglas Laycock, professor of law, University of Virginia School of Law, April 24, 2018
Interview, Caroline Mala Corbin, professor of law, University of Miami School of Law, April 24, 2018
Email interview, Paul Horwitz, professor of law, University of Alabama School of Law, April 25, 2018
Browse the Truth-O-Meter
More by Jon Greenberg
Support independent fact-checking.
Become a member!
In a world of wild talk and fake news, help us stand up for the facts.