Stand up for the facts!
Our only agenda is to publish the truth so you can be an informed participant in democracy.
We need your help.
I would like to contribute
"NFL lawyer, who claimed Super Bowl is 'rigged', found dead."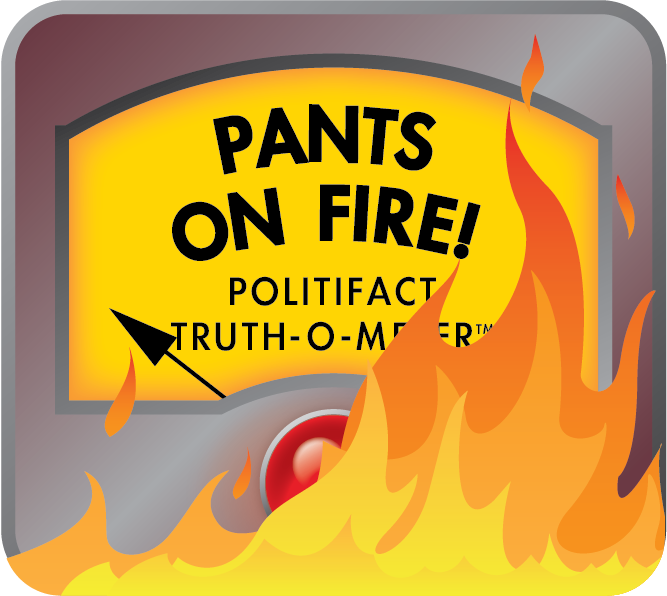 Story that NFL lawyer said Super Bowl rigged and was murdered is fake news
Days before the Super Bowl, fake news articles circulating on Facebook claimed that a National Football League lawyer named Dan Goodes was shot dead in a "gangland-style execution" hours after blowing the whistle on the "rigged Super Bowl."
"NFL lawyer, who claimed Super Bowl is 'rigged,' found dead," stated the Feb. 1 headline on Eco News, a website that claims it is on the frontline for "earth liberation."
Facebook users flagged the post as being potentially fabricated, as part of the social network's efforts to combat fake news. The story copies an earlier fake story by YourNewsWire, a website that publishes fake news. We sent messages to both websites and didn't get a reply.
We found no evidence that an NFL lawyer named Dan Goodes even exists, or that he was found dead in his BMW in Manhattan.
NFL spokesman Brian McCarthy told PolitiFact that the NFL has no attorney named Dan Goodes. He called the story "ridiculous," "bogus" and "fake."
The story said that Goodes had been representing the NFL in Minneapolis to promote the 2018 Super Bowl featuring the Philadelphia Eagles and New England Patriots when he went off script and claimed that the NFL rigged the game to earn maximum revenue for league.
"According to Goodes, the fat cat franchise owners and their pampered players do not care who wins, as long as they continue reaping the lucrative financial benefits provided by the system," the article said.
The article included a mock screenshot of a Jan. 28 New York Times article about the alleged shooting of the lawyer founded slumped over the wheel of his BMW. But the article doesn't appear in Nexis.
"Nothing about this is real, down to the URL," New York Times spokeswoman Eileen Murphy told PolitiFact. "It's a false reference to a non-existent NYT story."
The Eco News story included a photo of two police officers at a crime scene. We searched Google images and found it matched an Associated Press photo of a crime scene near the site where a police officer was fatally shot in the Bronx in July.
It also contained an alleged photo of NFL headquarters; however, a search of that photo in Google images resulted in a match to a picture on the South Park Studios website.
Other conspiracy theories about Super Bowl rigging
Readers should beware of other conspiracy theories about the Super Bowl. The Facebook page Satire Daily, which clearly identifies itself as satire, published a video seemingly documenting that the NFL had openly admitted to rigging games. Snopes debunked the claim in January.
The video focused on a referee who congratulated the team's quarterback Tom Brady after the Patriots beat the Jaguars.
That actually happened. Referee Clete Blakeman did Brady a congratulatory pat on the chest, which fueled some conspiracy theories.
NFL spokesman McCarthy told PolitiFact, "It's not uncommon for an official to congratulate a player after a game."
Another situation that fueled conspiracy theories stemmed from an actual NFL ad on social media in January before the NFC Championship Game.
The ad featured photos of the Patriots and Vikings quarterbacks and said, "When you donate to United Way, you could score 2 club-level seats to watch the Patriots vs. the Vikings battle it out for the coveted Super Bowl title!"
The NFL apologized for the ads.
"It was a regrettable mistake," an unnamed NFL spokesman told media. "The ads were mocked up using all the (possible) combinations, but weren't supposed to go until Monday when the matchup is known. Obviously, someone jumped the gun."
McCarthy also told PolitiFact the ad was a mistake.
Our ruling
In the world of real news, PolitiFact has fact-checked many claims related to past Super Bowls related to weather, records and spending as well as human trafficking and domestic violence and economic impact.
But in this case, the claim that an "NFL lawyer, who claimed Super Bowl is 'rigged', found dead" is fake news.
We rate this story Pants on Fire!
Eco News, "NFL lawyer, who claimed Super Bowl is 'rigged,' found dead," Feb. 1, 2018
YourNewsWire, "NFL lawyer, who claimed Super Bowl is 'rigged', found dead," Jan. 29, 2018
NPR, "New York Police Officer killed In 'unprovoked attack' on patrol car," July 5, 2017
South Park Studios, Website, Accessed Feb. 2, 2018
Philadelphia Inquirer, "Seth Joyner confronts Skip Bayless, Bruce Arians wants 'Monday Night Football' gig," Jan. 20, 2018
USA Today For the Win, "The first person to congratulate Tom Brady after the Patriots' win was a ref," Jan. 21, 2018
Yahoo Sports, "Referee congratulates Tom Brady, firing up conspiracy theories," Jan. 21, 2018
NJ.com, "Super Bowl 2018: Outraged Eagles fans fear game is fixed after seeing NFL ad," Jan. 19, 2018
Snopes, "Was an NFL Lawyer Who Claimed the Super Bowl Is 'Rigged' Found Dead?" Jan. 29, 2018
Snopes, "Did the NFL Admit to Rigging Games?" Jan. 24, 2018
PolitiFact, "Donald Trump did not kill NFL's tax-exempt status by executive action," Oct. 10, 2017
PolitiFact, "PunditFact's fact or fiction guide to the Super Bowl," Feb. 2, 2014
PolitiFact, "Fact-checking the 2015 Super Bowl," Jan. 29, 2015
PolitiFact, "Dolphins lobbyist says Super Bowl L is a '$500 million economic impact' to Florida," March 14, 2013
Interview, Brian McCarthy, National Football League spokesman, Feb. 2, 2018
Interview, Eileen Murphy, New York Times spokeswoman, Feb. 2, 2018
Browse the Truth-O-Meter
More by Amy Sherman
Support independent fact-checking.
Become a member!
In a world of wild talk and fake news, help us stand up for the facts.