Stand up for the facts!
Our only agenda is to publish the truth so you can be an informed participant in democracy.
We need your help.
I would like to contribute
"Christine Blasey Ford claims that she called a friend on her cell phone after the 'attack' in or around 1982."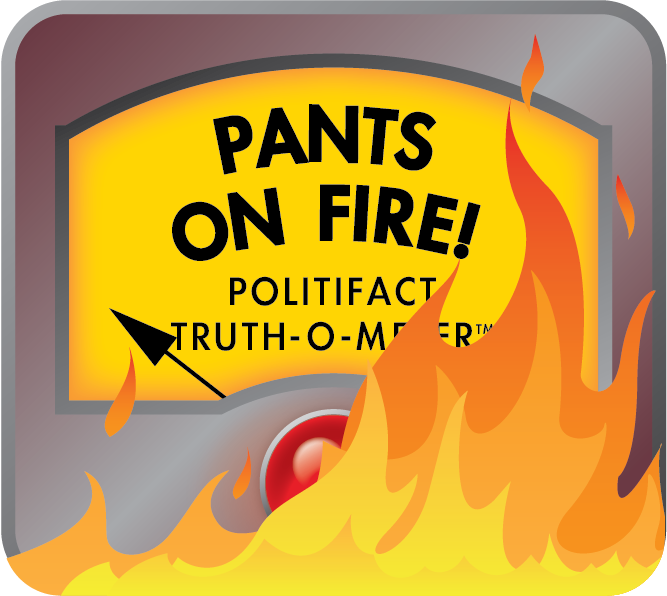 No, Christine Blasey Ford didn't say she used a cell phone after alleged attack
Social media platforms have been overwhelmed by posts about Christine Blasey Ford's testimony alleging a sexual assault by then 17-year-old Brett Kavanaugh, who is now a nominee for the Supreme Court.
Here's one that is eye-catching -- but wrong.
A reader found it on the Facebook page for Top Stories USA, a hyper-partisan website with such recent headlines as, "Loud-mouthed Woman Who Confronted Flake In Elevator Was A Soros Funded Hit Job!" "Hillary Thinks She's A Star – TANKS 'Murphy Brown' Ratings Just By Showing Her Face," and "Watch Lindsey Graham's EPIC Democrat Butt-Kicking at Kavanaugh's Hearing."
The Facebook post, dated Sept. 29, featured an image that said, "Christine Blasey Ford claims that she called a friend on her cell phone after the 'attack' in or around 1982. The first cell phone was sold for $3,995 in March of 1984." (The claim is accompanied by the image of an ancient-looking Motorola cell phone.)
However, we found no evidence that Ford ever made that claim. (We did not hear back from Top Stories USA. A spokeswoman for Ford referred us to a fact-check by Snopes.com)
The claim of a cell phone call does not appear in the Washington Post's original story on Sept. 16, 2018, in which Ford went public with her claim. "Ford said she told no one of the incident in any detail until 2012, when she was in couples therapy with her husband," the article noted.
Ford elaborated on her recollections during in her testimony before the Senate Judiciary Committee on Sept. 27, 2018. After the alleged attack by Kavanaugh and his friend Mark Judge, she testified:
"I left the bathroom, ran down the stairs, through the living room, and left the house. I remember being on the street and feeling an enormous sense of relief that I had escaped from the house and that Brett and Mark were not coming after me.
"Brett's assault on me drastically altered my life. For a very long time, I was too afraid and ashamed to tell anyone the details. I did not want to tell my parents that I, at age 15, was in a house without any parents present, drinking beer with boys. … Over the years, I told very few friends that I had this traumatic experience."
Neither of these accounts mentions a cell phone call.
On questioning from Rachel Mitchell, a prosecutor retained by the Republican Judiciary Committee majority to question Ford and Kavanaugh, Ford said she did not recall how she got home.
Mitchell: "You've described this as being near the country club, wherever this house was, is that right?"
Ford: "I would describe it as it's somewhere between my house and the country club in that vicinity that's shown in your picture. And the country club is about 20 -- a 20-minute drive from my parents' home."
Mitchell: "A 20-minute drive. And, of course, I've marked (it on a map) as the crow flies."
Ford: "Yes."
Mitchell: "Would it be fair to say that somebody drove you somewhere, either to the party or home from the party?"
Ford: "Correct."
Michell: "OK. Has anyone come forward to say to you, 'Hey, remember, I was the one that drove you home?'"
Ford: "No."
In her official post-testimony report, Mitchell noted some concern about this aspect of Ford's recollection.
"Given that this all took place before cell phones, arranging a ride home would not have been easy," Mitchell wrote. "Indeed, she stated that she ran out of the house after coming downstairs and did not state that she made a phone call from the house before she did, or that she called anyone else thereafter."
But while Mitchell mentions cell phones in this context, Ford did not. (And Mitchell's report is dated Sept. 30, so it could not have been a source for the meme posted on Sept. 29.)
For the record, the meme does appear to be correct about the price of a Motorola DynaTAC 8000X in 1984. The meme "plagiarized the introductory paragraph of an article about the first handheld cell phone published by Mashable back in 2014," Snopes reported.
Our ruling
A Top Stories USA post on Facebook said, "Christine Blasey Ford claims that she called a friend on her cell phone after the 'attack' in or around 1982. The first cell phone was sold for $3,995 in March of 1984."
Ford never said anything about using a cell phone after the alleged attack. We rate the statement Pants on Fire.
Top Stories USA, Facebook post, Sept. 29, 2018
Washington Post, "California professor, writer of confidential Brett Kavanaugh letter, speaks out about her allegation of sexual assault," Sept. 16, 2018
BuzzFeed, "Here Are The Letters Brett Kavanaugh And Christine Blasey Ford Sent To The Senate," Sept. 24, 2018
Christine Blasey Ford, testimony to the Senate Judiciary Committee, Sept. 27, 2018
Politico, "Full transcript: Christine Blasey Ford's opening statement to the Senate Judiciary Committee," Sept. 26, 2018
Axios, "Read prosecutor Rachel Mitchell's memo about the Kavanaugh-Ford hearing," Oct. 1, 2018
Snopes.com, "Did Christine Blasey Ford Claim She Called a Friend on a Cellphone in 1982?" Oct. 1, 2018
Email interview with Melissa Schwartz, spokeswoman for Christine Blasey Ford, Oct. 2, 2018
Browse the Truth-O-Meter
More by Louis Jacobson
Support independent fact-checking.
Become a member!
In a world of wild talk and fake news, help us stand up for the facts.