Stand up for the facts!
Our only agenda is to publish the truth so you can be an informed participant in democracy.
We need your help.
I would like to contribute
Sen. Joe Manchin "stands with Hillary Clinton and D.C. Dems on gun control, higher taxes, amnesty, and Planned Parenthood."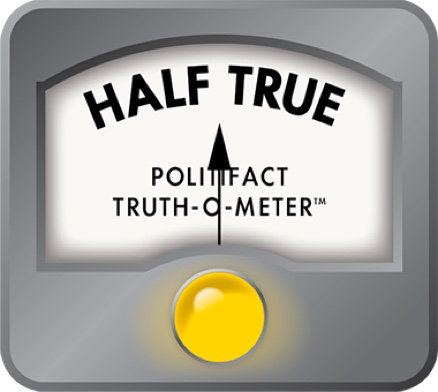 Fact-checking Patrick Morrisey on positions held by Joe Manchin
In his battle to unseat U.S. Sen. Joe Manchin, D-W.Va., Republican state Attorney General Patrick Morrisey is working hard to paint Manchin as a captive of his party even though West Virginia voters strongly back President Donald Trump.
In a tweet on Aug. 31, Morrisey said, "On life, guns, tax cuts, and coal, I stand with President @realDonaldTrump and West Virginia. Meanwhile, lying liberal Joe Manchin stands with Hillary Clinton and DC Dems on gun control, higher taxes, amnesty and Planned Parenthood. The choice could not be more clear. #WVsen."
In this fact-check, we'll look at whether Morrisey had a point about Manchin's stances on guns, taxes, immigration and Planned Parenthood.
Guns
Manchin once received strong support from the National Rifle Association. But that's not the case any more.
In 2004, when Manchin was running for governor, he received an A-plus rating from the NRA and received the group's endorsement when running for governor.
And in 2010 and 2012, when Manchin was running for a U.S. Senate seat, he was endorsed by the NRA and received an A rating. "Joe Manchin is committed to protecting the Right to Keep and Bear Arms guaranteed to all Americans," Chris Cox, chairman of the NRA Political Victory Fund, wrote in 2012.
But Manchin's relations with the NRA soured in 2013 after he and Sen. Pat Toomey, R-Pa., proposed legislation that would have enacted tighter background checks for certain gun purchases. Manchin and Toomey framed the bill as a compromise, but the NRA saw it as the first step down a slippery slope and opposed it. (It never became law.)
This year, the NRA gave Manchin a D and said it was airing ads on behalf of Morrisey in the Charleston and Bluefield markets.
"Contrary to what Joe Manchin says in West Virginia, he has supported the agenda of Barack Obama and Chuck Schumer by voting in favor of gun control in Washington, D.C.," Cox wrote this year.
In an interview on CBS news in March 2018 — in the wake of the school shooting at Marjory Stoneman Douglas High School in Parkland, Fla. — Manchin defended his position as "not gun control. It's gun sense. … This bill of ours, the Manchin-Toomey bill, should be the base bill they work off of." He also has signaled support for banning bump stocks and raising the legal age of purchasing assault rifles.
Manchin added that he would not support a ban on AR-15s. When he was asked about the possibility of the ban, he said, "I don't have any friends that own the gun right now, I don't know anyone who's committed a crime with it, so I wouldn't take their gun away."
"Joe Manchin supports protecting West Virginians' Second Amendment rights," said Manchin spokesman Grant Herring. "Manchin is a lifetime NRA member. Manchin opposed banning assault weapons and sponsored and voted for legislation allowing concealed-carry reciprocity." 
Taxes
The biggest tax vote in recent years came in December 2017, when the Senate considered a bill backed by President Trump and the GOP-controlled House that made major tax cuts and enacted other changes to the tax code.
Manchin, like the chamber's other Democrats, voted against passage, but the bill received enough Republican support to become law.
Manchin's vote against the bill isn't exactly a vote for "higher taxes" — it was a vote to keep the status quo on taxes — but he did pass up the opportunity to lower taxes for many Americans, so this charge has some validity.
Previously, we've reported that in 2012, Manchin voted for the "Buffett Rule," which would have imposed a minimum effective tax rate for high-income taxpayers. He also supported legislation offered by the Bowles-Simpson commission, which was an attempt to balance the budget in a way that included tax increases as well as spending cuts.
Immigration policy
In 2013, Manchin voted in favor of the "Gang of Eight" bill that, among other things, would have set up a path to legal status and an eventual opportunity for citizenship.
The "Gang of Eight" refers to a bipartisan group of eight senators — four Democrats and four Republicans — Jeff Flake, R-Ariz., Marco Rubio, R-Fla., Lindsey Graham, R- S.C., and John McCain R-Ariz. It was endorsed by former President Barack Obama.
The bill passed the Senate, 68-32, with 14 Republicans joining 54 Democrats and Democratic-caucusing independent senators in voting for it. (The bill did not get a hearing in the House and never became law.)
Manchin was one of the Democrats who voted for it. But did it amount to amnesty?
As we've concluded in the past, defining "amnesty" is tricky.
Some view it as blanket permission for undocumented immigrants to remain in the United States, while others view amnesty as any measure that is favorable to any undocumented immigrants, even if it includes a list of tough measures they have to meet. Republicans who supported the legislation, along with most Democrats, argued that the bill did not offer amnesty.
At the time, we concluded that the bill did not offer blanket legal residency to unauthorized immigrants. It mandated fines, background checks and waiting periods and was tougher than a 1986 law that was more in line with a traditional definition of "amnesty."
"This bill includes numerous punishments for unauthorized immigrants who broke the laws, including paying fines and other legal sanctions," Alex Nowrasteh with the libertarian Cato Institute told PolitiFact in 2013. "If it was amnesty they would be legalized immediately with no punishment, no process. They would just be forgiven and handed a green card."
Since then, Manchin has sought to find a middle ground in the Senate. However, facing a tough reelection campaign in a solidly pro-Trump state, he has often emphasized his stance on toughening border security.
In a press release from February 2018 — after the Senate failed to reach agreement on legislation protecting undocumented immigrants who came to the United States as children, along with new investments in border security — Manchin said, "I share the president's commitment to border security. That's why I voted for his plan."
Herring, his spokesman, added that Manchin "also supports Kate's Law, which would increase penalties for criminals who re-enter the country illegally."
Planned Parenthood
The national health and family-planning clinic network has been a longtime target of anti-abortion groups because it provides abortion services. By law, federal money cannot be used to pay for abortion services, but federal dollars do flow to Planned Parenthood for other purposes — something that rankles opponents of abortion, who say that money is fungible.
We have previously looked at what Manchin has said and done about Planned Parenthood.
Critics pointed to photos Manchin took with constituents carrying pro-Planned Parenthood signs, although he has also taken photos with supporters carrying anti-Planned Parenthood signs.
Manchin has said that he's personally anti-abortion but supports federal funding for Planned Parenthood as long as the funding comports with existing federal law.
In a statement to PolitiFact, Herring said that Manchin "has always been pro-life. Planned Parenthood doesn't receive taxpayer money for abortions. The only Planned Parenthood in WV provides basic health care services and screenings, and Sen. Manchin doesn't want to take away health care from women."
Our ruling
Morrisey said Manchin "stands with Hillary Clinton and DC Dems on gun control, higher taxes, amnesty, and Planned Parenthood."
We're not entirely sure what Hillary Clinton has to do with this, but Morrisey can point to some evidence to support Manchin's loyalty to Democratic orthodoxy in each of these four areas. That said, Morrisey glosses over important nuances. On guns and immigration, for instance, Manchin has often worked with Republicans to find common ground, rather than taking a strong Democratic line.
On taxes, Manchin did vote against the Trump-backed tax bill, but his position would have left the tax code the same, rather than imposing "higher taxes." And Morrisey ignores Manchin's personal anti-abortion position in focusing on Manchin's support for Planned Parenthood; Manchin supports the status quo on federal funding, which is to provide it only for non-abortion services.
We rate the statement Half True.
Attorney General Patrick Morrisey, tweet, Aug. 31, 2018
PolitiFact, "Do Joe Manchin and Evan Jenkins support Clinton, cap-and-trade, Planned Parenthood and tax hikes?" Nov. 6, 2017
Washington Examiner, "Before dumping Hillary Clinton, Sen. Joe Manchin said she 'should be the next president'," Oct. 23, 2017
USA Today, "Democratic Sen. Joe Manchin regrets endorsing Hillary and is open to backing Trump in 2020," Jun. 6, 2018
Axios, "Joe Manchin's tightrope on Planned Parenthood," May 8, 2017
Email interview with Grant Herring, Communications Director at Manchin West Virginia
PolitiFact, "A summary of the Manchin-Toomey gun proposal," Apr. 30, 2013
CBS News, "Sen. Joe Manchin: "It's not gun control, it's gun sense" Mar. 4, 2018
Newsweek, "Democrat Joe Manchin Refuses to Support AR-15 Ban: 'I Don't Know Anyone Who's Committed a Crime With It,'" Feb. 28, 2018
The Hill, "GOP lawmaker calls for tougher rules on background checks, bump stocks," Feb. 25, 2018
PolitiFact, "Was Adam Putnam, candidate for Florida governor, for amnesty on immigration?" Jul. 24, 2017
Merriam Webster Dictionary, 'amnesty' definition
Senator Joe Manchin's Office, "Manchin Disappointed Bipartisan Border Security and Immigration Deal Failed in Senate," Feb. 15, 2018
Senator Joe Manchin, tweet, Jun. 19, 2018
Email from Sen. Manchin's Director of Communications, Grant Herring.
Browse the Truth-O-Meter
More by Patrick Orsagos
Support independent fact-checking.
Become a member!
In a world of wild talk and fake news, help us stand up for the facts.