Stand up for facts and support PolitiFact.
Now is your chance to go on the record as supporting trusted, factual information by joining PolitiFact's Truth Squad. Contributions or gifts to PolitiFact, which is part of the 501(c)(3) nonprofit Poynter Institute, are tax deductible.
I would like to contribute
"Leah Vukmir OPPOSES Buy American legislation."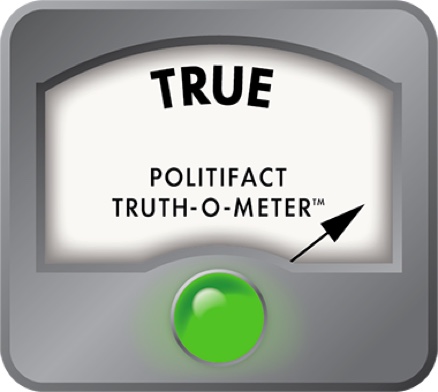 Democratic Party delivers trade dig against Republican candidate Leah Vukmir via mail
International trade has been at the forefront of American political discussion, from billions in tariffs levied in trade disputes to President Donald Trump announcing a replacement for NAFTA, called the United States-Mexico-Canada Agreement.
In Wisconsin, it has created some strange connections.
U.S. Sen. Tammy Baldwin, a Democrat running for re-election, is touting her 'Buy American' legislation focused on infrastructure projects. President Donald Trump, a Republican, has backed Baldwin's efforts. Meanwhile, Republican state Sen. Leah Vukmir -- Baldwin's opponent -- has positioned herself as a stalwart Trump supporter, and has Trump's endorsement.
Yet in the midst of this comes a mailer from the Democratic Party of Wisconsin that states:
"Leah Vukmir OPPOSES Buy American."
What gives?
The evidence
The Democratic Party mailer features a photo of Baldwin wearing a hardhat while talking to a factory worker, and includes this quote: "My Buy American legislation requires government infrastructure projects to use 100% American iron and steel. Because it's time America buys what Wisconsin makes."
When asked to provide backup for the attack on Vukmir, a spokesman for the state party referred us to Baldwin campaign spokesman Bill Niedhardt. He, in turn, offered this critique:
"While Senator Baldwin and President Trump are both backing Buy American bills that support Wisconsin workers and businesses, Leah Vukmir is again siding instead with powerful special interests and the multinational corporations who are blocking these bills."
But Niedhardt did not offer any examples of specific votes or statements from Vukmir.
That sent us back to the mailer, which included a footnote that pointed to a July 5, 2018, article in the Fond du Lac Reporter. The article was about a visit to the area by Baldwin to tout her "Buy American" measure. From the article:
State Sen. Leah Vukmir, a Republican hoping to unseat the former congresswoman, said Baldwin's proposed policy is not sustainable.

"She backs big-labor mandates and giveaways that drive up infrastructure costs for Wisconsin taxpayers," Vukmir said in a statement. "We can't build roads, no matter where the materials are from, if we can't afford them in the first place."
When we asked Vukmir's team for more information on her position,a spokesman simply referred us back to the statement quoted in the Fond du Lac Reporter article.
So, we looked for additional evidence.
Earlier in the campaign, Vukmir  said Baldwin "claims to support a 'Buy America' philosophy, but her actions speak louder than her empty words." That framework would suggest Vukmir is pro-Buy American. But really, it focuses on Baldwin (Incidentally, we rated that claim False.)
At an Oct. 8, 2018 debate at the University of Wisconsin-Milwaukee, the subject of Buy American legislation was raised during a discussion on trade and tariffs.
Baldwin touted her Buy American legislation, saying its passage would be "a step in the right direction."  Vukmir was not asked about the measure, and didn't comment on it. She did say Trump "believes in fair trade as do I." But that is off point as well.
Meanwhile, we found that a "Made in America" bill was introduced by state Sen. Dave Hansen, D-Green Bay, in 2013 as SB 88, in 2015 as SB 176 SB and in 2017 as SB 240.
From the bill description:
Under this bill, with limited exceptions, the state must purchase materials that are manufactured to the greatest extent in the United States, regardless of whether all other factors are substantially equal. The bill also requires, with limited exceptions, that a contract for a public works or public improvement project must contain a provision requiring the contractor to use materials that are manufactured in the United States. The bill also creates a similar provision for local governments.
Tony Palese, a spokesman for Senate Democratic Leader Jennifer Shilling of La Crosse noted Senate Democrats tried in 2015 to include the bill as an amendment to the state budget. The amendment was defeated 19-14, with the vote tally showing Vukmir voted to table the proposal.
That is, to block it from being added to the budget.
While Vukmir has not articulated her opposition, some clues can be found in the debate over Baldwin's bill. An April 21, 2017 article in the Milwaukee Journal Sentinel noted "Buy America" provisions have historically drawn support from both parties.
The article went on to note:
"But in Congress, Democrats are generally united in support of them. The other two lead sponsors of Baldwin's bill are Democrats Sherrod Brown of Ohio and Bob Casey of Pennsylvania. Republican lawmakers, meanwhile, are more divided. Some conservatives view them as too costly and as distortions of the free market."
Our rating
A Democratic Party mailer supporting Baldwin and her Buy American proposal said "Leah Vukmir OPPOSES Buy American legislation."
Vukmir has been clear in her opposition to Baldwin's legislation, but the claim is even broader -- that she opposes Buy American legislation in general.
We did not find a statement from Vukmir that directly backs that up, but her opposition to "big-labor mandates and giveaways that drive up infrastructure costs" comes close. And at the state level, Vukmir helped vote down a move that would have included "Made in America" provisions in the state budget.
We rate the claim True.
Mailer, Democratic Party of Wisconsin "Why does Leah Vukmir OPPOSE Buy American?"
Milwaukee Journal Sentinel PolitiFact Wisconsin "Challenger for Wisconsin U.S. Senate seat Vukmir misfires on trade barb against incumbent Baldwin,"March 12, 2018.
Detroit Free Press, "Donald Trump's tariffs will cost Ford $1 billion, CEO Jim Hackett says," Sept. 27, 2018.
Politico, "Trump calls trade deal 'a rape of our country,' June 28, 2016.
New York Times, "Trump reaches revised trade deal with Mexico, threatening to leave out Canada,"August 27, 2018.
U.S. Citizenship and Immigration Services, "Buy American and Hire American Executive Order," April 18, 2017
Email, U.S. Sen. Tammy Baldwin campaign spokesman Bill Neidhardt, Oct. 11, 2018.
Email, State Sen. Jennifer Shilling spokesman Tony Palese, October 12, 2018.
The White House, "Executive Order, "Buy American and Hire American," April 18, 2017.
Fond du Lac Reporter, "Sen. Tammy Baldwin introduces Made in America bill, says Trump would support it," July 5, 2018.
The Hill, "Trump says he supports Dem 'Buy America' bill," April 19, 2017.
Milwaukee Journal Sentinel, "Tammy Baldwin announces backing from more than 100 business leaders," August 24, 2018.
Baldwin website "U.S. senator Tammy Baldwin announces new Buy America legislation,July 5, 2018.
Milwaukee Journal Sentinel, "With three tweet, Donald Trump endorses Leah Vukmir, Bryan Steil and Scott Walker," August 15, 2018.
Milwaukee Journal Sentinel "Live Video: U.S. Senate debate between Democratic Sen. Tammy Baldwin and Republican challenger Leah Vukmir," at about 47.47 minute mark, Oct. 8, 2018.
Milwaukee Journal Sentinel,"Wisconsin U.S. Senate candidate Leah Vukmir is running on her staunch conservative record," June 11, 2018.
Milwaukee Journal Sentinel,"Trump's Buy America' stance aligns him with top GOP target Tammy Baldwin," April 21, 2017.
Wisconsin State Legislature, SB 88
Wisconsin State Legislature, SB 176
Wisconsin State Legislature, SB 240
Wisconsin State Legislature, Senate Amendment 28, to Senate Bill 21
Browse the Truth-O-Meter
More by D.L. Davis
Support independent fact-checking.
Become a member!
In a world of wild talk and fake news, help us stand up for the facts.